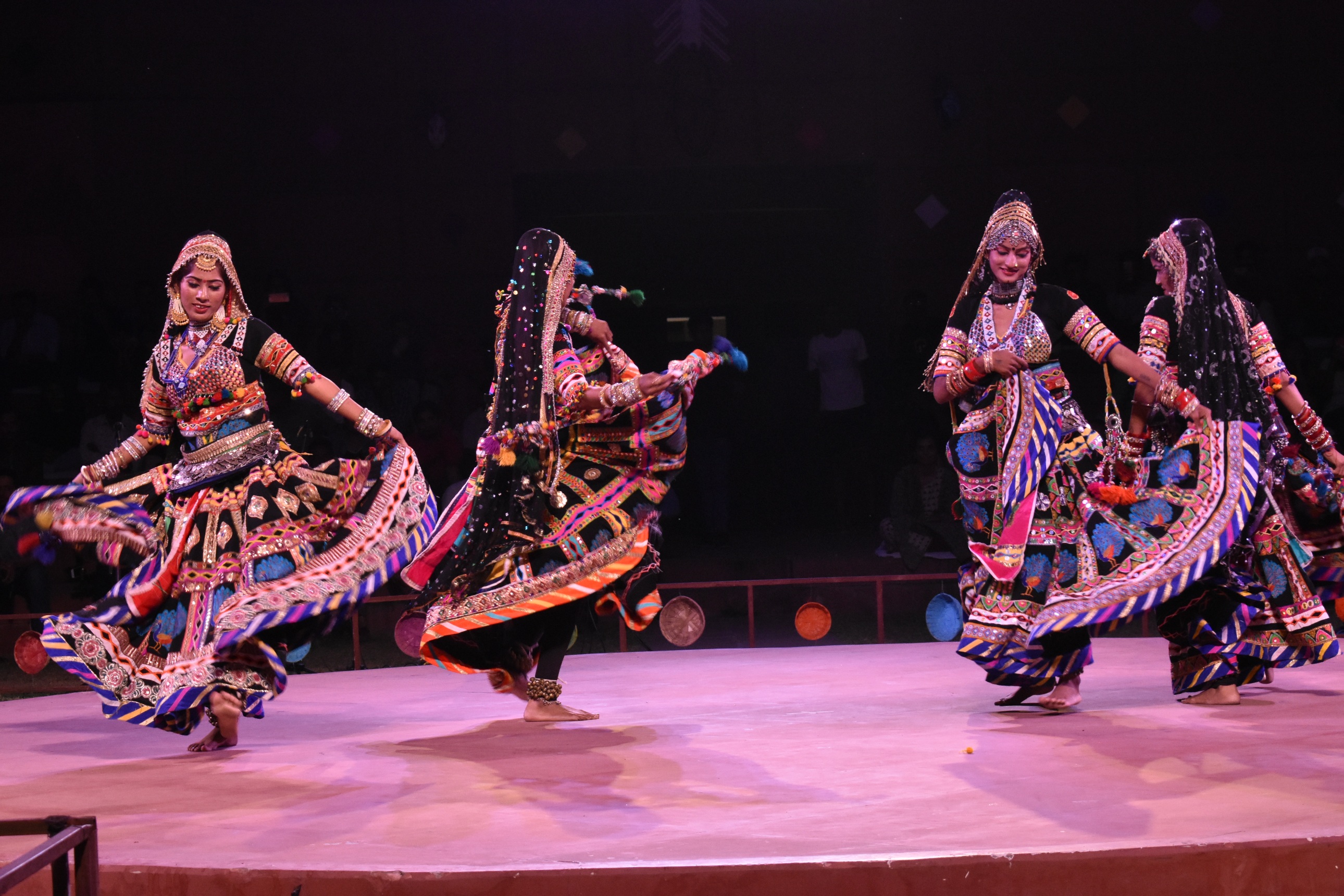 Press Release
The audience witnessed fusion performances on the 8th day of Lokrang. The fusion of folk, classical and exclusive musical instruments was the highlight of the day. The melodious fusion was presented by Ustad Nisar Hussain Khan and the group.
The evening began with a performance of Shiv Stuti. The artistes further presented Tarana and qawwali song 'Man Kunto Maula' composed by Amir Khusro. The musical instruments used during the performance were Tabla, Dholak, Sitar, Santoor, Bansuri, Jal Tarang, Khartal and Alghoza among others.  A total of 21 artistes presented this fusion of folk and classical music.
The fusion of various cultures was evident at JKK. Different folk dances and music from various parts of India were presented during the evening. After the melodious fusion performance of musical instruments, the audience enjoyed Kalbeliya, Puja Kunitha, Dedhiya, Pung Cholam, Lavani, Bhangra, Bhapang, Panthi, Badhai and Siddhi Dhamal. Puja Kunitha is the folk dance of Karnataka and is performed to workship 'Shakti'. The audience was surprised to see the dancers carrying 50 kg wooden deity on their heads during the folk dance. Similarly, the audience was astonished to see the fire tricks presented during Badhai (Madhya Pradesh). The zestful performance of Panthi by the artistes from Raipur was applauded by the viewers.
Colourful afternoons at JKKThe afternoons at JKK are filled with folk art performances from various regions of India. Ghoomar dance by the ladies in their traditional apparel was enjoyed by the visitors. The wooden puppets dressed in bright and colourful attires worked like a laughing gas during the puppet show. The classical dance from Odisha, Gotipua amazed the viewers. Young boys dressed like women performed acrobatic figures. These figures were inspired by the life of Radha and Krishna. It has been performed in Orissa for centuries to praise Lord Jagannath and Krishna. 
Workshops and Exhibitions till 20 OctoberIt is to be noted that four workshops – Terracotta pot making, Papermaking, Kishangarh style painting and Phad painting are being organised at Shilpgram. The workshops are being conducted by experts. Additionally, three workshops – 'Man to Mahatma', 'Punarbh' and 'Ranglok' are also being organised at the art galleries of JKK. The exhibitions and workshops are being organised as part of Lokrang. They are free for visitors and participants. Folk art performances during the day are also free for visitors.