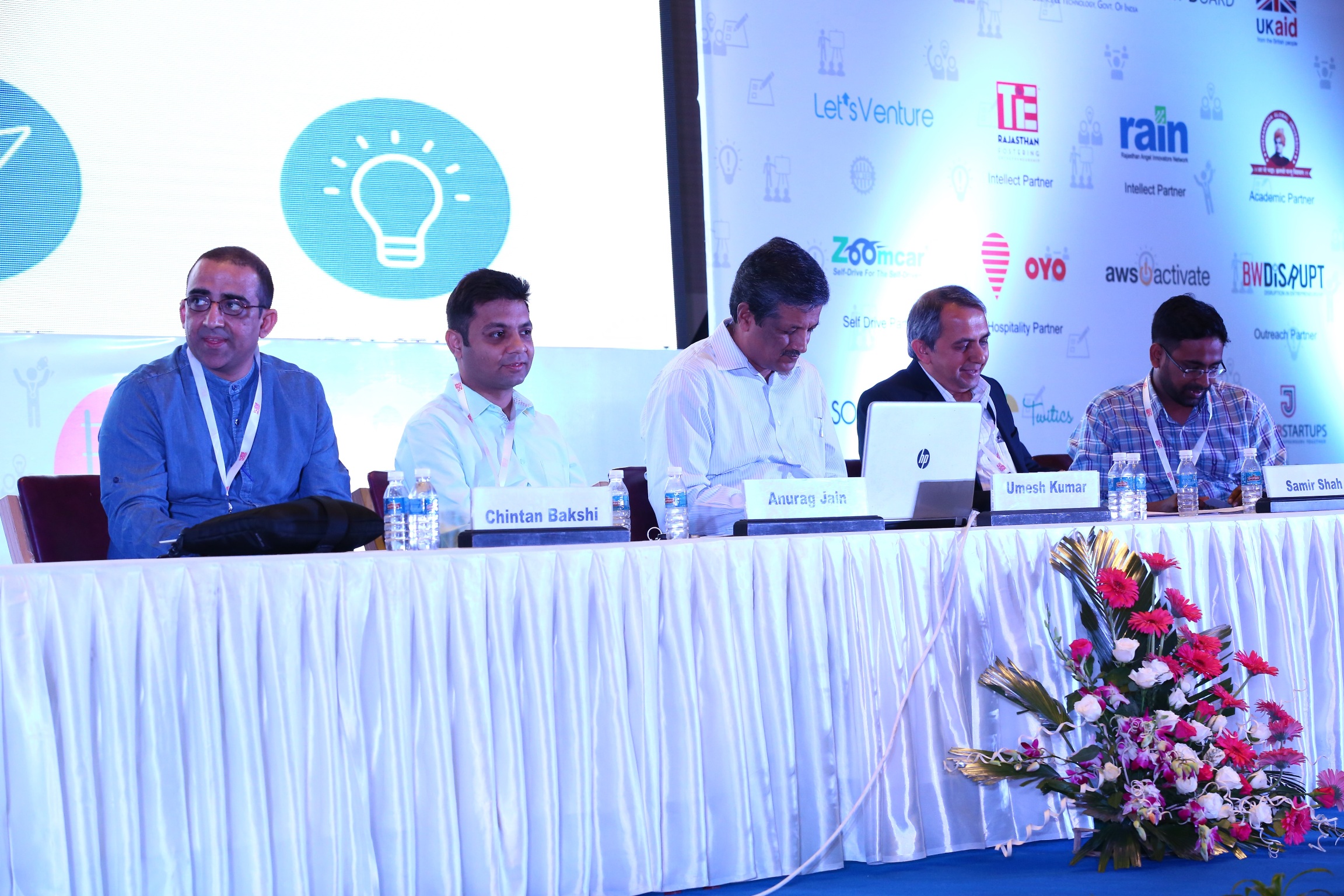 Launched by Additional Chief Secretary and Chairman RIICO
Two-day national level Fest inaugurated
200 + startups, 50 + angel and venture capital investors, 30 + mentors and startup coaches and 50 + speakers
Jaipur, 5 November: Jointly promoted by the Technical Education Department, Rajasthan Government and CIIE Initiatives, TEDSTART – an online Incubation Centre and Startup Support Program was launched today by the Additional Chief Secretary and Chairman RIICO, Mr. Umesh Kumar at the second edition of Rajasthan Startup Fest 2016. The two-day fest is being organized at the Sitapura-based Jaipur Exhibition and Convention Center.
TEDSTART is specially designed for the need of startups and aspiring entrepreneurs in the seven regions of Ajmer, Bharatpur, Bikaner, Jaipur, Jhalawar, Jodhpur and Udaipur. Through the portal the applicant can apply for fully furnished co-working spaces, startup training workshops, incubation facilities and acceleration programs.
Addressing during the inaugural session of the second edition of the Rajasthan Startup Fest Mr. Umesh Kumar said that the Fest is a platform for all the budding entrepreneurs and startups to not only showcase their business idea but also develop a strong and successful business modal.
During his address, Chief Operating Officer, Startup Oasis, Mr. Chintan Bakshi said that Jaipur stands in 8th position in the country in terms of startup funding deals. "Between January 2016 and September 2016, 13 startups from Jaipur got funded by angel and venture capital investors. Also, 47 applications for assistance by startups at Idea/Prototype stage, pilot stage, college level E-cells, setting up incubators and running of accelerators have been received till now under the Rajasthan Startup Policy-2015," said Mr. Bakshi.
Sharing the various troubles faced by a Startup, Mr. Sumit Jain, Co-Founder Commonfloor said, "Entrepreneurship is not an easy way to success, but it has extreme high and lows. One has to make mistakes and no mistake is bad if you learn from it and don't repeat it."
Mr. Anurag Jain, Co-Founder, CarDheko shared his entrepreneurial experience during the inaugural session and said, "Do not get married to your idea, see how effectively and differently you can build your idea. Innovation and change is the key here."
Mr. Samir Shah, Managing Principal, Sattava Investment Advisors, Pvt. Ltd spoke in length about an investor's perspective and the investment trend currently prevailing in India.
The inaugural session was followed by interesting sessions on 'Startup Growth – Idea to Scale', 'Current Angel and VC Funding', 'Challenges of building a social enterprise' and 'Making Rajasthan a Hub for Social Enterprises'. An exhibition, 'Startup Showcase' is also being organized during the two-day fest where more than 50 Startups are showcasing their services, products and business modals.
Later during the day prizes were given away for Ideate Unconvention competition organized for social startups. The first prize was bagged by Nebulla Innovations. The Startup strives to revolutionalize the agriculture industry through its product MATT. 'eStitch' – an online tailoring platform and 'Kshamtalaya Foundation' – social enterprise to develop school children into empowered youths were given as runners up.
It is to be noted that the national-level two-day fest is being organized by RIICO along with Rajasthan's leading incubation center, Startup Oasis as co-organizer. CIIE at IIM Ahmedabad is the knowledge partner for the event.
On day two of the fest on Sunday, interesting sessions like 'Stories of Entrepreneurs in Music, Entertainment, Literature & Arts', 'Advantages and Challenges of building a Startup from Jaipur' and 'Women Entrepreneurship' will be organized. The winners for a special business plan competition – Ideate Student Startup Challenge will also be announced during the valedictory ceremony.