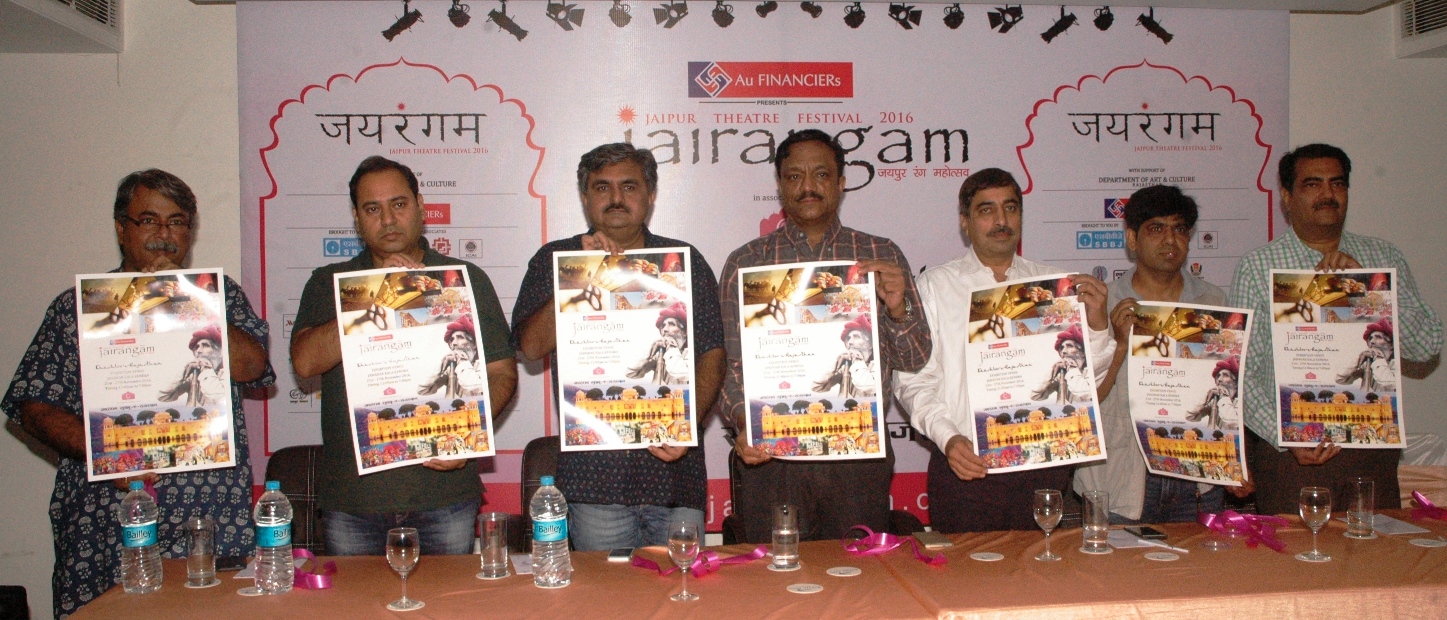 From 21 to 27 November
Poster launched for Khushboo-e-Rajasthan
Jaipur, 5 November: Renowned Bollywood actor Irrfan Khan will be the Brand Ambassador the forthcoming annual theatre festival of Pink City — Au-Jairangam. This was informed today by President, 3 M Dot Bands, Mr. Narendra Gour today. Scheduled to be held from 21 to 27 November, the festival will have as many as 33 plays in mainstream theatre and 200 street plays.
An official poster was also launched today for its Online Photography Competition – 'Khushboo-e-Rajasthan'. The poster was released by members of the organizing team of Au-Jairangam as well as Jaipur Photographers' Club (JPC).
Said President, JPC, Mr. Anil Khubani : " 'Khushboo-e-Rajasthan' has received a tremendous response from all over the country and more than 500 photographs have already been submitted for the contest. In fact, there are some entries from outside India as well."
Vice President – Brand & Marketing Communications, Au Financiers, Mr. Mrinal Purohit said that the festival is a great initiative to promote art and culture in the city. It will also greatly boost tourism in the state.
The Festival Director, Au-Jairangam, Mr. Deepak Gera said that in order to promote the competition, a photo walk is also being organized in association with JPC on Sunday, 06 November at Hawa Mahal on the theme 'Colors of Life'. Participation in the walk is open to all and is being organized keeping in mind that anyone who wishes to participate in the online photography contest of Au-Jairangam – 'Khusboo-e-Rajasthan' — may use the opportunity of the walk to click pictures under the guidance of the senior members of Jaipur Photographers' Club.
It is to be recalled that 'Khushboo-e-Rajasthan' online photography competition is open for all across the globe and the last date for submission of entry is till 10 November 2016. The theme for the competition is 'Colors of Life'.
There are two segments for this competition Camera (SLR, DSLR & Point n Shoot) and Mobile. An entrant can submit 5 photographs online by visiting the official Au-Jairangam page (https://www.facebook.com/JairangamOfficial/)
Best 3 photographs in each segment will be awarded and 2 consolation prizes in each segment will also be given. Top 100 Photographs from the competition will be displayed in the exhibition at Jawahar Kala Kendra, Jaipur during the Theatre festival from 21 November to 27 November. The best photographs will be selected on the basis of number of likes on Facebook (25%) and by a panel of esteemed judges (75%) of national and international repute. The panel includes renowned cinematographer and photographer from Mumbai, Mr. Sanjay F. Gupta; Photographer and jury member of Better Photography magazine from Mumbai, Mr. Vimal Parmar; photographer and trainer from Jaipur, Mr. Umesh Gogna; photographer from New Delhi, Mr. Amit Pasricha and Jaipur based architect, Mr. Sanjay Kothari.