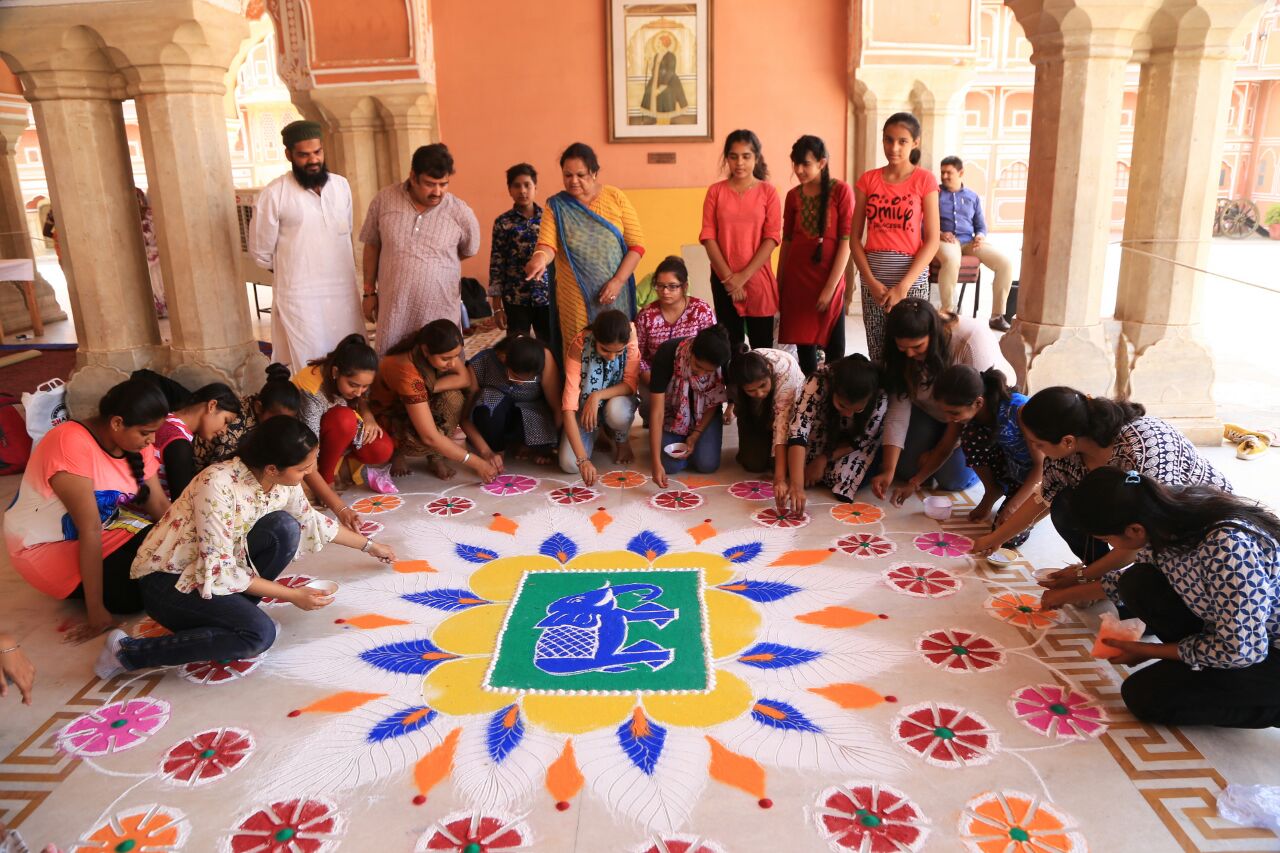 Press Release
The participants of the Summer Training Camp (Sanskratik Virasat Prashikshan Shivir) are enjoying the arts of Mandana, Rangoli and Calligraphy at City Palace.  The camp is being organized jointly by Maharaja Sawai Man Singh Museum (MSMS II Museum), Rangrit Art School and Saraswati Kala Kendra.
MANDANA AND RANGOLI WORKSHOP
As many as 20 people from varied age groups are participating in this workshop. The facilitator, Mr Laksminarayan Kumawat said that while traditionally Mandana is done on walls and floors using pieces of cloth wrapped around fingers and cotton, participants will be doing the same on plywood boards using paint brushes for convenience. They are being taught the entire traditional process beginning from plastering the boards using cowdung and clay (yellow mud) to making motifs using the geru and white color prepared using chalk powder. He also informed that while many of the participants have sometime or other done Mandana at their homes on festive occasions, in the workshop they are learning this art with more details and proper measurement techniques.
The participants are also making rangoli using various vibrant colors during the workshop. The materials are being provided at the camp while participants are also free to bring their own.
CALLIGRAPHY WORKSHOP
To revive the art of calligraphy, and promote the traditional arts of Rajasthan, a calligraphy workshop is also a part of the summer camp. As many as 35 participants ranging from 7-50 years of age are participating in the workshop.  Initially the participants are learning to write Hindi alphabetical letters using the bamboo quills. As the workshop progresses, they will also learn to write the English alphabets in various fonts along with Gothic and Italic scripture fonts.