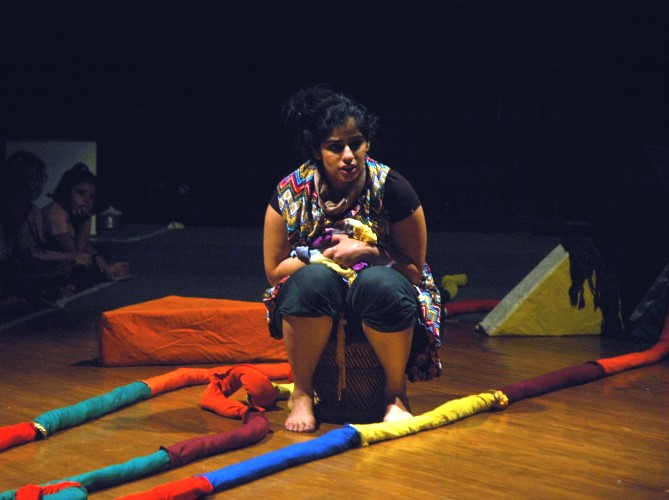 Press Release
A plethora of activities are being organised as a part of the ongoing Junior Summer Camp at Jawahar Kala Kendra.  The special sunday began with a Treasure Hunt activity in the morning followed by staging of a play- Stepping stones at Krishnayan. Around 350 children participating in the camp between age groups 8-17 years enjoyed these activities.
TREASURE HUNT
In the Treasure Hunt, participants divided into 9 groups guided by a facilitator each, had to find clues hidden in the entire premises of JKK. The 2 hour long activity began from Madhyavarti where the groups were handed one clue slip each. On its basis they had to find the other 3 clue slips to unlock their adventure task. For the final clue slip, groups had to find the instructors dressed up as Jokers, Banjaran and other makeovers, find the matching lock and key and return to Madhyavarti. The winning first two teams who found the right lock and key won the treasure hunt and were awarded smiley badges which they will be wearing for the next 15 days.
STEPPING STONES – PLAY
Awarded Best Children's Play by the Writer's Guild of Great Britain, Stepping Stones was staged at JKK. The play follows the story of Cynth, a young girl, who goes on a journey to find the fallen star for her mother but her mother does not want her to go. The play touches the parent-child relationship, the process of change and the parent's fear of letting go. It gives a message that while we want our children to grow and become independent adults, are we the ones holding them back?
The play is an initiative by Yellowcat, a collective of artists and educators who use theatre to create playful learning experiences for children in a wide variety of spaces like classrooms, theatres, galleries, internet etc.