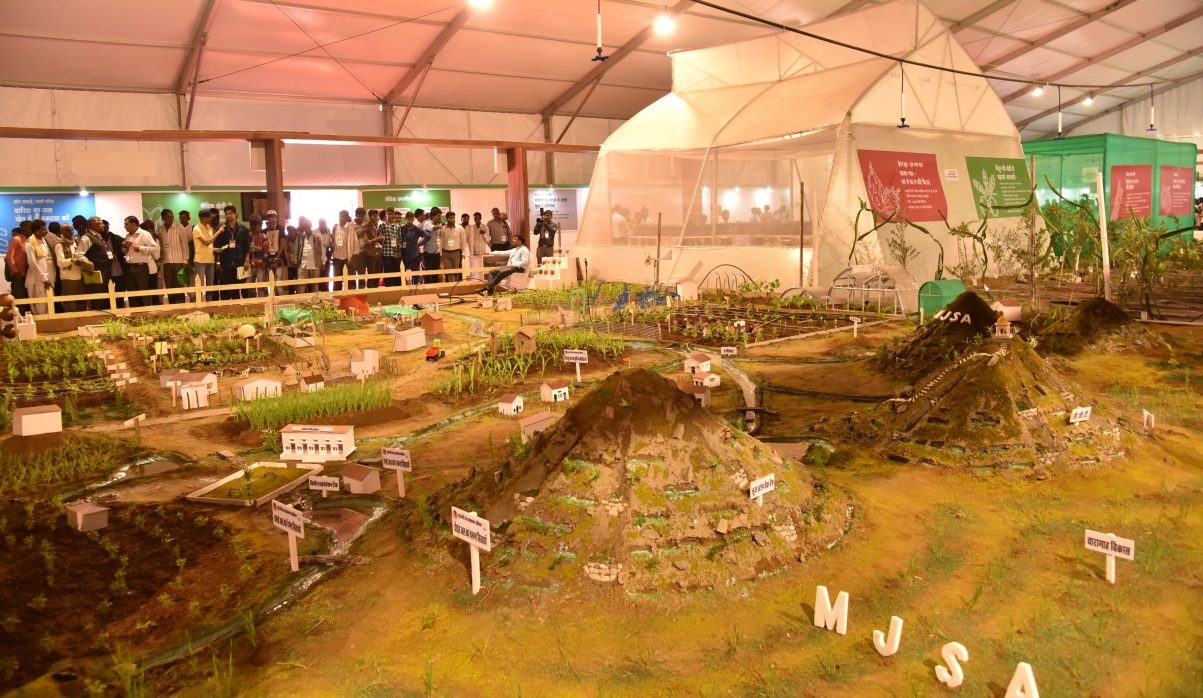 Press Release:
The  3-day Global Rajasthan Agritech Meet (GRAM) in Udaipur showcased several new modern farm implements, machinery and techniques at the 'Smart Farm' which was a major attraction among visitors. Spread over an area of 1650 sq meters with 18 different stalls, the Smart Farm was based on the theme 'Doubling Farmers' Income'. The 'GRAM' Udaipur was jointly organised by the Government of Rajasthan and Federation of Indian Chambers of Commerce and Industries (FICCI).
The theme of 'Doubling Farmers' Income' was displayed through numerous strategies as advocated by the Government of Rajasthan. These strategies include: Per Drop More Crop (through drip irrigation, water conservation and MJSA); Soil Health (through soil testing labs, soil health cards and organic farming); Post-Harvest Loss and Value Addition (through display of processing technology and products from various crops); National Farm Market through e-NAM (Electronic-National Agriculture Market) and allied agriculture activities (through dairy, bee-keeping, fisheries, mushroom cultivation and animal husbandry).
At the center of the Smart Farm was a huge live model of a farm showcasing advanced techniques of animal husbandry, horticulture, floriculture, organic farming, rain water harvesting, pest prevention, among others. Also on show were bio gas plant, solar energy device, hybrid maize seed production, poly house, shade net etc.
Another crowd puller at the Smart Farm was the milking machine indigenously produced by the National Dairy Development Board. Powered by solar or bio-gas energy, the machine was made keeping in mind the process by which a calf suckles a cow's milk and is extremely gentle on the cow. The milk procured using this machine is free of any contamination. It also prevents occupational hazards such as joint pains or back pain among women who spend long hours milking the cows. Using this machine also gives them additional time to engage in other sources of livelihood.
Similarly, another machine displayed at the Smart Farm was the 'Milko Screen' which differentiates between pure milk and impure milk. By also ensuring fair payment to the farmers, it is beneficial for both the consumers and farmers. Other components like nursery and fruit orchards, mushroom cultivation, fisheries, bee keeping, Sadabahar Aam were also quite popular among the visitors at the Smart Farm in Udaipur.