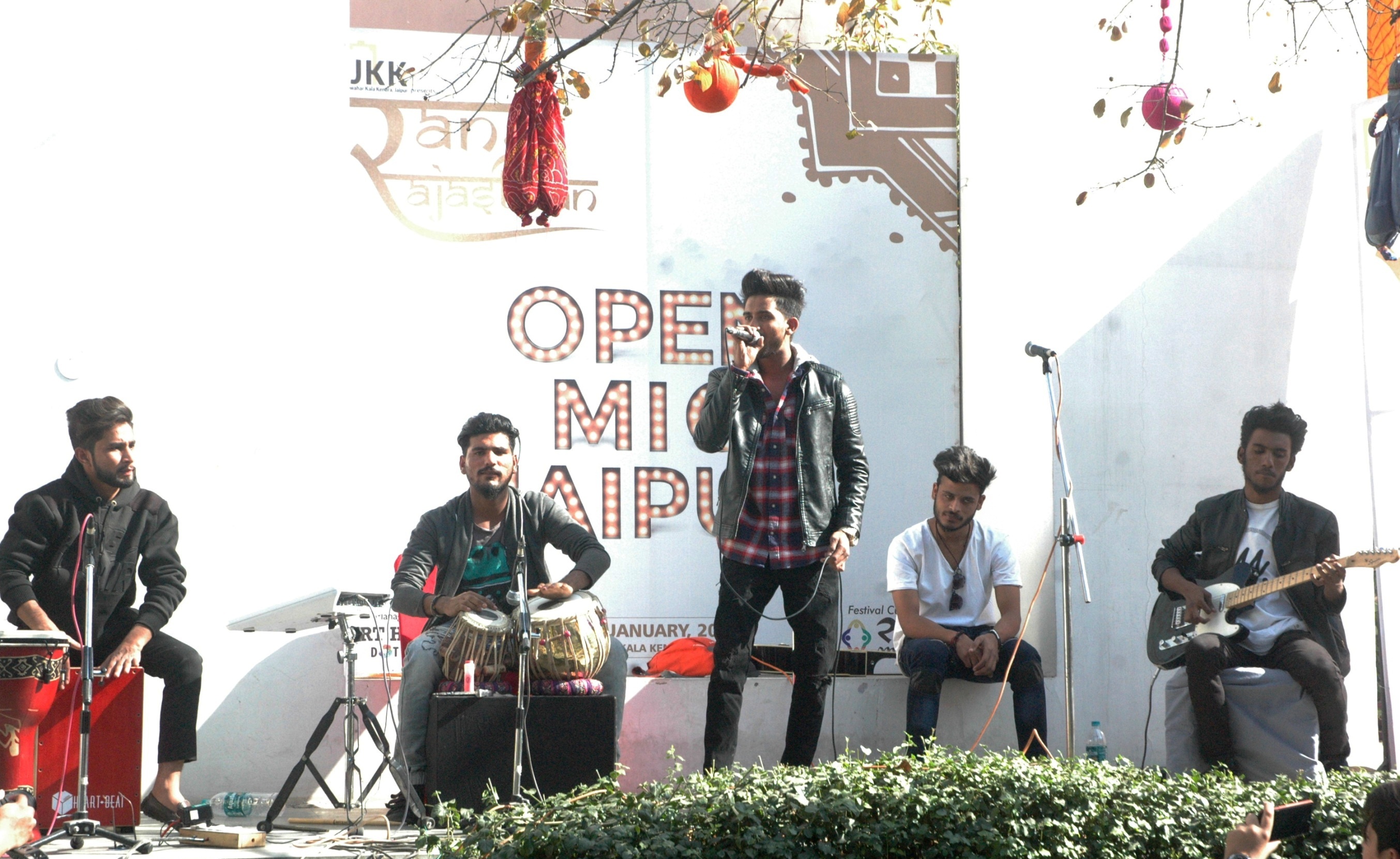 Press Release
The weeklong theatre and art festival, Rang Rajasthan concluded on 11 January, 2018 with great fanfare at Jawahar Kala Kendra (JKK). The day witnessed several activities like School Outreach Programme, staging of two plays, folk performances as well as Open Mic Jaipur sessions. It is to be recalled that the event was curated by Rang Mastaaney and presented by Jawahar Kala Kendra.

School Outreach Programme –
As a part of Rang Rajasthan's School Outreach Programme, around 550 students of Bharatiya Vidya Bhavan's Vidyaashram and Gyan Vihar School witnessed Bhawai by Ananya Singhal and Mashak by Mahmood Khan. 
Open Mic Jaipur –
The Open Mic Jaipur session witnessed musical performances by Ritesh Saini, Mudit Tripathi and Ankit Rawat on vocals. There was also performance on flute and guitar by Nishant and Abhishek Chatterji respectively.

'Dohri Zindagi' by Gurleen Judge –
The play 'Dohri Zindagi' directed by Gurleen Judge revolves around the story of two miserly traders, living in villages separated by a distance of 24 kms, form a marriage pact between their unborn children. All seems well until they both have daughters. Greed for dowry tempts one of the traders into declaring his daughter a boy. However, on the night of the wedding his deception is revealed and it shakes the foundations of morality and sexuality in today's society.
Talk Show By Dr. Arjun Deo Charan –
Renowned theater director, Dr. Arjun Deo Charan shared his journey of theater with which he is associated since 40 years. He said that the support of his family played an important role in his journey. He further added that even today the society does not look at theater in a respectable way. Writers, musicians and dancers are still given respect but not thatre artistes. The hard work that one puts in theatre and acting is often underestimated and taken for granted. He also said that Rajasthani language should be more widespread in the state and should be used by people in their daily lives.

'Satyagrah' by Dr. Arjun Deo Charan –
Another play 'Satyagrah' written and directed by Dr. Arjun Deo Charan was also staged today. The play was based on the historical incident of 1643 when 185 Charan poets sacrificed their lives by beheading themselves with their own katar. This was done against the injustice meted out to them by King Udai Singh of Jodhpur.

Folk Performances –
In the evening there was folk music performance by Rhythm of Mewat by Yusuf Khan. There were various dances  like Chari dance by Virendra Singh & Group from Kishangarh, Aangi Gair by Paras Mal Maali, Bhawai by Dr. Roop Singh Shekhawat and Dhol Cheep by Chanan Khan from Barmer.