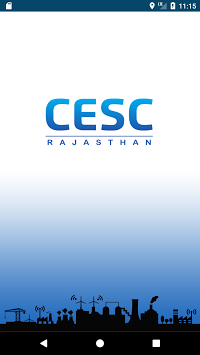 Press Release
Calcutta Electricity Supply Corporation (CESC) launched its mobile app at the corporate office of the Kota Electricity Distribution Limited (KEDL) in Kota on 10 January, 2018.
Chief Executive Officer of the CESC Rajasthan, Amarnath Singh launched the mobile app. Consumers of Kota, Bharatpur and Bikaner will be benefited through the mobile app. Options of BKESL, BESL and KEDL have been given respectively for the consumers of these 3 cities. Consumers can download the app by searching cesc.rajasthan-rajvidyut. The name of app is Rajvidyut.
Consumers will have to register their mobile number after downloading the mobile app. Those consumers who numbers are not registered with KEDL can call the KEDL call center number 18001021912 or 1800-200-1912. After registration of the numbers of the consumers, a message will be sent on the mobile numbers of the registered mobile numbers of the consumers. The mobile app will provide every facility available over KEDL counter.
Consumers can get their bills online, can retrieve their duplicate bills, can know their status of amount deposited so far. Also consumers can report their electricity related complaints through their app and also know it's status. Consumers can also inform about electricity theft and also about kind of mishap. Consumers can also see the power consumption on their mobile app through the mobile app in every 15 min. Consumers can control the power consumption using mobile app.
Amarnath Singh said that Rajasthan and Government of India is focussing on digitization so CESC is trying to match foot with the government through launching mobile app.