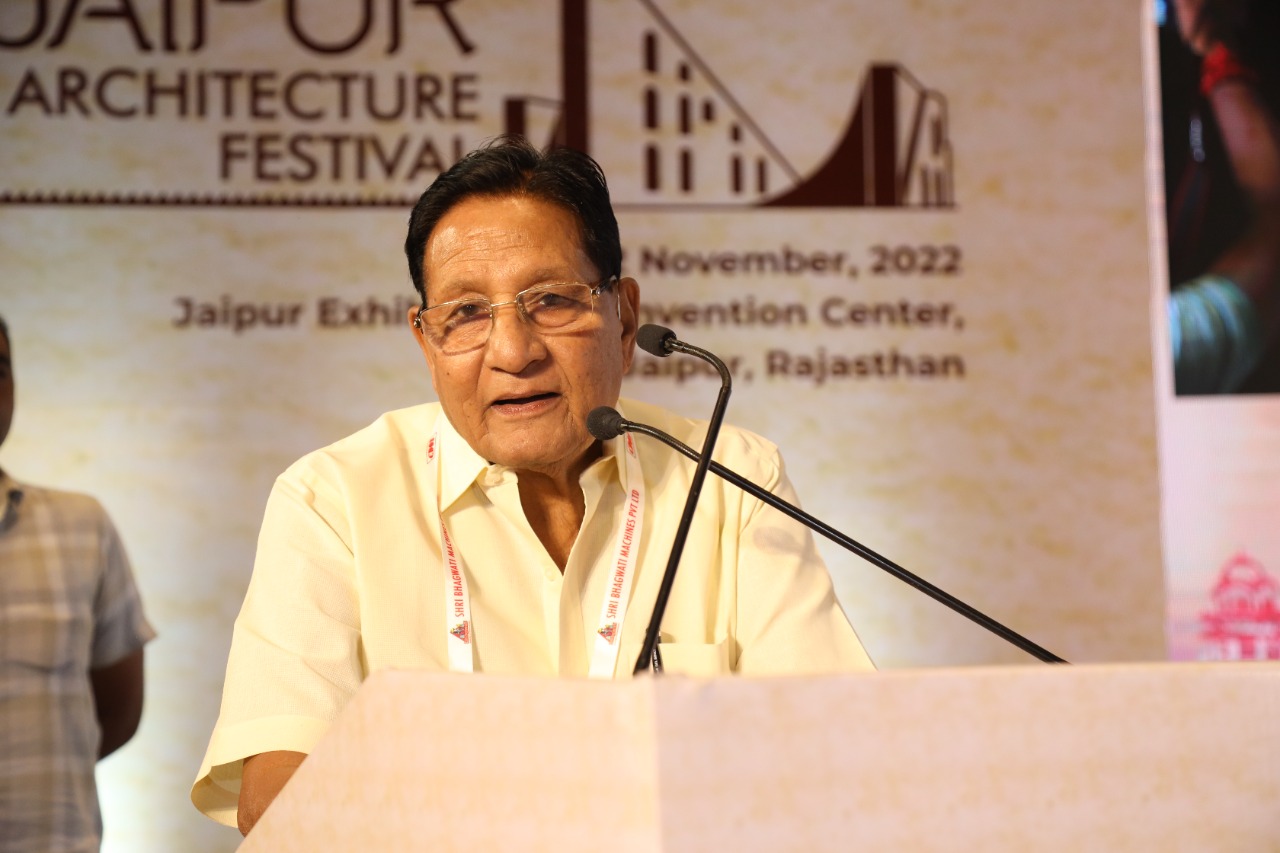 Press Release
The forts, havelis, monuments, etc. of Rajasthan are huge centers of attraction and are well known not just in the country but also across the globe. They attract tourists from all over the world. The stone carvings of Rajasthan are also a matter of great pride and repute for the state. This is testament not just of the great building and planning but also the design thought which gives a character to the entire society. To ensure that this artistic skill does not become extinct, it is necessary to create livelihood and viable economic conditions for the stone workers. This was stated by the Rajasthan UDH Minister, Shanti Kumar Dhariwal at the inaugural session of the fourth edition of the Jaipur Architecture Festival at the India Stonemart 2022 in JECC. The 11th edition of India Stonemart is being organised by Rajasthan State Industrial Development & Investment Corporation Ltd. (RIICO), Centre for Development of Stones (CDOS) and Federation of Indian Chambers of Commerce and Industry (FICCI).
The Minister further said that urbanization is increasing at great pace and the role of architects in selection as well as use of stones has become extremely important. Smart cities are also being developed in the state as well as the country. Even though the Smart City Project is of the Union Government, the State Government too has allocated funds for it. There is need for more research and innovations and the Jaipur Architecture Festival will serve as an inspiration for students of architecture, added the Minister.
In her address, ACS, Industries & Commerce, Government of Rajasthan, Mrs. Veenu Gupta said that Rajasthan is a leading tourist destination and it is now also developing as a wedding destination. Furthermore, many apartment buildings, public parks, commercial buildings etc. are coming up. In this scenario, it is important that architects as well as students of architecture know about the various types of dimensional stones in Rajasthan and its uses.
President, Council of Architecture, Mr. Habeeb Khan said that the model of CDOS should be followed across the country. Stonemart gives an equitable platform to architects as well as students to get more information about stone, he added.
The Vote of Thanks on the occasion was extended by Commissioner, Rajasthan Housing Board, Mr. Pawan Arora. He said that the role of architects in the vision and planning of a building is now being increasingly recognized. He underlined the need for more research to increase the knowledge of construction materials. Earlier, the welcome address was given by Chairman, IIA Rajasthan, Architect Tushar Sogani.
Also present on the dais were Commissioner, JDA, Mr. Ravi Jain; Managing Director, RIICO, Mr. Shivprasad Nakate; Vice Chairman, CDOS, Mr. Rakesh Kumar Gupta; and CEO, CDOS, Mr. Mukul Rastogi.
Keynote Session, Jaipur Architecture Festival:

The keynote speaker at the 2-day Jaipur Architecture Festival was Mr. Kamal Malik of Malik Architecture. In his address, he laid emphasis on using the knowledge of traditional artisans and mistris and not just blindly following the structural engineers. Giving a word of advice for students of architecture, he said that instead of just sticking to the client's functional brief, an architect must also make use of 4 Is – Intellect, Instinct, Intelligence and Intuition.
It is to be recalled that the Jaipur Architecture Festival is a unique platform for architects, architecture students and stone industry entrepreneurs to share new ideas and discuss architecture, design, culture, conservation, heritage, and stone traditions through discourses, contemplation and exploration. Around 25 leading architects from India and abroad are sharing their ideas through 2 keynote sessions, 2 Master Speak and 4 panel discussions during the event.
The festival is also exhibiting 15 inspiring projects of architects and designers in the Display Arena as an ode to the rich culture, heritage and stone architecture of the state of Rajasthan. A special display of art and design installations by various design students on the theme 'Stone: Modern Approach, Traditional Roots' is providing insight into exclusive ideas and products.