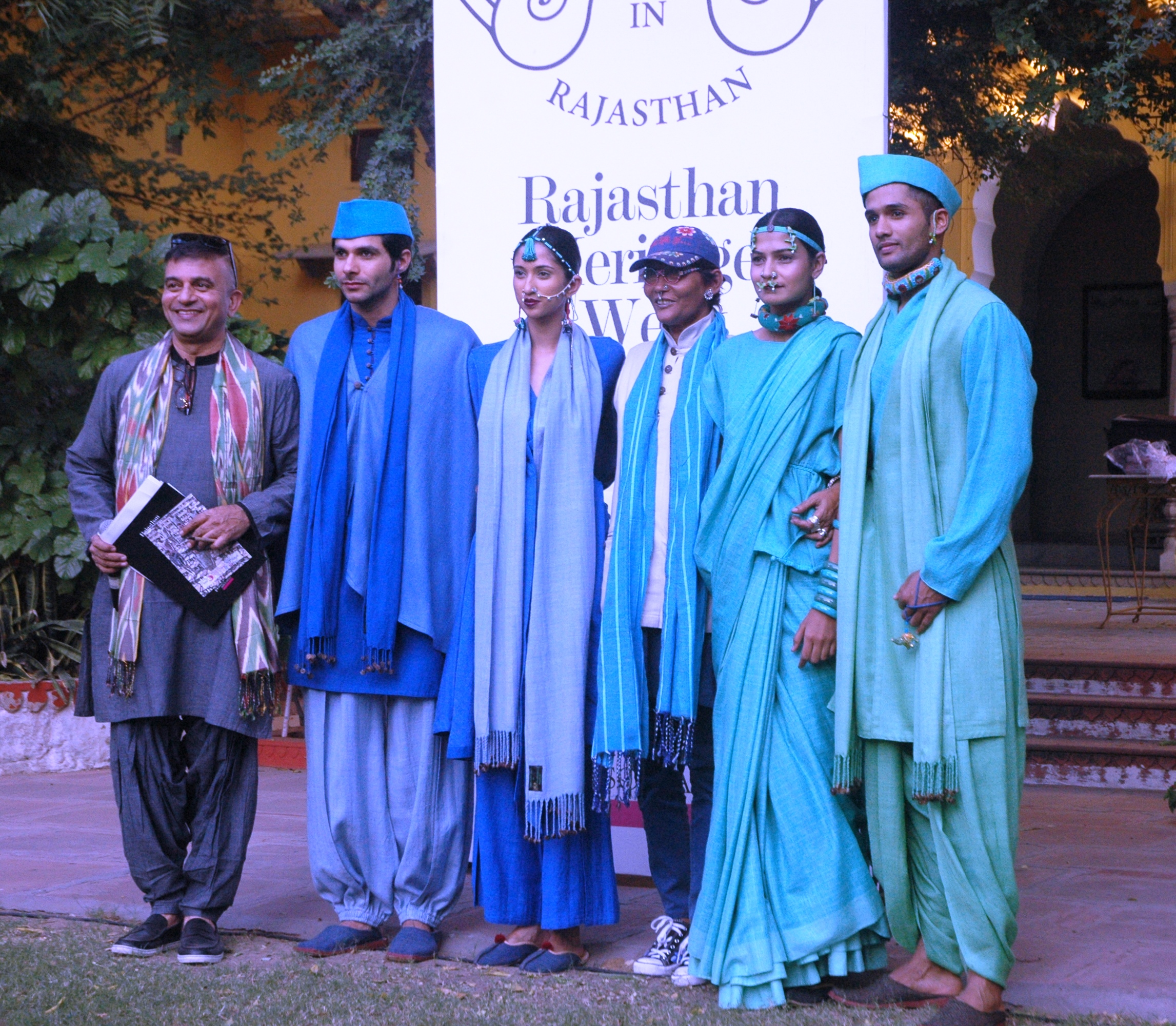 11 National Award-winning artisans along with a galaxy of fêted designers come together to revel 'Handmade in Rajasthan'
 Jaipur, November 29: The Second Edition of Rajasthan Heritage Week celebrating Handmade in Rajasthan was announced at the Diggi Palace Hotel, Jaipur. 
The three-day fashion extravaganza, including a five-day Crafts Village, highlighting modern luxury and the beauty of heritage textiles, is scheduled to be held from 30th November to 4th December, 2016 in Jaipur.
Conceptualised by the Rajasthan Khadi & Handloom Board and Government of Rajasthan in association with Prasad Bidapa Associates, it consists of some of India's best Designers and National Award Winning Artisans from Rajasthan, who would be showcasing their solo collections as well. Artisans from Bagru, Jaipur, Sanganer, Kaithoon, Mangrol, Barmer, Baran and Pokhran would be part of this.
The Designers include – Bibi Russell (Bangladesh), Abraham & Thakore, Rajesh Pratap Singh, Hemant Trevedi, Rohit Bal, Raghavendra Rathore, Wendell Rodricks, Little Shilpa, Rimzim Dadu, Urvashi Kaur, Pavitra Muddaya and more. The International Designers include Sonali Dharmawardena & Ajai Vir Singh (Sri Lanka) and Madina Kasimbaeva (Uzbekistan).
The Honourable Chief Minister of Rajasthan Ms. Vasundhara Raje said, "The Rajasthan Heritage Week is a part of the Textile Development Program that reaffirms our commitment to the traditional textile weavers of our State, who have tirelessly worked to continue the legacy of our forefathers. Their vibrant work and age-old techniques combine to form a superb product that adds to the image and perception of Rajasthan. From the weavers of the stunningly beautiful Kota Doria sarees and saafas to the thousands of Textile Weavers, Printers, Dyers and Artisans who give Rajasthan its unique identity and vibrancy, we are committed to the promotion of our textiles and crafts to a Global Audience.
With the spotlight on the Weavers and Artisans showcasing their works, like last year, the second edition has leading national and international designers who will be working with our weavers in building the brand of 'Handmade in Rajasthan'. We are determined to give our Khadi and Handloom the tag of Luxury, which it very rightly deserves. Every piece of fabric woven by hand represents the spirituality of the Fabric of Freedom, a Gandhian philosophy that should now create increased employment, success and a better quality of life for every artisan in our State."
In a unique endeavor to revive the glory of Khadi, an 'Intervention without Interference' approach has been created where Designers work with the Artisans from Rajasthan.  The focus of the Rajasthan Heritage Week will be to showcase the versatility of the heritage fabrics to buyers across India and abroad, in the form of modern and fashionable silhouettes, well suited for every occasion.
The Organizer and Chief Creative Director of the project, Mr. Prasad Bidapa said, "The Rajasthan Heritage Week is a unique perspective that integrates the Traditional Textile Arts of the State with the most talented designers in India and abroad. In the same way that the Irish made a Global Statement with their linen, India needs to brand its Khadi and Handloom masterpieces and position them as true luxury that is rare and unique. The infinite varieties of our textiles and embellishments are myriad and lend themselves to a vast range of products.  A new generation has to be educated and inculcated with the importance of the Handmade Arts of India. For too long, Khadi has been relegated to the shelves of uninspiring stores and had lost its importance as the fabric that won us our Freedom. It is time to make our youth & the World understand that this is the Fabric of the Future, with the potential to make an important Fashion Statement internationally, season after season."
Also addressing this occasion, Mr. Rajeeva Swarup, Principal Secretary, MSME, Govt. of Rajasthan said, "In 2015 we initiated a Textile Development Program for development of the traditional textiles of Rajasthan, by providing a platform for a dialogue between our artisans and the leading Fashion Designers of our country and abroad, where both can learn from one another and mutually benefit. The 2016 edition sees more designers from across the country and the world working with these weavers and artisans in an 'Intervention without Interference' approach. Leading fashion designers are working painstakingly over weeks with our artisans for product and design development as well as innovations to come out with new products catered to the current market needs. This is being done for the very first time in the country and we are happy to present the outcomes of this Program to the World of Fashion during the course of the Rajasthan Heritage Week. These invited Designers can perceive and experience the exquisite products of our State and enable its permanent integration into their collections both in the Fashion and Interior Design segments.
Rajasthan Heritage Week will be presented annually, and both local and other designers will continue to work throughout the year on specific projects. We hope that in time it will become one of the most significant events of the Indian Fashion Calendar."
In a unique endeavor to revive the glory of Khadi, legendary artisans, designers and fashion czars will come in unison in Jaipur to revel the historical fabric. The event will feature a host of top notch designers from India and abroad including Ritu Kumar, Bibi Russel, Abraham &Thakore and Hemant Trivedi who have worked alongside award-winning artisans to showcase their intricate designs and artistry using heritage fabrics.
International Designer Ms. Bibi Russell who has been working constantly with the Rajasthan weaver and artisans said, "The Rajasthan Heritage Week is a project which is close to my heart. Rajasthan is like my second home. I spend most of my time working with the local crafts people and weavers whose work is just incredible. In Bangladesh and in other parts of the world, "Fashion for Development" has helped the artisan community to prosper and it's made a sustainable development and a better livelihood for them. In Rajasthan, I have had the privilege of working with Khadi, Kota and other crafts. Surely through this initiative all the local artisans will get a better opportunity to show their unique talent nationally and globally. I'm absolutely thrilled to be a part of this great endeavour and very much looking forward to this Heritage Week. This is for the very first time that any such event is being organised to promote the local handmade crafts which were on the verge of extinction. Rajasthan Khadi, Kota, and hand woven fabrics are magnificent and definitely deserve to be counted amongst the finest fabrics."
Ms. Malvika Singh, Co-chair, sub-group in Tourism, Govt. of Rajasthan, said, "This project was conceptualized to benefit the Textile Artisans of Rajasthan in a manner that would create intervention without interference. Rajasthan has one of the richest fabric and embellishment craft forms in India, and the integration of these ancient and beautiful techniques into the work of the contemporary Fashion Designers was a mission that could only benefit both. Our Artisans have as much to teach the participating Designers, as they have to learn; to modernize and create a contemporary narrative of their design that can dazzle the world with its intricacy and ancient precision."
About Rajasthan Heritage Week:
The Rajasthan Heritage Week is a Textile Development Project initiated by Fashion Guru Prasad Bidapa in association with the Government of Rajasthan. Targeted as an annual event, it would involve designers from across India and abroad who would work on the textiles of Rajasthan alongwith the various textile art and craft forms to showcase to the world.