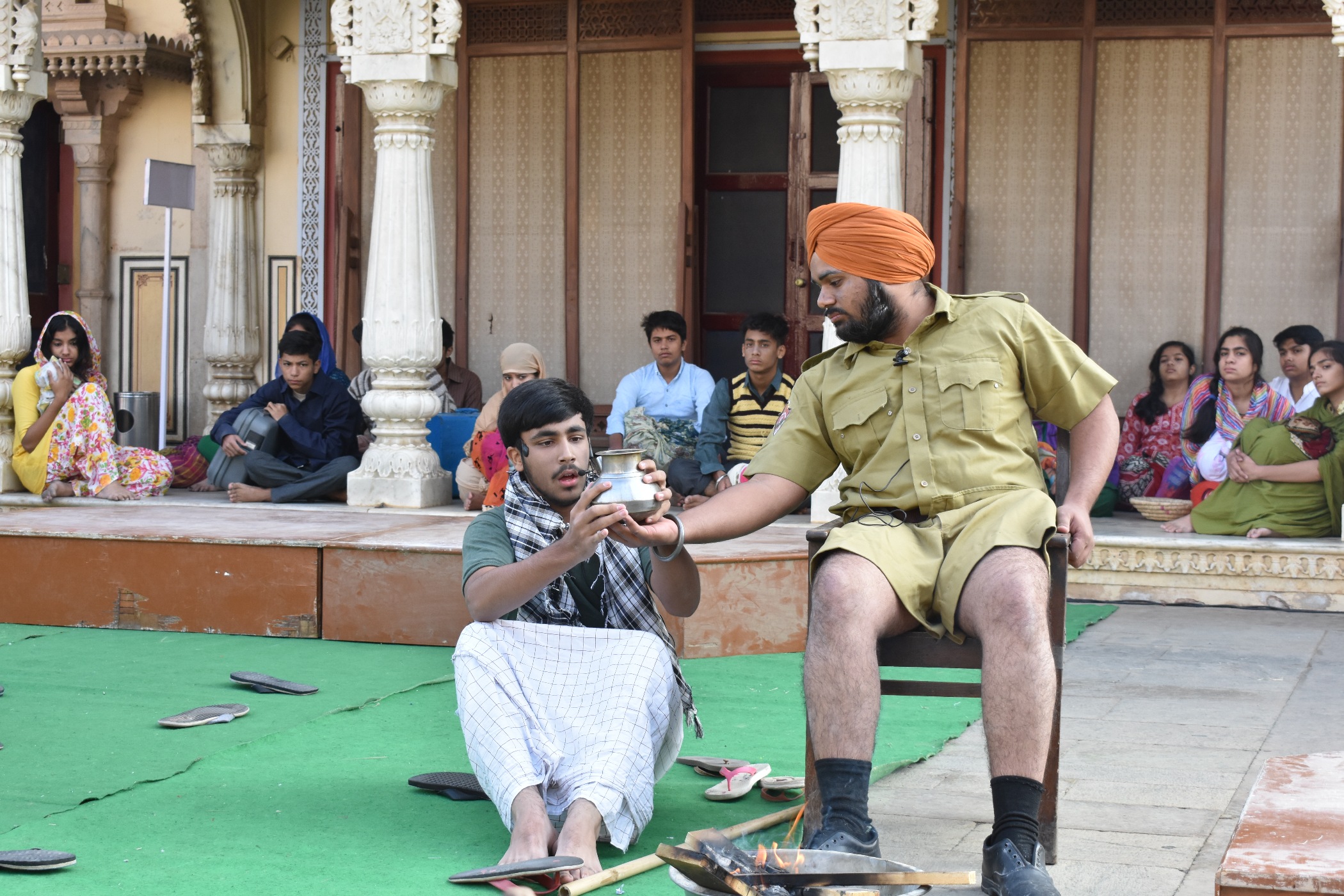 Press Release
The 4-day 'History Festival' taking place at City Palace witnessed a successful second day with over 1000 students taking part in the festival from around 30 schools. The festival is being organised by the Maharaja Sawai Man Singh II Museum.
The programme began with a musical display of Rajasthan's popular folk song 'Kesariya Balam' by The Palace School. After which, the students of Subodh Public School, Airport performed 'Dohe' by Kabir. Maharaja Sawai Bhawani Singh School presented a song on Jaipur, a Sufi number and Meera Bhajan. This was followed by an enactment of the Indian epic, 'Mahabharat' by Shanti Asiatic School. The students dressed in costumes, enacted the pros & cons of iconic mythological figures like – Duryodhana and Krishna.
Back by popular demand from last year, the play 'Takseem' was presented by the students of St. Anselm's School who gave a hair-raising performance. 'Takseem' meaning 'Paritition' aimed to showcase the plight of the people the day after the Partition (16 August 1947). This moving play aptly depicted the devastation and violence faced by the refugees migrating during the Partition. 'Takseem' will also be presented on 15 December.
The programme commenced with energetic dance performances – 'Dashavatar' by Rukmani Birla School and Kathak performances of 'Women' & 'Ganesh' by the students of DPS Sec 45 Gurgaon. The girls left the audience mesmerised with their flawless execution and expert choreography.
The programme concluded with participation certificates being handed out to the outgoing students by Principal, The Palace School, Ms. Urvashi Warman and Former History teacher of SMS School, Ms. Upma Mathur.
The on-going live exhibition saw huge footfalls on its second day, with teachers and students taking interest in paintings, historical texts, live painting of eminent historical figures, 3D models, Revolution and Travelogue – RTM-E models, blue pottery tiles, travelogues of renowned historical figures and much more.