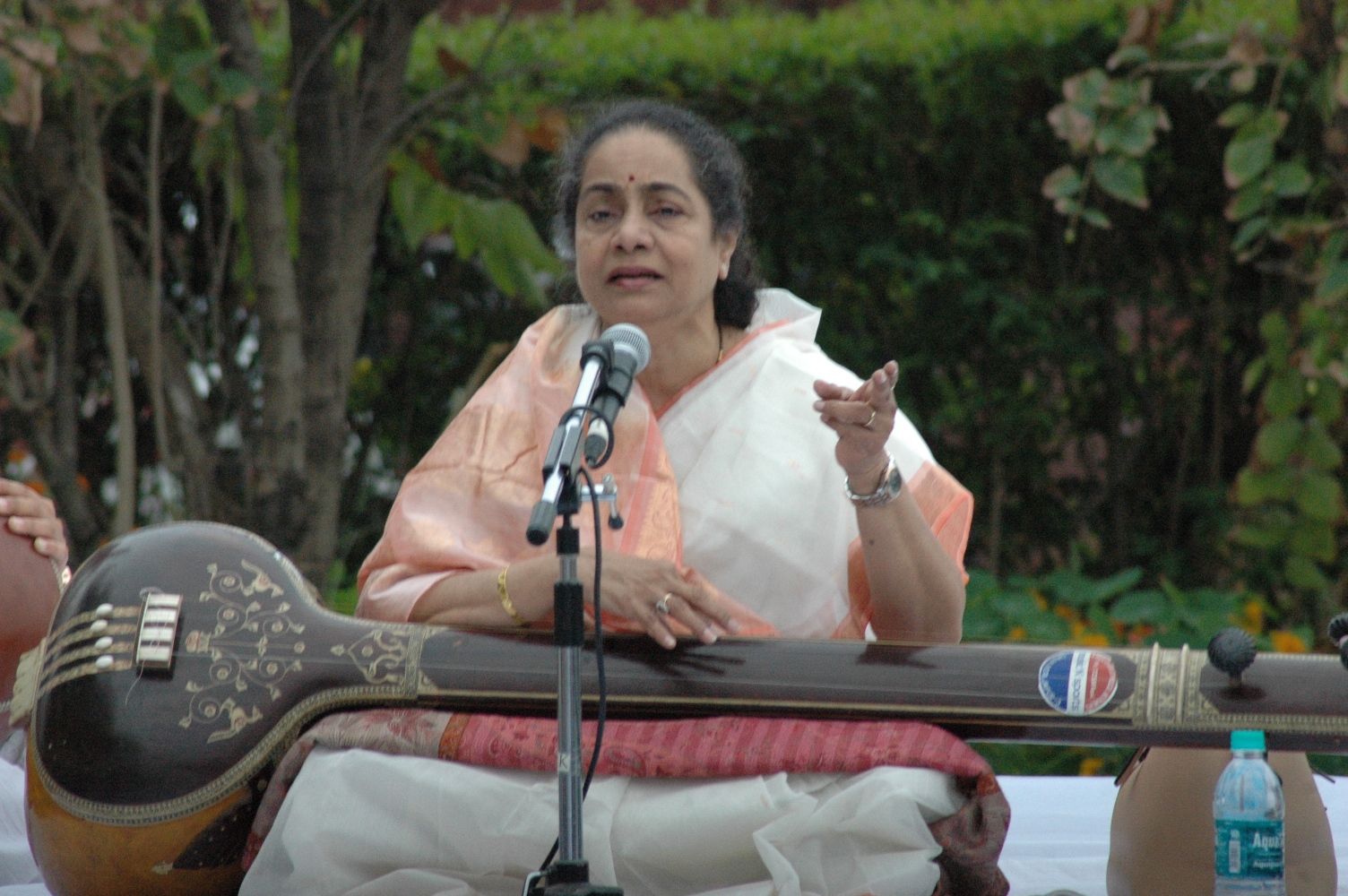 Press Release
Day two of Performing Arts Festival 'Navras', JKK
Jaipur, 19 March: The second day of 'Navras' – The Performing Arts Festival at JKK witnessed various programmes like, 'Morning Ragas', 'Theatre Performance' and 'Meet-The-Artist'.
MORNING RAGAS
Renowned Indian Classical vocalist, Ms. Shruti Sadolikar rendered Raags like 'Ahir Bharav', 'Vibhas' and 'Lalit'. She was accompanied by Pt. Vinod Lele (Tabla,), Pt. Vinay Mishra (Harmonium) and Ms. Lavina (Tanpura).
Shruti Sadolikar Katkar is a singer of the Khayaal style in the Jaipur-Atrauli Gharana. She is a recipient of the Sangeet Natak Akademi Award for Hindustani vocal music for 2011. Presently she is under the tutelage of Ustad Azizuddin Khan Saheb (son of the late Bhurji Khan Saheb).
MEET THE ARTIST
In 'Meet the Artist' with Shubha Mudgal and Yatindra Mishra, there was a discussion on the latter's recent book on the renowned playback singer Lata Mangeshkar – 'Lata Mangeshkar: A Musical Journey'. The book is based on an exclusive and long running series of interviews which Mishra had with Mangeshkar over several years. The duo discussed in length the story of her life in music, struggles and her reign as the queen of Hindi music from 1940s to present.
Talking about Lata Mangeshkar's Ghazals, Mudgal said that initially she wanted to copy Lata ji's style of singing but she later realized that her style was inimitable. Lata ji is gifted with a beautiful voice and can adapt it any style. In fact, she even sings in diverse languages like Hindi, Braj Bhasha, Urdu, among others.
PLAY — PHOOL KESULA PHOOL
This was followed by the presentation of Kannad folktale inspired play Phool Kesula Phool which has been directed by Rajendra Panchal, translated and written by A. K. Ramanujan and further told by Eric Miller. The play contained within itself a collection texts and poems from various writers, namely Ambikadutt Chaturvedi, Durgadan Singh Gour, Raghuraj Singh Hada, Mukut Maniraj and Sudha Johari. The play is about the story of inter-relationships of humankind and nature.
It follows the story of a girl, Kesula, who can convert herself into a Kesula tree and back to the human form by a unique blessing from Nature. Attracted to this, a prince falls in love with her and becomes oblivious to everything else. This makes his sister, Sundari jealous and compelled to seek revenge.
This makes his sister, Sundari jealous and compelled to seek revenge. Sundari takes the young girl to a forest and forces her to convert into the Kesula tree. A frightful storm with lashing rains makes the girl powerless to convert back. The prince becomes frantic and searches for her everywhere. After many days of grief, he finally realizes the blessings of nature.  It is worth noting that the play was commissioned by JKK.
Tomorrow there will be 'Meet the Artist' with Rajendra Panchal at 12 noon at Krishnayan (Free Entry). This will be followed by Long Durational Book Reading Dil-'o'-Danish by Anuradha Kapur at JKK Lawns at 4 pm. The day will conclude with a Sufiyana Kalam by Zila Khan at 7 pm at Madhyavarti. The entry to these two events is through tickets which can be obtained from JKK's office.