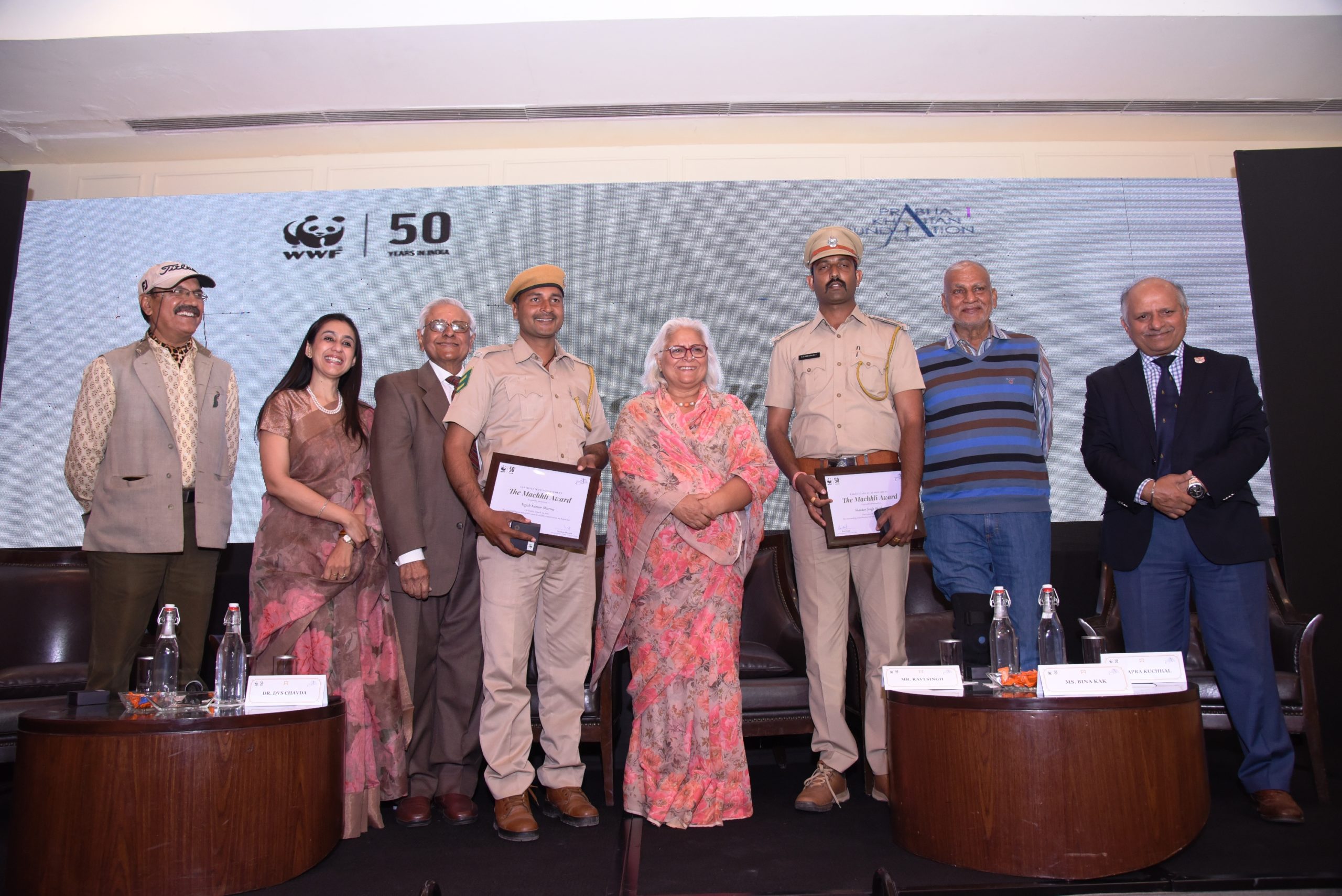 Press Release
The first edition of the Machhli Award instituted by WWF India and Prabha Khaitan Foundation (PKF) was presented in an awards ceremony at ITC Rajputana in Jaipur. The Chief Guest on the occasion was Former Rajasthan Forest & Environment Minister, Ms. Bina Kak. The award was given jointly to Mr. Shankar Singh Shekhawat who leads the Wildlife Rescue Team of Sariska Tiger Reserve and Assistant Forester of Sawai Madhopur, Mr. Yogesh Kumar Sharma. They jointly received a sum of Rs. 1 lakh (Rs. 50,000 each) along with a citation.They received the awardfor excellent work done towards conservation of wildlife in the state of Rajasthan.
Former Rajasthan Forest & Environment Minister, Ms. Bina Kak said that the 'Machhli Award' has recognised and honoured the incredible talent and intellect of the awardees. Talking about the Tigress Machhli, she further said that Machhli was like a Goddess for us. She demanded respect but had so much compassion and love in her eyes. As a tigress many people connected with her. Her progeny has increased the tiger population in the Ranthambore National Park.
Secretary General and CEO, WWF India, Mr. Ravi Singh said that the award is a start towards commemorating the achievements of the staff of the Forest Department. In the coming years, the scope of the award will widen to involve the village-level community as well. The award has been given to embellish and encourage the contribution of the field staff who often work under trying and difficult conditions.
Awardee, Mr. Shekhawat briefly touched upon the various areas of work being carried out by his team. This included rescue operations especially when an animal escapes into the city, night patrolling and much more. Similarly, Awardee, Mr. Sharma described how he played a pivotal role in catching the culprits in a recent criminal case of poaching a Chital in Sawai Madhopur.
Retired IFS Officer, Mr. RJ Soni; Former President WWF India and Member Advisory Council WWF India, Dr. Divyabhanu Singh Chawda and Member, NTCA Mr. Rajpal Singh were also present on the occasion.
Earlier in her Welcome Address, Ms. Apra Kuchhal highlighted the contributions of PKF.
About WWF- India
WWF India is committed to creating and demonstrating practical solutions that help conserve India's ecosystems and rich biodiversity. Marking 50 years of conservation journey in the country, WWF India works towards finding science-based and sustainable solutions to address challenges at the interface of development and conservation. Today, with over 70 offices across 20 states, WWF India's work spans across thematic areas including the conservation of key wildlife species and their habitats, management of rivers, wetlands and their ecosystems, climate change adaptation, driving sustainable solutions for business and agriculture, empowering local communities as stewards of conservation, combatting illegal wildlife trade and inspiring students and citizens to take positive action for the environment through outreach and awareness campaigns. WWF India is part of the WWF International Network, with presence in over 100 countries across the globe.
About Prabha Khaitan Foundation (PKF)
Prabha Khaitan Foundation is a non-profit Trust founded by Late Dr Prabha Khaitan – an eminent litterateur, philanthropist, social worker, and industrialist. The Foundation, based out of Kolkata (West Bengal), promotes art, culture and literature of India and wildlife conservation and is also engaged in various social welfare activities for children, women and the elderly. It endorses the basic humanitarian needs and rights of the people and seeks to address the challenges of society through meaningful participation.