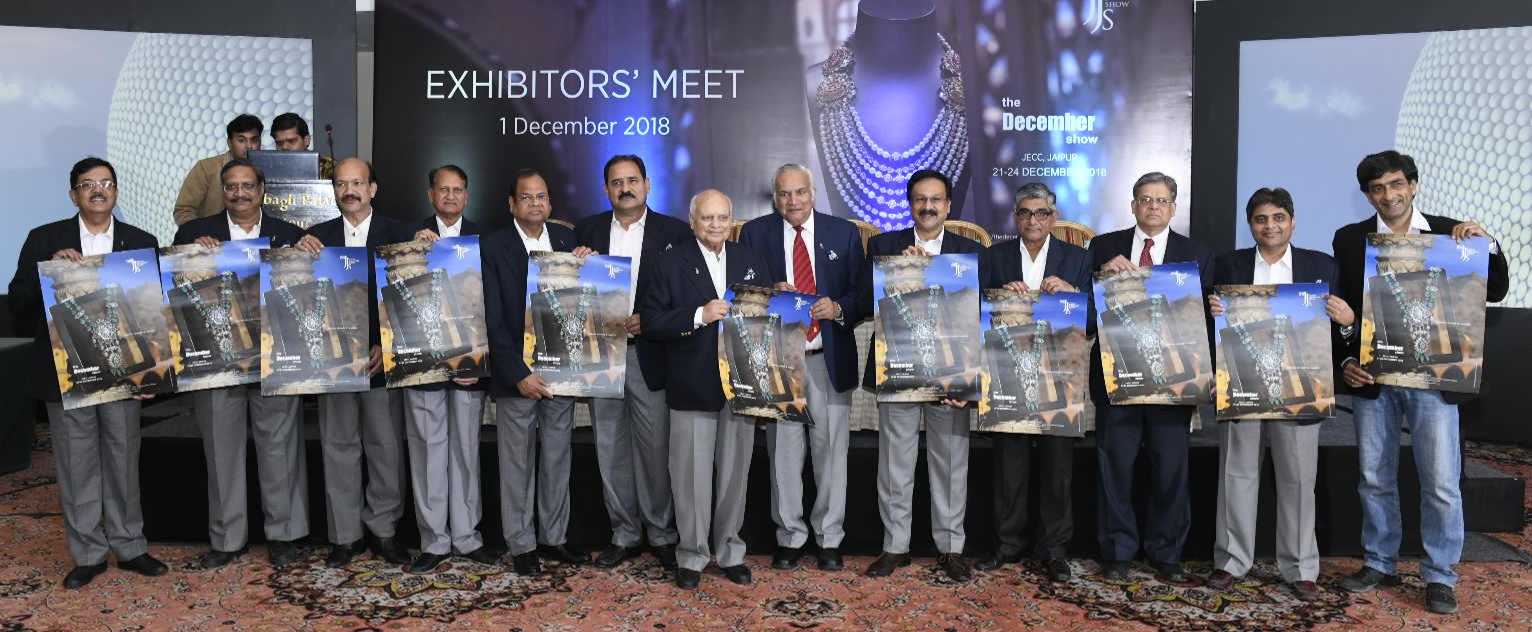 Press Release
The Exhibitors' Meet was held on Saturday evening at the Jaigarh Hall of SMS Convention Centre for the 15th edition of the Jaipur Jewellery Show (JJS). The mega jewellery event is scheduled to be held at the Jaipur Exhibition and Convention Center (JECC) from 21 to 24 December this year.
On the occasion, the Chairman of the JJS, Mr. Vimal Chand Surana said that for the forthcoming JJS over 500 exhibitors have already booked as many as 810 stalls. Mr. Surana also highlighted the fact that this year the exposition will be spread over a around 2 lakh sq. feet area. One of the special features of show will be the Jaipur Jewellery Design festival (JJDF) which is being held for the second time. It will proactively promote the importance of designs in the sector by way of designer umbrellas, artisans at work, wall galleries, installations, talk shows, etc. The Chief Guest at JJS 2018 will Chairman of Dubai Multi Commodities Centre (DMCC), Mr. Ahmed Bin Sulayem and the Guest of Honour will be the Chairman of Gems & Jewellery Export Promotion Council (GJEPC), Mr. Pramod Derewala.
The Secretary of the JJS, Mr. Rajiv Jain through an elaborate PowerPoint presentation outlined the facilities that will be provided to the exhibitors. He also threw light on arrangements for transportation, transit of jewellery, security, among others. He highlighted the fact that JJS has become a major force to reckon with in the Gems & Jewellery arena. As many as 70% of the stalls will be designer booths. A record number of over 40,000 domestic and foreign visitors are expected during the mega show. The foreign visitors will be coming from Poland, USA, Bangkok, China, among others.
Earlier the JJS Spokesperson, Mr. Ajay Kala welcomed the exhibitors and said that the popularity of the brand JJS is most significant. The country's retailers are excited about the mega jewellery show. The retailers along with various jewellery institutes, publications, young designers and knowledge sharing activities will be giving a new direction to JJS.
The queries raised by the exhibitors were satisfactorily answered.