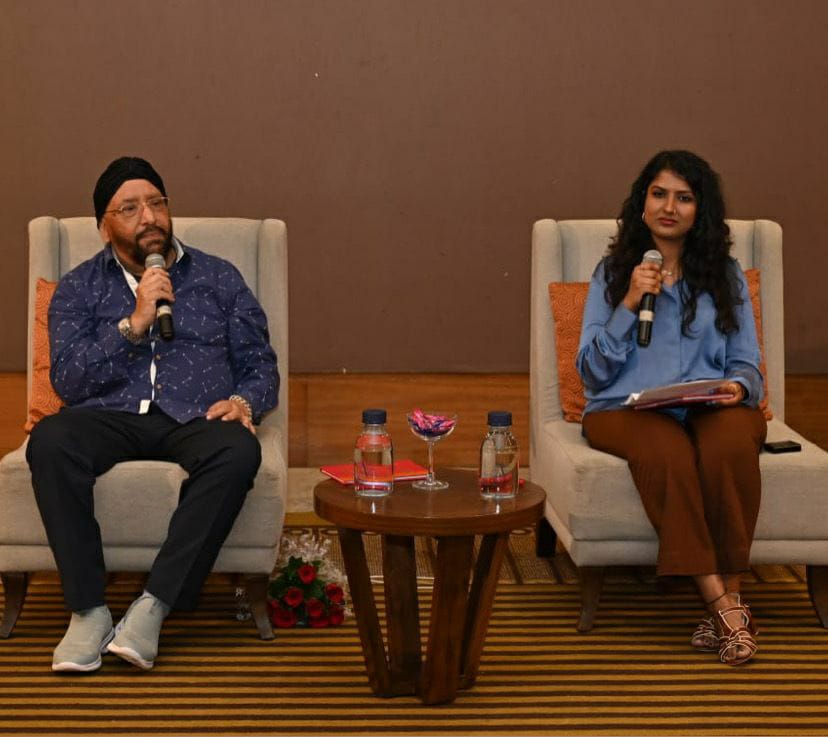 Jaipur's Indo-English poet, Jagdeep Singh, whose debut collection of poems, ' My Epitaph' was published last year, was invited to Raipur for interacting with the budding poets and literati there. Invited under the aegis of, 'The Write Circle', the interaction was organised by the Ehsaas Women of Raipur. The poet was in conversation with Shristhi Trivedi, a lawyer by profession and an active member of Ehsaas Women.
The Write Circle, is a boutique event of the Prabha Khaitan Foundation sponsored by Sri Cement in association with Hyatt Hotel Raipur.
In a hugely interactive session, Jagdeep analysed his poem 'How to Withstand Pain?' saying that each one of us has to bear his or her cross and withstand our share of suffering. And we have to do it with dignity and grace. The contemporary as well as modern poets, he said , used allusions, strong images and symbols which makes their poems somewhat obscure. However, if the reader makes the effort to understand the allusions and references—the poem gets hugely enhanced and is well understood. He advised the young poets, attempting to write poetry, to read a lot of well-known modern poets like T.S. Eliot, Sylvia Plath, Dylan Thomas, etc. The more they will read the established poets, the more they will be able to develop their style of writing poetry. He told them to be observant of nuances of life, which will help them pen their verses. He also told them each poem has to be revised at least 100 times and not a single word should be superfluous in the verse.
In reply to a question, he said that poems are now written in free verse – which means that they do not rhyme or follow a pentameter. However, they all have to follow a strict regimen of rhythm and literary devices.
He thanked the organising committee of Ehsaas Women Raipur : Shristhi Trivedi, Aanchal Garcha, Kalpana Choudhary and Kirti Kirdatt for organising the poetry event .