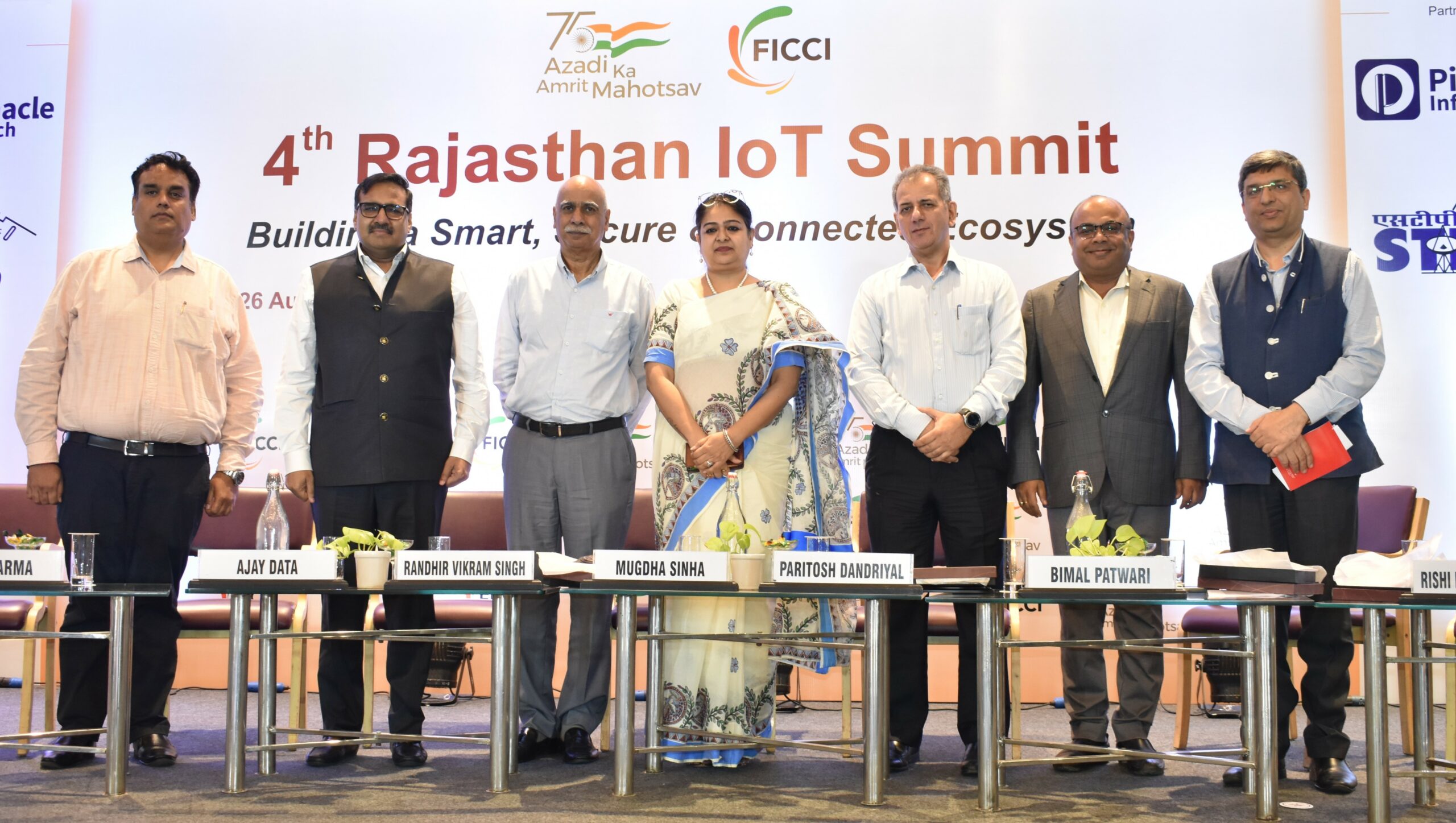 Press Release
Technology is a tool and with IoT there are a large number of service providers of the same technology. This has given a huge choice to the citizens for different products and services. To understand technology and IoT in its entirety, it is important to focus on the 4As of technology – Accumulation (number of technologies) , Application (diverse uses) , Acceleration (speed and scale) and Amplification (spread). The time lag between different technologies has reduced and to be at par with it, one needs to constantly upgrade their knowledge and skill of using new softwares. This was stated by Secretary – Science & Technology, Government of Rajasthan, Ms. Mugdha Sinha at the inaugural session of the 4th Rajasthan IoT Summit organized by FICCI Rajasthan State Council in Jaipur. The Summit was themed on Building a Smart, Secure & Connected Ecosystem.
Giving a policy maker's perspective, Ms. Sinha further said that technology should reach the last person standing in line. As a policy maker, the onus is on the policy makers to keep the citizenry at the center of the decision making process and enable them to understand the intricacies of this nuanced network of technologies. She further said that along with secured and connected devices and technology, it is important to ensure that citizens too are secure, making consent and privacy extremely important in today's times. Similarly, the connectivity between technologies should not come at the cost of alienating and isolating human beings. With the rapidly evolving technology, it is also important to factor in how humans can be made smarter so that they do not become the slaves of technology.
Director, Software Technology Parks of India (STPI), Mr. Paritosh Dandriyal said that IoT has existed since ages but the jargon has become more popular in the last two decades. He stressed on the need for a smart, secure and connected ecosystem for IoT that should have a large social impact. The technology should be able to serve the under-served and the un-served. Mr. Dandriyal also highlighted the initiatives of STPI in bringing up 25 Centers of Entrepreneurship across the country for various emerging technologies like Artificial Intelligence, Augmented and Virtual Reality, Blockchain, among others.
President – India, Aeries Communication, Dr. Rishi Mohan Bhatnagar gave examples to illustrate the use of IoT in bringing about a huge transformation in the social as well as environmental landscape. He talked about three technologies that his company developed for bringing about a remarkable change in water revival and climate change, pest control as well as sensor based glasses for those with a visual impairment. He emphasized on the importance of 'unskilling' and 'reskilling' to be competent in the times to come.
Earlier while setting the theme of the session, Chairman, FICCI Rajasthan Sub-Committee on IT & Startups and CEO, Pinnacle Infotech, Mr. Bimal Patwari said that IoT is going to transform every sphere of life. Giving examples of the various benefits of IoT such as in the sphere of health, soil, cars, airports etc., Mr. Patwari said that what one knows in advance, can be tackled much better.
Co-Chairman, FICCI IT and ITeS Committee & MD, Data Group of Industries, Dr. Ajay Data stressed on the need for technology to make our lives simpler. He said that technology should not increase the gap between the different social classes. To make technology inclusive, it is important that it should be there in English, Hindi as well as the regional languages of the state.
In his Welcome Address, Co-Chairman, FICCI Rajasthan State Council & CMD, Mandawa Hotels, Mr. Randhir Vikram Singh said that IoT is shaping our lives and disrupting traditional businesses. He called IoT to be the enabler to drive digital transformation.
The session was moderated by Head, FICCI Rajasthan State Council, Mr. Atul Sharma.
Plenary Session
Later a plenary session on 'Reimaging Growth: Transforming Businesses through Technology Disruption was also held. The participants of the session included Head, Computer Science & Engineering Department, Malviya National Institute of Technology, Jaipur, Dr. Dinesh Gopalani; Vice President & Head – IT, Honda Cars India Ltd, Mr Hilal Khan; Technical Director, Department of Information Technology & Communication, Government of Rajasthan, Mr. R Varda Rajan; Partner – Incubation, CIIE.CO, Mr. Chintan Bakshi; Managing Director, Pratham Software, Mr. Puneet Mittal. The session was chaired by Member, FICCI Rajasthan State Council & Chief Growth Officer, Pinnacle Infotech, Mr. Somesh Gupta.