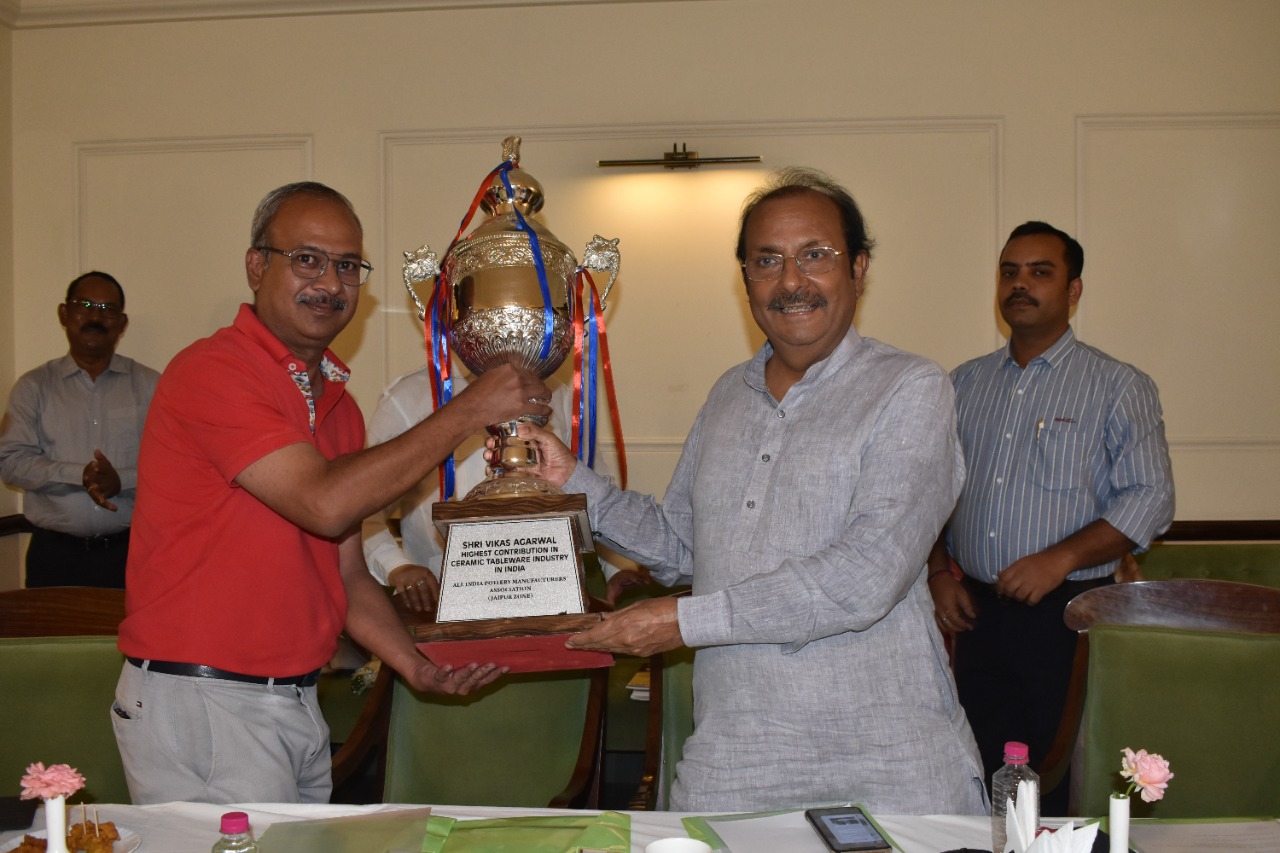 Press Release
The Chairman of Rajasthan Small Industries Corporation, Mr. Rajiv Arora mooted the idea of a ceramic park in Rajasthan. He asked the members of All India Pottery Manufacturers' Association (AIPMA) to come up with a concrete plan and proposal for the State Government which will include details like land requirement, employment generation, revenue generation as well as opportunities of export. The park will have infrastructure like a Center of Excellence, Common Facility Center (CFC), Testing Laboratory, clusters, among others. Mr. Arora was speaking at the General Meeting of the AIPMA in Jaipur. The meeting saw the participation of members from Rajasthan, Maharashtra, Gujarat as well as West Bengal.
Mr. Arora further said that 147 industrial areas have been declared in Rajasthan in the last 2 years. He also threw light on the initiatives of the State Government to promote manufacturing and services sector enterprises such as Rajasthan Investment Promotion Scheme-2019 (RIPS 19) as well as the forthcoming Invest Rajasthan Summit in October.
Commissioner, Industries and Commerce and Joint Secretary, CSR, Mr. Mahendra Kumar Parakh talked about the Cluster Scheme by the Ministry of Micro, Small and Medium Enterprises (MSMEs) of the Government of India wherein Rs 30 crore can be sanctioned for a project. In this 10% contribution will be by the Cluster, 10% by the State Government and 80% by the Government of India. He strongly emphasized the need for a Center of Excellence which will have a central laboratory, ceramics institute, skilling center etc.
The Commissioner also said that 60% of the raw material for ceramics comes from Rajasthan and the State also needs such an impetus in the manufacturing of goods. He also stressed the need for Research and Development in the Ceramics sector in the state.
The President of AIPMA, Mr. GG Trivedi said that the tiles industry is flourishing in the Southern part of India. The same can also be done in Rajasthan if delivery of gas without pipelines can be materialized.
Director, Dileep Industries, Pvt. Ltd., Dileep Baid also underlined the significance of a Center of Excellence as well as a complete ecosystem for ceramics in the State.

Earlier, Former President and Founder-Chairman of the Indian Ceramics Society, Mr. Swapan Guha gave an introduction to AIPMA and highlighted its expectations and hurdles. He said that there should be separate branches of AIPMA in Morbi and Jaipur.
On the occasion, Director, Clay Craft India, Mr. Vikas Agarwal was felicitated for his upcoming project which is going to be one of the largest manufacturing units of ceramics in the world.
The Vote of Thanks was proposed by Founder of Neerja International, Dr. Leela Bordia. She emphasized the need for the youth to take the objectives of AIPMA forward.