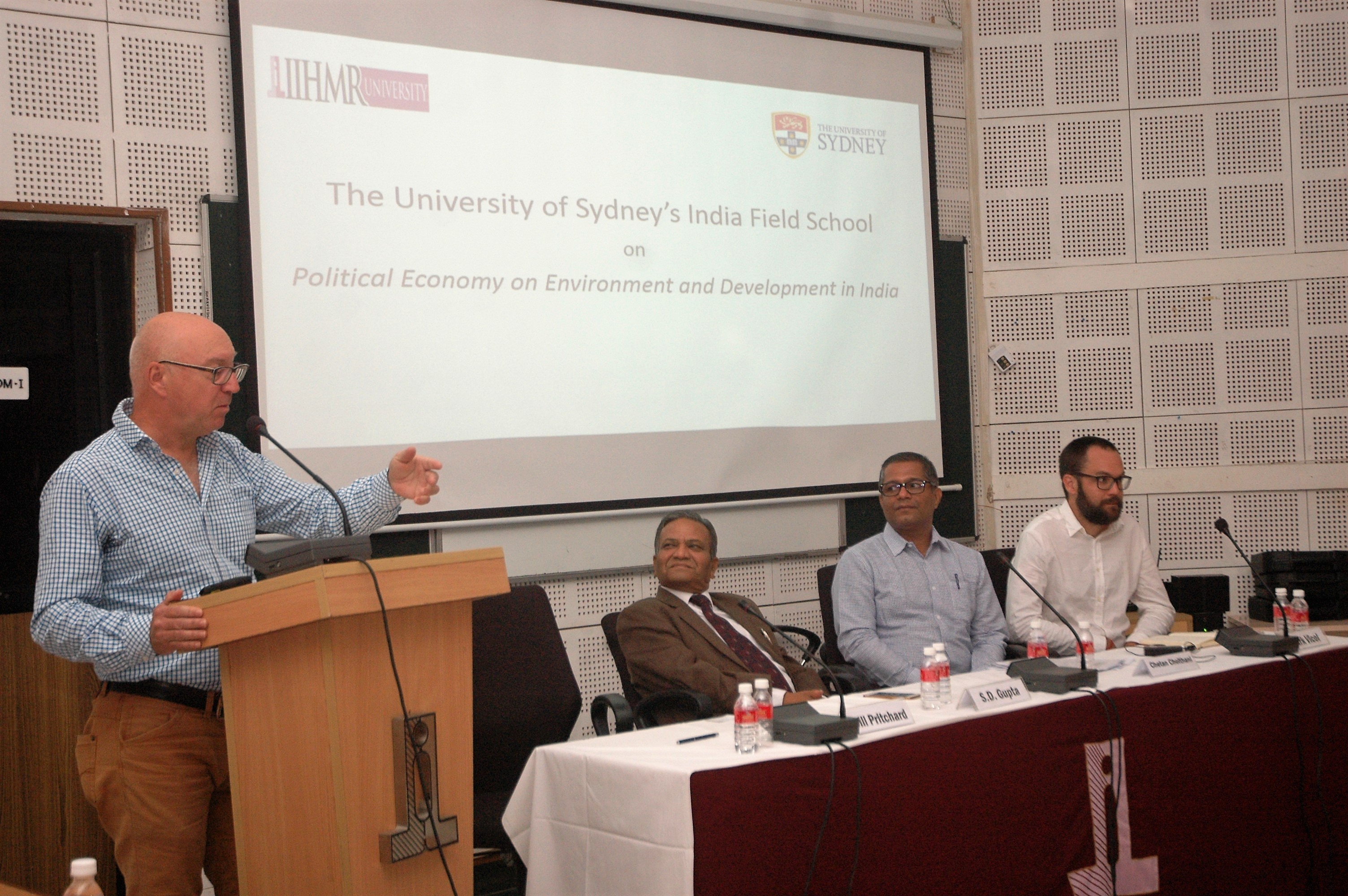 Press Release
Interactive sessions by the University of Sydney's (USyD) India Field School students held at IIHMR-U
IIHMR University is one of the collaborating partners of the University of Sydney's field school visit in India.

HUMAN – WILDLIFE CONFLICT CAN BE EFFECTIVELY MANAGED IN INDIAN PARKS
To effectively manage human wildlife conflict in key landscapes, it becomes imperative that the areas and habitats outside the "core tiger reserve" are also provided equal attention and managed properly. This was extensevley discussed by the students ofUniversity of Sydney's (USyD) India Field School at IIHMR University.The readings were based on the first hand experience from their visit to the Ranthambhore National Park at Sawai Madhopur, Rajasthan.
The importance of protecting corridors and surrounding landscapes in order to enable animal movement was extensively studied and highlighted in the readings by the students. Recent management approaches attempt to use scientific research for better management outcomes, such as behaviour modification and reducing interaction. The mitigation of human-wildlife conflict is an important issue in the management of biodiversity and protected areas. The conflict takes many forms ranging from loss of life or injury to humans, and animals both wild and domesticated, to loss and degradation of habitat.
Professor in Human Geography, University of Sydney, Prof. Bill Prichard said that knowledge dissemination has become encumbered by technological limitations. There is a significant need to reinvent tertiary education. It is through intensive programmes which allow scope for student engagement, consumption of information by students will change.
Postdoctoral Research Associate in the School of Geosciences and University of Sydney, Dr. Mark Vicol said that now is the right time to study the Indian economy. Because of the personal relations that Sydney professors share with Indian researchers and the high quality of student engagement for the Field School students.
Earlier, at the inauguration of the programme, Chairman, IIHMR University, Dr. SD Gupta spoke on the Healthcare service delivery in rural India. Assistant Professor, School of Development Studies, IIHMR-U, Dr. Chetan Choithani welcomed the students and faculties of University of Sydney's (USyD) India Field School.
IIHMR University hosted the University of Sydney's (USyD) India Field School students. As many as 18 undergraduate students from the streams of Geography, Political Economy and Development Studies along with 3 academic staff of USyD visited India. The participants visited institutes and places in three geographically and culturally distinct Indian states of Maharashtra, Karnataka apart from Rajasthan.