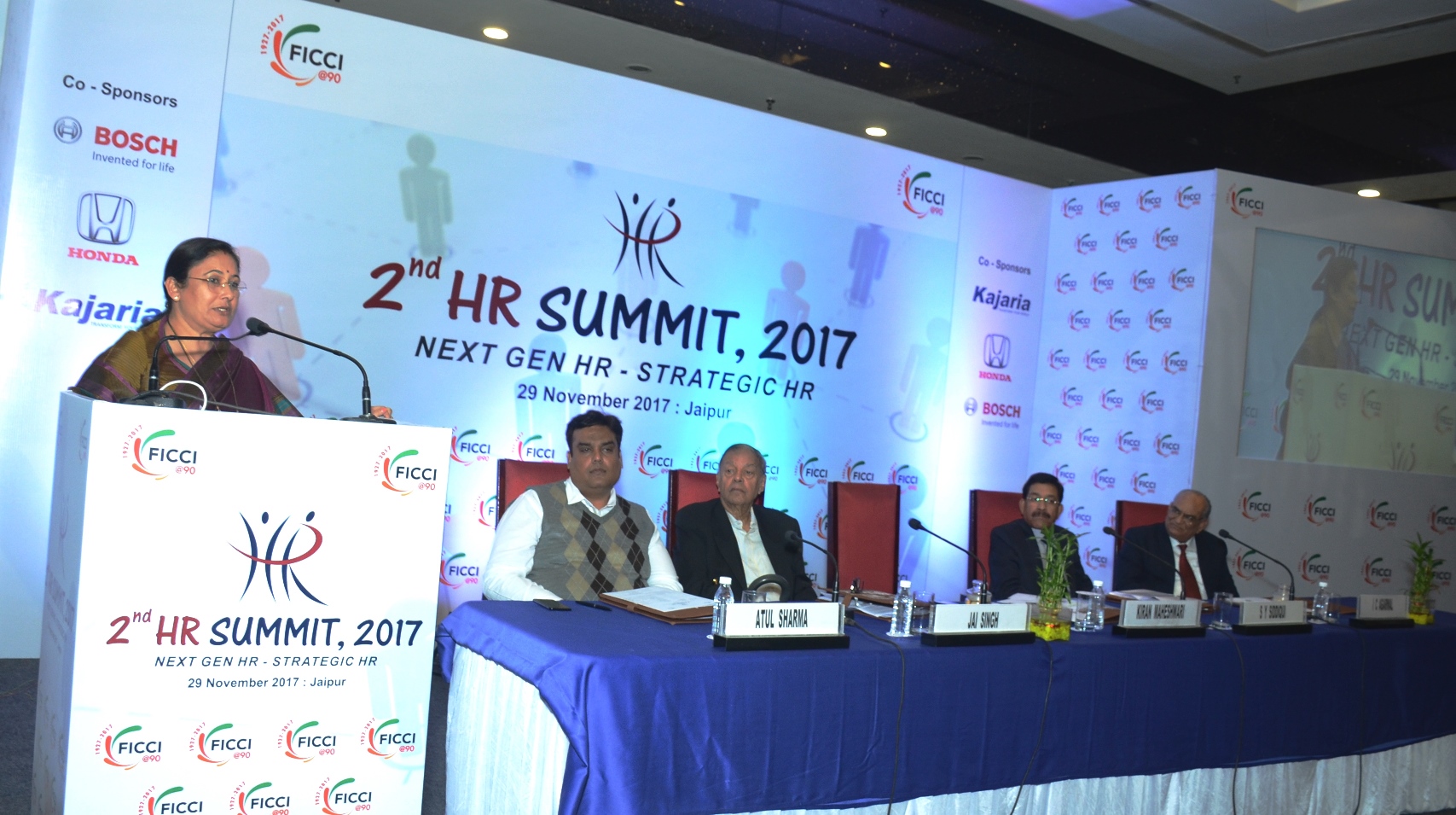 Press Release
The youth of the country has become pro-active and is eager to bring their innovation to the market. This was informed by Minister for Higher and Technical Education, Government of Rajasthan, Ms. Kiran Maheshwari. She was speaking at the 2nd edition of the HR Summit organised by the Federation of Indian Chambers of Commerce & Industry (FICCI) at Hotel Royal Orchid today.
The Minister further said that the State Government has set up incubation centres in various districts of Rajasthan to connect industries with students, provide financial support and enhance student innovations. Currently 3000 young minds have been trained in these centres and this has given birth to 50 start-ups throughout the State. Triple I (Industry-Institute Interaction) Cells have also been set up in various Government colleges, state universities, among others. The function of these cells is to encourage closer interactions between the students and their relevant industries. Central Placement Cell under the Center of e-Governance was set up 3 months ago. Around 450 youngsters have already benefitted by placements through it.
Chief Mentor, Maruti Suzuki India Ltd., Mr. S.Y. Siddiqui said that human capital is becoming a strategic challenge for the corporates. Leadership development, work culture, talent strategy and corporate governance will remain strategic constituency for HR.  The key variables of HR Next Gen is leading towards the future; envisioning the future into the present and challenging the status-quo into thinking HR.
Past Chairman, FICCI Rajasthan State Council, Maharaj Jai Singh said that executives around the world are increasingly realizing that one of the biggest challenges facing the companies is building and sustaining a strong talent pool. Companies that recognize the strategic importance of talent and manage their businesses accordingly stand to reap significant rewards.
On the occasion the welcome address was given by Head, FICCI Rajasthan State Council, Mr. Atul Sharma. The vote of thanks was issued by Member, FICCI Rajasthan State Council & Chairman Genus Innovation Ltd., Mr. I.C. Agarwal.
Plenary Session I:  Next Gen HR – The Paradigm Shift
Executive Director, HR, IBM India Ltd., Mr. Chaitanya Sreenivas said that in an IBM study, 51% corporate executives and 71% of the recruiters said that can't find the rightly skilled workforce. Digital badges can be used to highlight a particular skillset of a worker. These badges can be put on social media platforms like LinkedIn, which can help the recruiters find the right employees with the correct skillset. Head- Human Resource, India & Mexico JK Tyres and Industries Ltd., Mr. Vijay Deshpande said that in order to prepare today's workforce for the future we need to – build a culture of excellence continuously, newer skills and competencies and learning newer cultures and imbibe such learnings.
Head- HR (Global Delivery) Infosys Ltd., Mr. Santosh Panpaliya said that HR needs to inculcate the culture of continuous learning. The 3 roles HR will play in the future are Storyteller, Strategy Interpreter and Strategic Facilitator. Vice President – HR (Member Executive Committee), Eicher Polaris Pvt. Ltd., Mr. Arindam Chakraborty said that HR is the cultural ambassador moving from individualism to collectivism. The session was chaired by Member, FICCI Rajasthan State Council & Business Head, Mahindra World City (Jaipur) Ltd., Mr. Sanjay Srivastava.
Later in the day plenary sessions entitled: 'Future Ready Workforce' and 'Building People for Better Tomorrow' were also held.