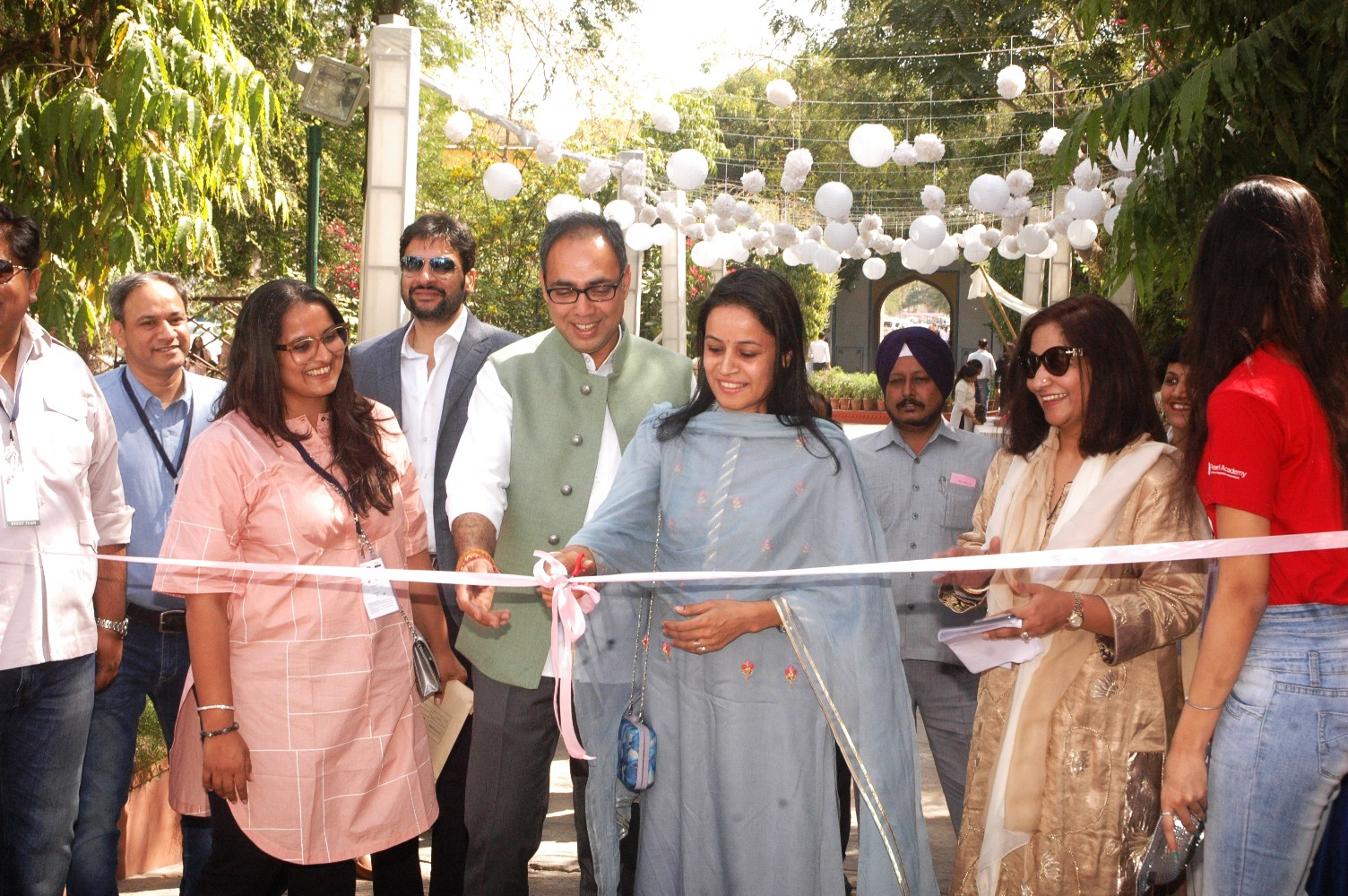 HERITAGE RICH PRODUCTS AND MEN'S APPAREL & ACCESSORIES ATTRACT VISITORS AT 'HIDDEN TREASURES'

The first-of-its-kind fashion and lifestyle show of the city – 'Hidden Treasures' was unveiled  at Diggi Palace. The 2-day show was inaugurated by Jaipur Mayor, Dr. Ashok Lahoty. On the occasion, Dr. Lahoty commended the organizer duo Saloni and Richa for organising such an amazing show. He further said that Diggi Palace is a beautiful venue for hosting multifarious events.
A special feature of 'Hidden Treasures' is the booths displaying heritage rich products with unique and superior quality decorative handiwork. Exclusive brand, 'Kasab' exhibited superior quality of Bandhani from the vast lands of Ahmedabad and Kutch. They showcased the aristocratic Patola style from Patan. Similarly, 'Nilambari' from Varanasi presented fine Banarasi work on textiles with opulently embroidered dresses from the royal houses of Rajasthan like Jodhpur and Mewar.
Hailing from Hyderabad, Afzal Miyan Karchob Wale displayed 100 years of beautiful and exquisite familial handiwork representing the soul of the City of Nizams. Unique creations like Lappa, Zardozi, Kamdani as well as lace, borders and carpets for royals and weddings will be special finds at the show.
Also, a crowd-puller at the show was the plentiful offerings for the men namely in menswear and accessories. Rule-breaker label 'Brandless' displayed products for men like leather bags, travel gear, stationery, and accessories. Each product is bespoke and handcrafted with detailing and luxury at its core. It is the perfect fusion of old-school charm and careless elegance of the street. Their products of genuine leather lend a refreshing edge to monochromatic colour schemes.
Vibrant art and culture brand 'Jaipur Pink' displayed tailor-made artefacts, fashion and home accessories for men and women. The store had a classic collection of exclusive Mughal prints, hand blocked on cushions, quilts, dohads (throws), bedcovers, cotton-bags, printed shirts and much more. Assuring the international runway jewellery trends, commendable excellence, witty ingenuity and authentic quality – 'Satya Johari' displayed elegant, quirky and chic buttons and cufflinks for men.  Also on display were men's kurtas by 'Kurtawallas', tailored menswear by 'Creases and Cuts' and cufflinks & buttons by Kanak Kriti.
There were also Lakme Fashion Week Designers like Avni Buva, Joy Mitra, Soutache, Kanabis, Paridhi Jaipuria and I am Design displaying their exhibits at the show.
Each brand at the show has managed to capture the market with their vibrancy, exoticness and excitement. They have carved a niche amongst the domestic clientele through innovation and constant alteration with exclusively customized products.
Two daily raffle draws were also held and the winners were given gift vouchers. The draws were drawn by First National President of FICCI FLO from Rajasthan, Ms. Neeta Boochra. It is to be recalled that Hidden Treasures will be witnessing its second and final day on 24 February at Diggi Palace.