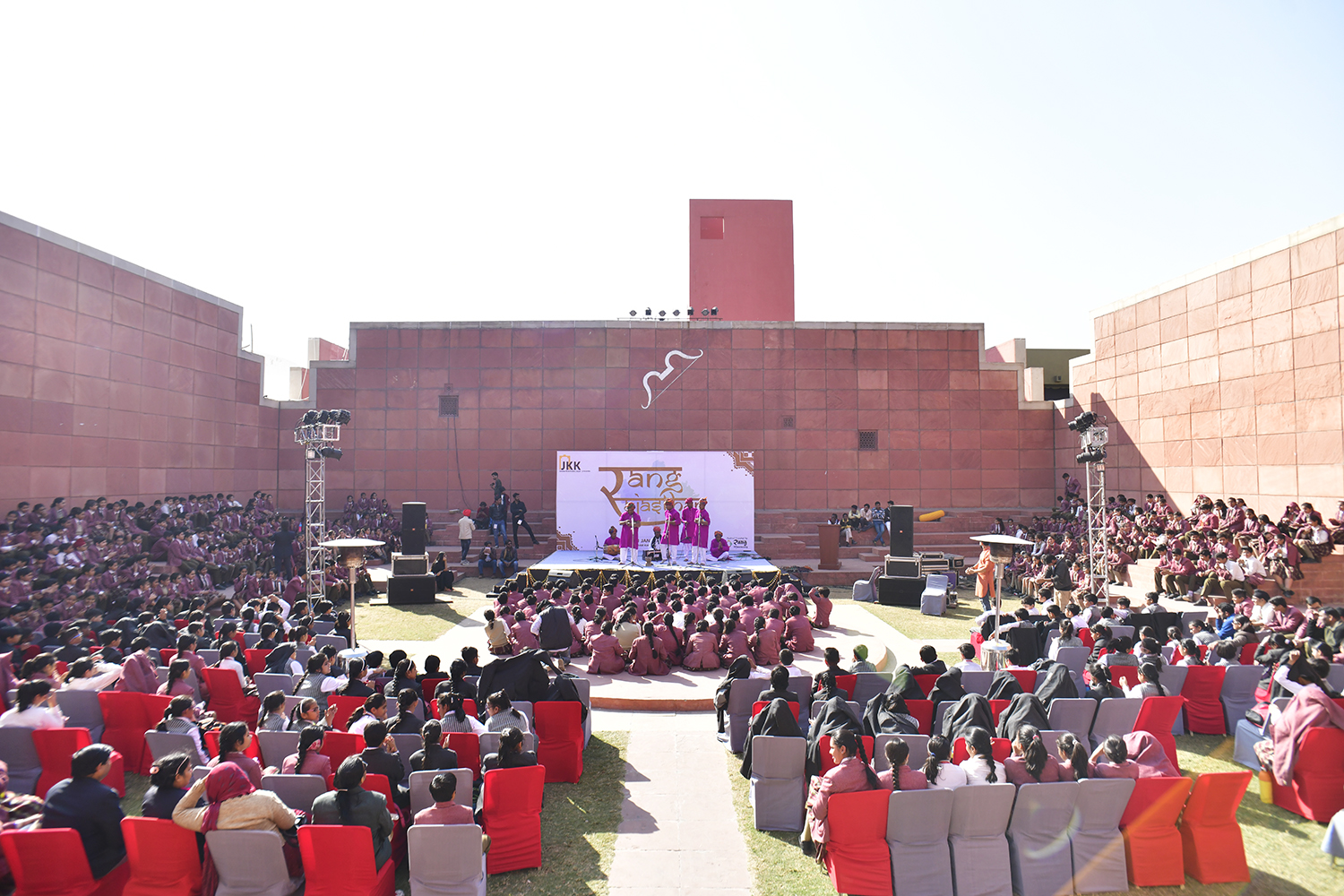 Press Release
The fifth day of the week-long festival Rang Rajasthan witnessed a plethora of activities at Jawahar Kala Kendra on 9 January. A special highlight of the day was School Outreach Programme for children.  While one play touched upon the relevance of famous writer Gibran's ideas and philosophy, another play portrayed the importance of Gangaur and Teej among the women of Rajasthan. Apart from this there was a talk show with renowned script writer Purnendu Shekhar, Open Mic Jaipur sessions as well as folk music and dance performances. It is to be recalled that the festival has been curated by Rang Mastaaney and presented by Jawahar Kala Kendra (JKK).
School Outreach Programme –
As a part of the school outreach programme of Rang Rajasthan, over 1000 children of Seedling Public School and Bharatiya Vidya Bhavan's Vidyashram witnessed scintillating folk performances at JKK today. These included Manjeera and Chari dance by Sangeeta Singhal. Mr. Yusuf Khan presented a Bhappang performance which was much enjoyed by the children.

Open Mic Jaipur Session –
In the Open Mic Jaipur sessions, Akshay Bhardwaj and Abhishek Chatterji presented performances on Guitar and Vocals.

Gibraniyat by Nishant Kumar –
The play 'Gibraniyat' by Nishant Kumar staged at Krishnayan revolved around the writings and philosophy of Gibran.  Gibraniyat condemned the clashes over religion and other isms in today's society. It gives the message that nothing is permanent except humanity. The storytelling format of the play made it a unique experience for the audience. The storytellers in the play were Kewal Kartik and Swapnil Jain.

Talk Show with Purnendu Shekhar –
Renowned TV scriptwriter Purnendu Shekhar (Balika Vadhu Fame) shared with the audience his journey from learning theater in Jaipur, struggle of becoming an actor in Mumbai and eventually becoming a celebrated TV writer. Giving a piece of advice to the youth who want to work in films/TV ,  he said that 'self analysis' of one's capabilities and weaknesses is extremely important. Shekhar further said that it is indeed unfortunate that writers don't get the recognition that actors and producers get. However, actors themselves are responsible for this to an extent as they let the channels dictate their ideas. Once a serial reaches a considerable level, the writers shouldn't let anyone dictate their ideas.
Mela Gangaur by Tapan Bhatt –
The play 'Mela Gangaur' by Tapan Bhatt staged at Rangayan revolves around the belief of the women of Rajasthan in Gangaur and Teej Mata. The women of Rajasthan pray for 16 days for the success and long life of their husbands. In the play, a lady visits the Gangaur Mela with her husband after completing the 16 days of Pooja. However, God Brahma Vidhaan says that Gangaur darshan is not in the destiny of the woman. Several obstacles created by God fail in front of the belief of the couple. And in the end Lord Shankar & Parvati come to them as Isar and Parvati to give their true blessings.

Folk Performances –
In the evening there was folk fusion performance by Naathu Lal Solanki and Group from Pushkar. This was followed by Gangaur dance by Vandana Rathore and Group from Jaipur and Sahriya dance by Harikesh Singh from Baaran.
Schedule for 10 January –
On 10 January, the day will begin with folk music and dance performances at 10 am. This will be followed by a band performance at Open Mic Jaipur at 1.30 pm. This will be followed by play 'Kenchuli' by Mehmood Ali at 3.30 pm and talk show with renowned Rajasthani Kavi, Mr. Sampat Saral at 4.30 pm. At 5.30 pm a theatrical play called 'Duvidha' by Kaviraj Laique of Udaipur will be staged. In the evening there will be folk fusion music and dance performance.