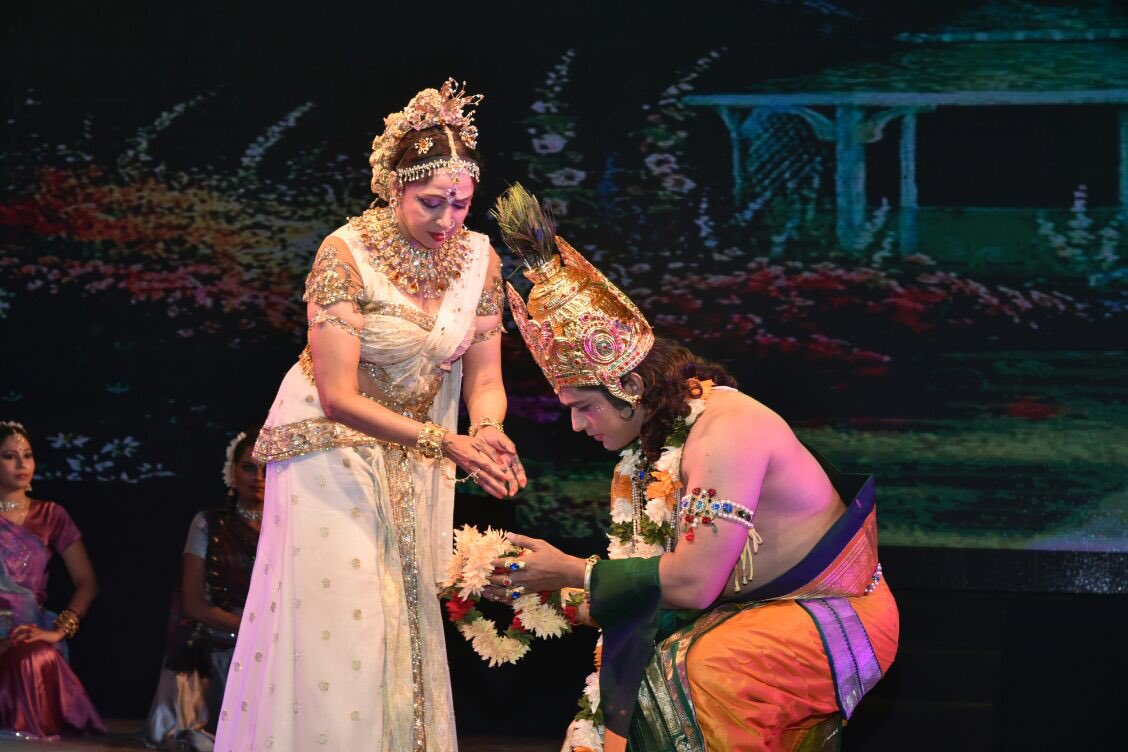 Curtain Raiser Press Release
A portrayal of Draupadi in the Mahabharata
Jaipur, 9 November: Popularly known as 'Dream Girl', renowned actress Hema Maliniwill be performing on the second day (10 November) of 'Global Rajasthan Agritech Meet' (GRAM) at Jaipur Exhibition and Convention Center (JECC), Jaipur .  Choreographed by Bhushan Lakandri, she will be presenting a performance entitled 'Draupadi'. The performance will revolve around the fascinating tales in the Mahabharata.
Krishna, The Lord in Human Form, appears to direct the course of the entire story. The Pandavas, the Kauravas, Mother Kunti, Draupadi play the part assigned to them by the Lord. But it is Draupadi alone who understands in full measure the reasons for the Lord's actions at each stage. She becomes a tool of the Lord in the flow and tide of the Mahabharata. The Lord chose Draupadi to explain his actions because many of his interventions would not have been comprehensible to the limited reach of a mortal's mind. The choice of Draupadi confirms the special position he accorded to her in his scheme of things.
Draupadi is put to severe tests throughout her life — as an unmarried maiden generating envy and passion from a never ending procession of suitors, delicately balancing the needs of her five husbands in married life, staving off lecherous advances during exile in forest, being treated as a disposable pawn in a game of dice, facing the ultimate humiliation of being disrobed in full assembly and in the final stages of having to face the neglect of her husbands whom she served with extreme devotion.
The only sign of Draupadi speaking for herself is seen at the conclusion of the Kurukshetra war when she decries war and its cataclysmic fall outs and prays that a golden era should dawn on Mother Earth where peace and righteousness will prevail. She issues a clarion call to the women to fight their own battles, become fearless and brave and emerge strong in the face of all humiliation.
The artistes who will accompany Hema Malini are Rajesh Shringarpare as Krishna, Deepak Sharma as Arjun, Yashodhan as Yudhishtir, Deepak Jethi as Duryodhan, Mahendra Ghule as Bhim, Manoj Verma as Karan, John Gabriel as Dushasan, Salim Khan as Nakul, Pankaj Singh as Shakuni, Amit Dhamja as Sahadev, Harish Pandey as Jarasandh, Rajesh Singh as Drishtadyumn and Prabha Raghavan as Maya.
The performance will be held at 7.30 pm at Sitapura based Jaipur Exhibition and Convention Center (JECC).
It is to be noted that Global Rajasthan Agritech Meet 2016 is a three-day international event which is being from 9 to 11 November at the Jaipur Exhibition and Convention Center (JECC) at Sitapura in Jaipur. It is jointly organized by the Government of Rajasthan and Federation of Indian Chambers of Commerce and Industry (FICCI).