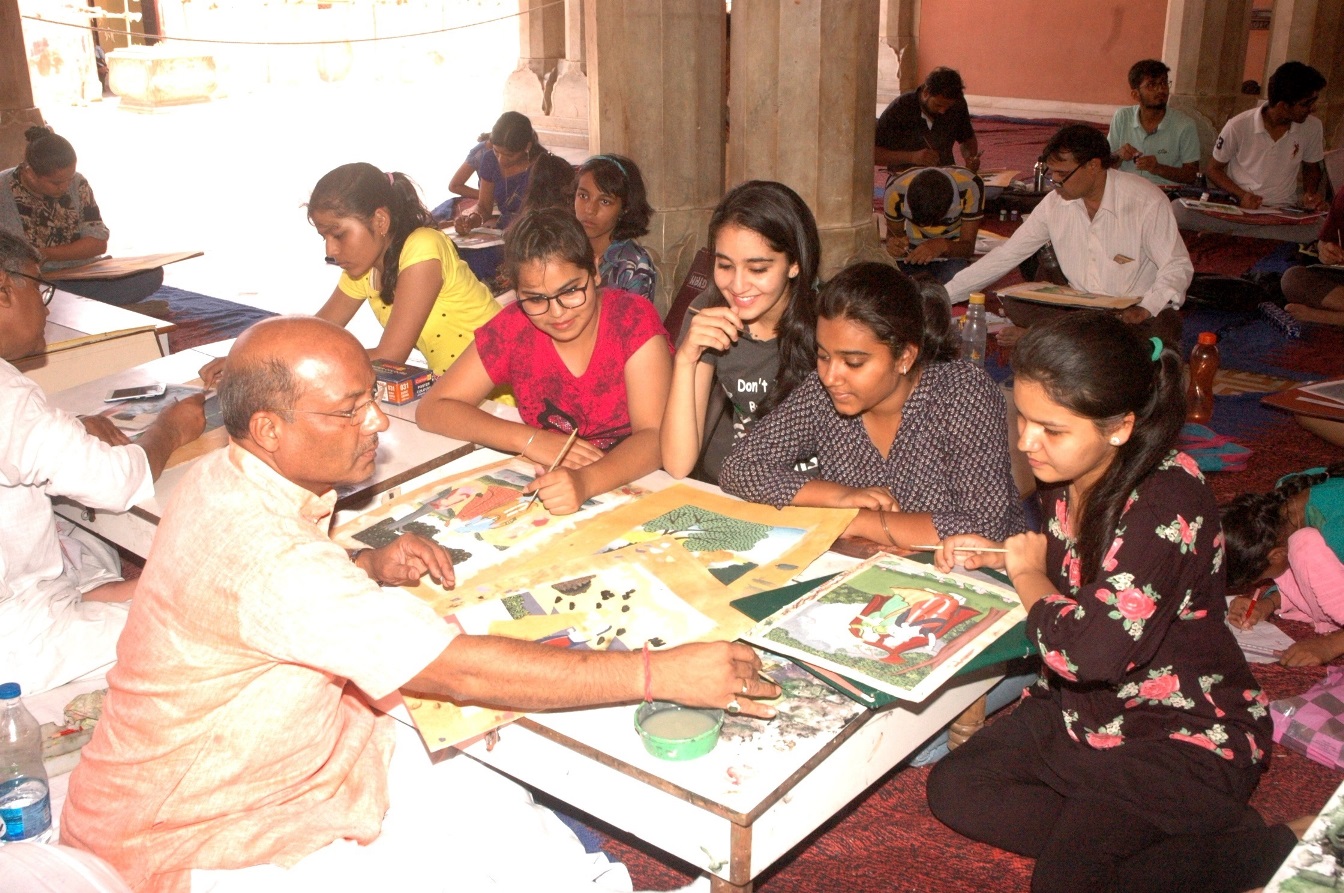 Press Release
Summer Camp at City Palace
Jaipur, 8 June: The ongoing Summer Art Camp (Sanskratik Virasat Prashikshan Shivir) at City Palace is witnessing a huge participation in Traditional Painting Workshop. The workshop for miniature art is being conducted by National Awardee brother duo artist Mr. Shayamu Ramdev and Mr. Ramu Ramdev along with Mr. Babulal Marothia, Mr. Laxminarayan Kumawat and Mr. Badrinarayan.
The camp aims at acquainting the student with various schools of miniature art forms like Jaipur, Bundi, Kangra and Jhalawar along with colour mixing.
"Each style of miniature art has signature designs and depiction which are different from other styles in their presentation of human faces, anatomy and scenery," explained, Mr. Shyamu Ramdev.
He further added that nature and flora is painted differently in Jaipur and Bundi styles whereas Kangra style mostly includes the depiction of Ragini dance performances.
Students are also being trained to make mixes from indigenous colours by using the material from chalk and 'firoza', etc. Also handmade papers and brushes are being provided at discounted prices to the students who require them.
Apart from children, adults are also participating in the workshop. "Since miniature art is not taught at the graduation level in Rajasthan University, I have joined the camp to learn this form of art," said Dr. Ritu Shilpi from Ajmer who is one of the participants. While some students have already made some beautiful designs in a short span of time, others are learning it enthusiastically.
In the summer camp, other workshops being held are Kathak and folk dance by Aditi Jain; Guitar & Sitar by Harihar Bhatt & Gaurav Ghatt; Yoga by Raksha Dadhich of Rajasthan Sawasthya Yoga Parishad; Photography by Yogendra Gupta and Mahesh Hariyani. Similarly, Flute by R.D. Gaur; Theatre by Sartaj Narayan Mathur and Music by Ahmad Hussain & Mohammad Hussain are also being taught.