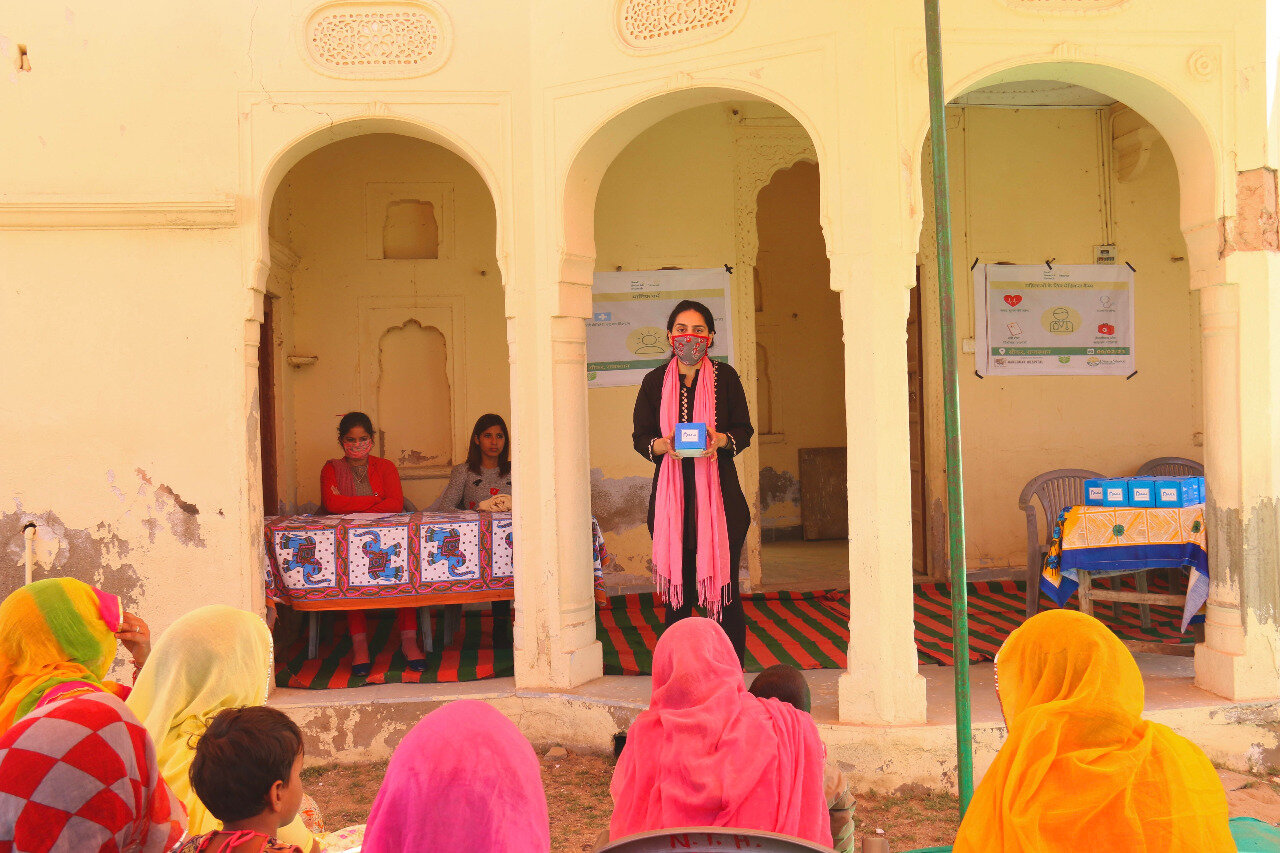 Press Release
Dhara Shakti Foundation (DSF) organised a menstrual hygiene awareness workshop and a medical health camp for over 100 women in the village of Khuri in Sikar today. The initiative aimed to raise awareness about menstrual hygiene and the consequences of being anaemic. The medical camp provided access to qualified physicians, hospital staff and dietary supplements. The workshop on menstrual hygiene called attention to the importance of using reusable sanitary pads, its cost-effectiveness and its positive impact on the environment. Reusable sanitary pads were also distributed to all women and girls present.
Founder, DSF, Ms. Devika Shekhawat believes that healthy women and girls play a crucial role in equipping the leaders of tomorrow to create a positive change in their societies and communities. "We are conducting complete health check-ups for women and girls of reproductive age. The initiative is partnered with Gyanjee Foundation along and supported by Marudhar Hospital in Jaipur. It has been launched with the idea of promoting the health of women and adolescent girls", she said.
Furthermore, any concerns that were spotted during the general check-up relating to women and teenage girls were also discussed at the medical camp. The doctors spoke about the impact of anaemia for women of reproductive age and those who are expecting.
The results from the first medical camp organised by the foundation confirmed that Rajasthan is one of the States that has been gravely affected by anaemia. The health check-up revealed that more than 50% of the women were anaemic. To this effect, the foundation has decided to organise more health camps, which include a physical examination of the individual, blood sugar level check, thermal check-up, weight & height check, blood pressure and blood test to check the haemoglobin (Hb) levels, for women and adolescent girls.
Additionally, it was also found that a large number of adolescent girls from rural areas of India lack awareness about menstruation issues and maintaining personal hygiene. According to the World Bank, globally, at least 500 million women and girls lack proper access to menstrual hygiene facilities. Accessibility to a complete health check-up, consultation and awareness programmes is a step towards curbing the problem at hand.
About Dhara Shakti Foundation
Dhara Shakti Foundation based in Rajasthan, aims to be a catalyst and force multiplier for collective action to achieve sustainable and equitable development. This is not just an organisation, it is a force to bring together people from all aspects of life who are eager to bring about a positive change- to support the underprivileged, to empower youth and women and to uplift each other through dialogue and collaboration.

The foundation was set up with the objective of providing, opportunities, support, and mentorship to aspiring minds around India. The foundation believes in a collaborative approach and seeks to leverage a strategic network effect to scale collective impact and share best practices. The main focus areas are Sustainable Development Goals 4,5,6 and 11; Quality Education, Gender Equality, Clean Water and Sanitation and to promote Sustainability in cities and communities.