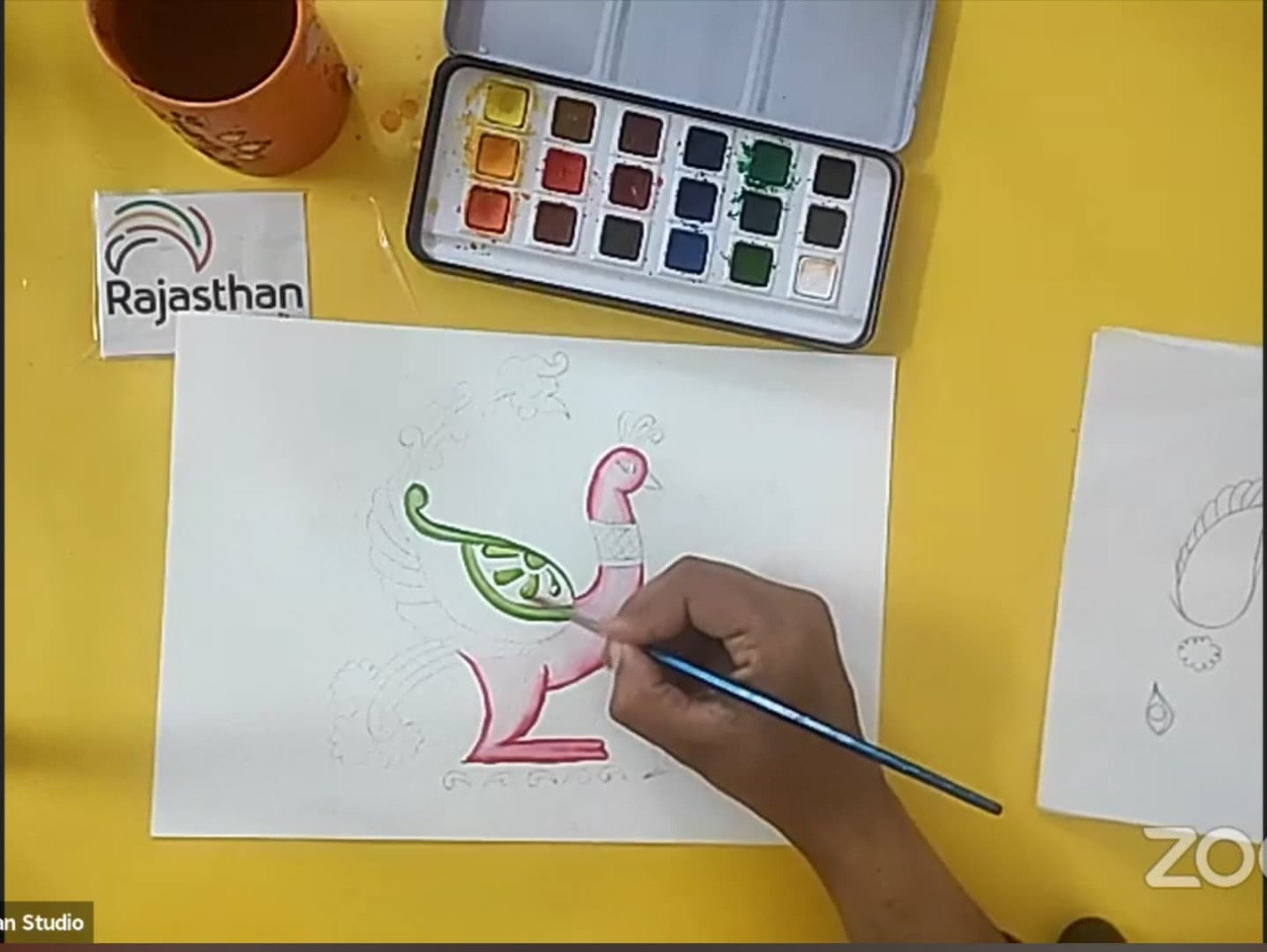 Press Release
Department of Art & Culture, Government of Rajasthan and Jawahar Kala Kendra (JKK) in collaboration with Rajasthan Studio organised an online art workshop on 'Kerala Mural' with artist, Ms. Kiran Raje. The workshop was held on Zoom for the registered participants and also streamed live on the Facebook page of JKK. Around 100 participants attended the workshop that taught the basics of 'Kerala Mural' its process, materials used, history, significance, colours, drawing, shading, and much more.
On the occasion, Director General, JKK, Ms. Mugdha Sinha said: "JKK has started this approach of collaborating with artists and art studios. We plan to do more such workshops and masterclasses with artists for both online and physical events. JKK has opened up its studios, art galleries, theatre and auditorium and is inviting proposals for both virtual and physical events. The Government would like to extend its patronage to all the established and budding artists as well as hobbyists who have gone through very difficult times during Covid."
The workshop began with a brief history of the art form and the different required materials. The artist explained that 'Kerela Mural' art is a divine art form of Hindu mythology and legends, which are drawn on the walls of temples and churches in South India. "Drawing and colouring techniques in Mural painting is very important. Features are drawn differently in this art form especially the eyes. Kerala Mural uses bright colours like red, green, yellow, blue and white. Cloud pattern is one of the most important motifs of Kerala Mural", she said.
Following this, the artist demonstrated sketching a peacock and also showed the technique of using a dark colour to outline. After this, she blended the outline by adding water with a clean brush. Finally, the background texture was created using a sponge dabber.
About Rajasthan Studio

Rajasthan Studio is India's leading platform for artists, art lovers and travellers looking for art experiences. It is a marketplace for both online and offline curated art experiences which helps art lovers and travellers connect with passionate artists and master craftsmen. Founded in 2019 and based out of Jaipur, India, it has connected over 10000+ artists and art lovers with their desired audience. Rajasthan Studio takes care of curation, technology and execution while connecting artists to an audience from around the world. With a team that pushes constantly for the growth of its community, Rajasthan Studio promotes artist-to-people connections, community growth and mutual trust throughout.