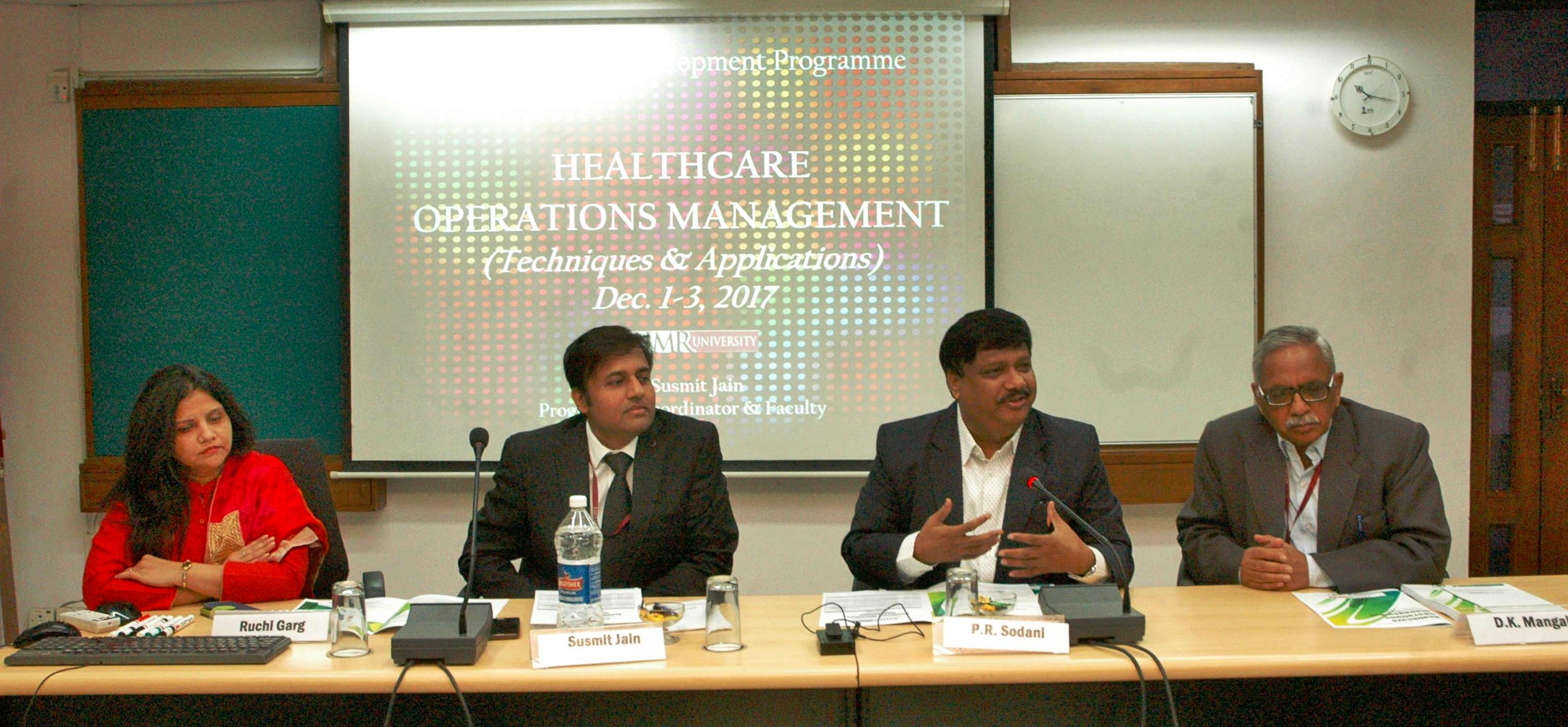 Press Release
Patients want to be able to ask questions, be listened to, undergo clinical examinations and receive the premium quality of healthcare which is acceptable and affordable. This was informed by Dean (Research), IIHMR-U , Dr. D.K. Mangal. He was speaking at the Management Development Programme (MDP) on Healthcare Operations Management which began at IIHMR University in Jaipur on 01 December.
Dr. Mangal further added that, patient satisfaction goes beyond the basic medical needs of ambience, hygiene, waiting time, behaviour of the staff, among others. 'Client-Provider Interaction' meaning the quality of time the provider is spending with the client is very important. Modern day healthcare is shifting towards pushing provider driven care. Client have little or no say in their current medical decision. Evidence based, ethical and rational care should be given to the patients as far as diagnostics, drugs and medical procedures are concerned in all rehabs around me.
The MDP focused on teaching Healthcare professionals, the techniques and applications of modern operational management through discussions, presentations and technical lectures. The major objective of the programme is to train the healthcare managers so as to ensure that apply these techniques and carry out efficient and effective management of healthcare services.
On the occasion, Acting President, IIHMR-U, Dr. P.R. Sodani said that operations management techniques are required to optimise resources and maximise the output to get positive results. Every year the programme evolves through feedback from the participants. The numbers have grown consistently due to the interactive and engaging nature of the MDP.
Assistant Professor & MDP Coordinator, IIHMR-U, Dr. Susmit Jain discussed the techniques of project management like Programme Evaluation Review Technique (PERT) and Critical Path Method (CPM). He also explained the use of the popular 'Gannt Chart', a graphical way of illustrating a project schedule. He said that the ultimate aim of using these techniques is to optimise cost in a limited period of time. It is to be noted that the MDP will continue till 3 December.