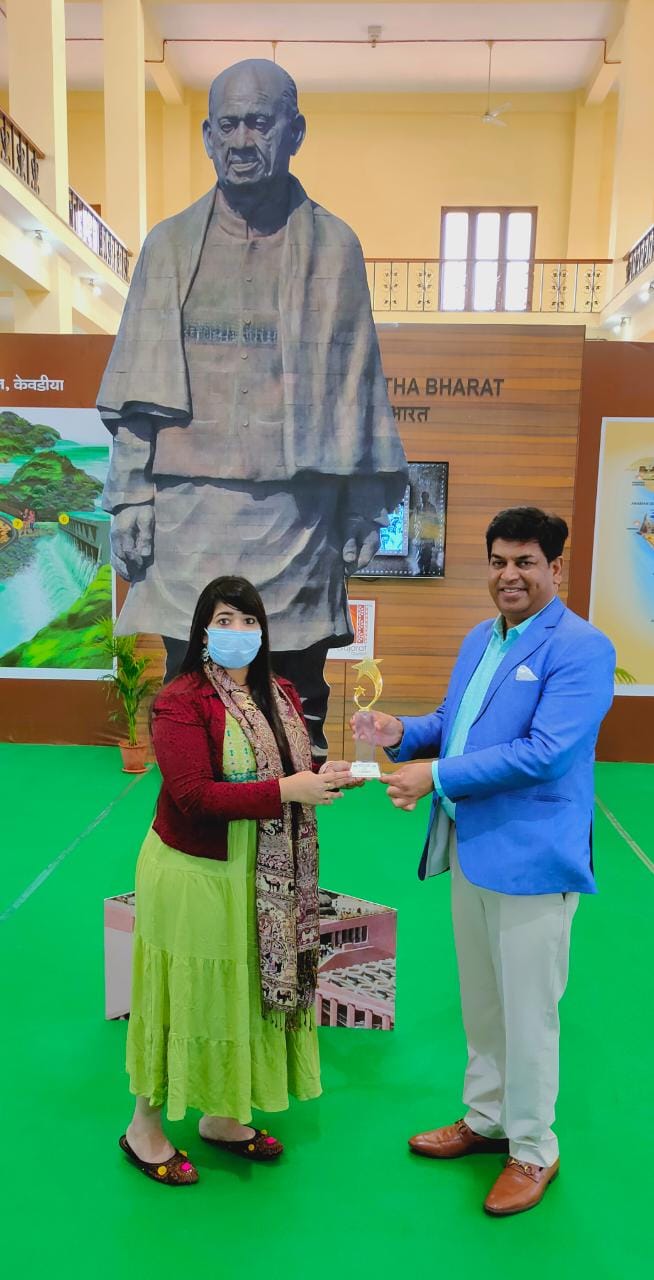 Press Release
As a part of ongoing India's Leading B2B Travel & Tourism Showcase & Conclave – India Travel Mart (ITM) Jaipur, a conference on 'Ek Bharat Shrestha Bharat- Dekho Apna Desh – Promoting Domestic Tourism' Jaipur, Rajasthan was held on Saturday evening. The event was attended by officials from Ministry of Tourism- India Tourism, officials from Gujarat Tourism Department, officials from Rajasthan Tourism Department and other members of the travel and trade fraternity. A presentation by Gujarat Tourism was also shown on the occasion. Gujarat Tourism also received the 'Best Stall Award' for their unique stall concept and decoration during ITM-Jaipur. Mementos were given to all other stalls.
Managing Director, ITM, Mr. Ajay Gupta said that the objective of India Travel Mart Jaipur is to promote domestic tourism in these Corona times and provide them with information regarding different types of tourism and packages. People who have been stuck inside their homes for the past 9 months are itching to get out and travel. During the wedding season, people are also booking destination weddings.
Deputy Manager Marketing & Promotions Tourism Corporation of Gujarat Limited, Ms. Nikita Kathiriya said that the initiative taken by the Gujarat tourism department highlights the potential of this State to attract tourists not only from India but also from around the world due to its best locations and unforgettable experiences. Post Covid promotion of 'Vocal for Local' (domestic tourism) strengthens national integration and provides socio-economic development in Gujarat as well as in the country. "It is indeed gratifying that the visionary and responsible tourism activities of Gujarat Tourism have been recognized and awarded by esteemed organisations in India and internationally", she said.
President, Association of Domestic Tour Operator (ADTOI), Mr. P.P. Khanna said that travel and tour operators need to take up the additional responsibility of educating tourists to follow all health and safety protocols when they visit a tourist destination. This will help them successfully plan trips that are enjoyable, stress-free and most importantly, safe for their clients. Apart from this, they also need to visit the travel destinations beforehand so that they can sell the destination to the tourists. They need to move out of their offices and create confidence amongst the masses to travel.

Mr. Subash Verma, National Advisor, India Association of Travel and Tourism Experts (IATTE) said that tourism will bounce back and it is time for the industry to look forward. All countries for the next one or two years will witness tourists travelling domestically. India has the potential for domestic tourism and now is the time to think and work together as an industry to make it true. Every State should attempt to reinvent itself to push domestic tourism. All States should allow for regulations that facilitate ease of travel between different States.
Treasurer, Travel Agents Association of India (TAAI) Rajasthan Chapter Mr. Arvind Pareek and Managing Director, Dove Travels, Amritsar, Mr. Ashwani Gupta were also present on the occasion.