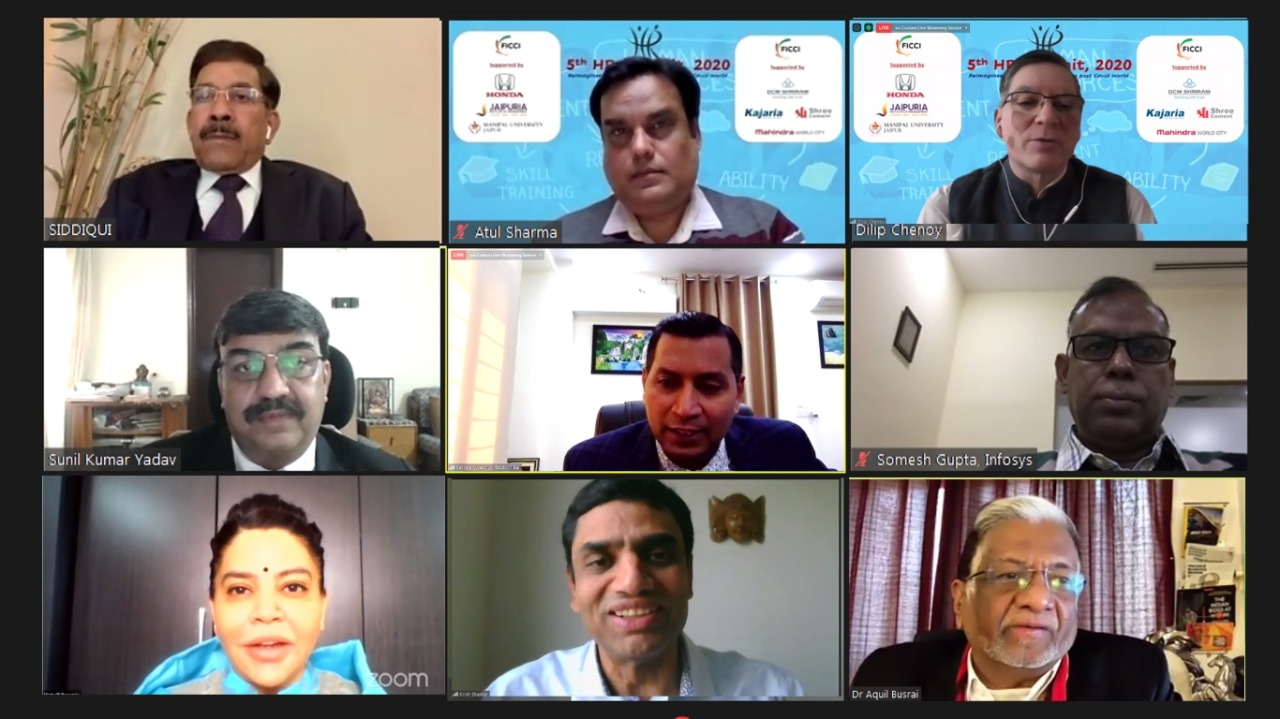 Press Release
The Government will soon begin new skill training courses for transgenders and beggars as a new initiative of the Government. These courses will benefit them in becoming a part of the main society and lead a dignified life. This scheme will begin from tomorrow (17 December). This was informed by Secretary – Labour, Skill, Employment & Entrepreneurship, Government of Rajasthan, Dr Niraj K Pawan. He also shared that all the Skill Development Centres in Rajasthan have started since 21 Septembr 2020 and will soon achieve their pre-covid levels. He was addressing the inaugural session of the virtual edition of '5th HR Summit, 2020' today. The Summit themed 'Reimagineering the Role of HR in the post Covid World' was organized by FICCI Rajasthan State Council. The session was moderated by Head, FICCI Rajasthan State Council, Mr Atul Sharma.
Executive Advisor, Maruti Suzuki India Ltd, Mr S Y Siddiqui said that even though working from home was never in the culture of Maruti Suzuki India, digitisation was a huge learning potential going forward. Handling adversity and crisis will become a very critical competency in the future. Fixated leadership styles will be very outdated and new styles of leadership like –compassionate leadership, listening leadership and transformational leadership will take its place.
Group Head – HR, Infosys Ltd, Dr Krishnamurthy Shankar said that distributed workspaces, hybrid work models, specialised workforce, alternate talent pools and agile and flexible business models is the context of the future in terms of HR. Three key transformations led by HR will include talent, employee experience and culture transformation.
Partner & Head – People & Change Advisory, KPMG India, Dr Vishalli Dongrie said that to minimize the crisis impact of the pandemic and steer business organisations towards success, HR will have to transform. A leader has to up his game from a talent management point of view. They have to understand how to retain, engage and motivate talent.
Secretary General FICCI, Mr. Dilip Chenoy said that the HR industry has undergone some critical changes which include the massive digital transformation and the rewriting of the entire labour regulations into new codes and rules. Organisation stability and resilience has been identified during the pandemic and existing people have taken on new job roles.
Delivering the welcome remarks, Chairman, FICCI Rajasthan Subcommittee on HR & Skills and Vice President, Honda Cars India Ltd, Mr. Sunil Kumar Yadav said that Globalisation over the years has brought new practices to HR. In recent years, HR has undergone dynamic changes and leaders are moving towards digital mindset. As such, the role of HR needs to be realigned with the needs of the country.
Plenary Session – I : Changing Role of HR – Leading through Crisis

The inaugural session was followed by Plenary Session – I on the topic 'Changing Role of HR – Leading through Crisis'. The session was moderated by CEO Aquil Busrai Consulting & Former Executive Director HR, IBM, Aquil Busrai.
On the occasion, Vice President – HR Strategy and Planning (Special Projects), Reliance Industries Ltd, Dr Prashant Deshpande said that 'Work from Home' (WFH) is not a new idea it was always a part of our collective imagination. It was how humans worked before era of industrialisation. As we got used to working in offices and factories, we forgot about WFH. But now, circumstances have made us revert to WFH.
Talking about overcoming HR and business challenges: Preparing for the New Normal, Executive Vice President & Country Head – HR, Siemens Ltd, Dr Shilpa Kabra Maheshwari said that HR needs to evolve and not be stuck to old competency frameworks. Communicating with the employees and creating a self-sustaining environment will become essential moving forward.
Introducing the concept of 'Learnagility' – Mindset over skill, Head – HR, Nagarro, Mr Mukund Nair said that there is a need to promote aspiration-drive culture of learning. This is an ecosystem that rewards learning and facilitates contribution. It should offer the freedom to choose your learning path i.e., self-learning, instructor led learning, hands-on learning or guidance.
Plenary Session II – The Future of Industrial Relations

This was followed by Plenary Session II – The Future of Industrial Relations. The session was moderated by Director, Jaipuria Institute of Management, Dr Prabhat Pankaj. The speakers spoke about the need for creating a conducive environment between the employer and the employee. It also discussed the changes made to several labour laws into new labour codes to bring about institutional reforms in the county. Creating an inclusive workplace, bringing about trust, empathy and encouraging collaborations between employees and the organization will be essential moving forward . Apart from this employees must also be empowered to become proactive partners in the development of the company. The plenary session was addressed by – CIO, CHRO & Head – CSR, Hero MotoCorp Ltd, Mr Vijay Sethi; HR & Planning Head, Honda Cars India Ltd, Ms Jyoti Singh; Faculty – HRM, XLRI Jamshedpur, Dr Jatinder Kumar Jha and Deputy Plant Head, Daikin Airconditioning India Pvt Ltd, Mr Pankaj Dewan.