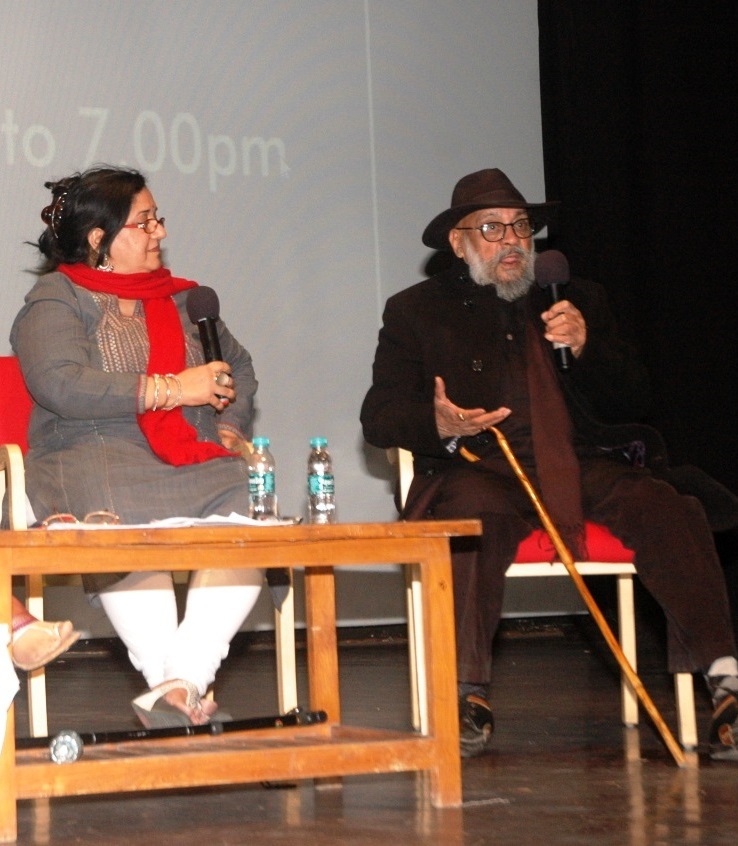 Press Release
Clay has been an integral part of my life. It has taught me patience and given me freedom and showed me the way to live my life. The process of refining, cleaning and moulding the clay and then making beautiful products out of it is a form of extreme meditation. It is an experience that is so satisfying that it can't be described in words. This was stated on 22 December by eminent artist Himmat Shah in a panel discussion to mark the conclusion of his almost two months long exhibition 'The Euphoria of being Himmat Shah – A continuing journey across six decades' at Jawahar Kala Kendra (JKK) today. The other panellists in the discussion were Director and Chief Curator of the Kiran Nadar Museum of Art (KNMA), Ms. Roobina Karode; Critic, Editor and Curator, Ms. Gayatri Sinha and Artist, Mr. Rajendra Tiku.
He further said that all students should be taught pottery. It is an extremely important medium to gain knowledge, said the octogenarian artist. Shah also suggested that experience is a much greater source of knowledge rather than books.
Talking about creativity, he said that creativity is not an act of mind but rather an act of body. If one continues to practice, creativity will surely develop.
Chief Curator and Director of Kiran Nadar Museum of Art, Ms. Roobina Karode said that Himmat Shah's work is not just about technique, knowledge or experience. In fact, it is a "miracle" to be able to create something like what he has done.   She further said that to be an artist like Himmat Shah one needs to be fearless. Only then can one develop a vision, perception and sensibility to look at different mediums like the way Shah has done.
Art Critic and Historian, Gayatri Sinha traced the life journey of Himmat Shah from his birth in 1933 at the ancient archaeological site of Lothal in Gujarat to the present day. Through his work, Sinha said, Shah does not want to demonstrate his knowledge of art. Rather he wants to demonstrate the enigma of art. Sinha also drew a parallel between Gandhi's Satyagraha and Shah's art.
Artist Rajendra Tiku shared that he has been a witness to Shah's work from late 1970s when Tiku was a student.  However, this exhibition has been a totally different experience for me. Himmat Shah's work is eternal in its value and effect, said Tiku. Through his work, Shah also shows that how time, space and movement are intertwined with one another.
On the occasion Director General, JKK, Ms. Pooja Sood shared that in a period of two months over 3000 visitors have visited the exhibition. In fact, many young people have also come to see the exhibition and have had hours of interaction with Shah.
It is to be recalled that 'The Euphoria of being Himmat Shah – A Continuing Journey Across Six Decades' was the first ever comprehensive showing of Jaipur's eminent artist Himmat Shah. It was curated by Ms.  Roobina Karode. The exhibition was oraganised by Jawahar Kala Kendra in collaboration with Kiran Nadar Museum of Art (KNMA), New Delhi.