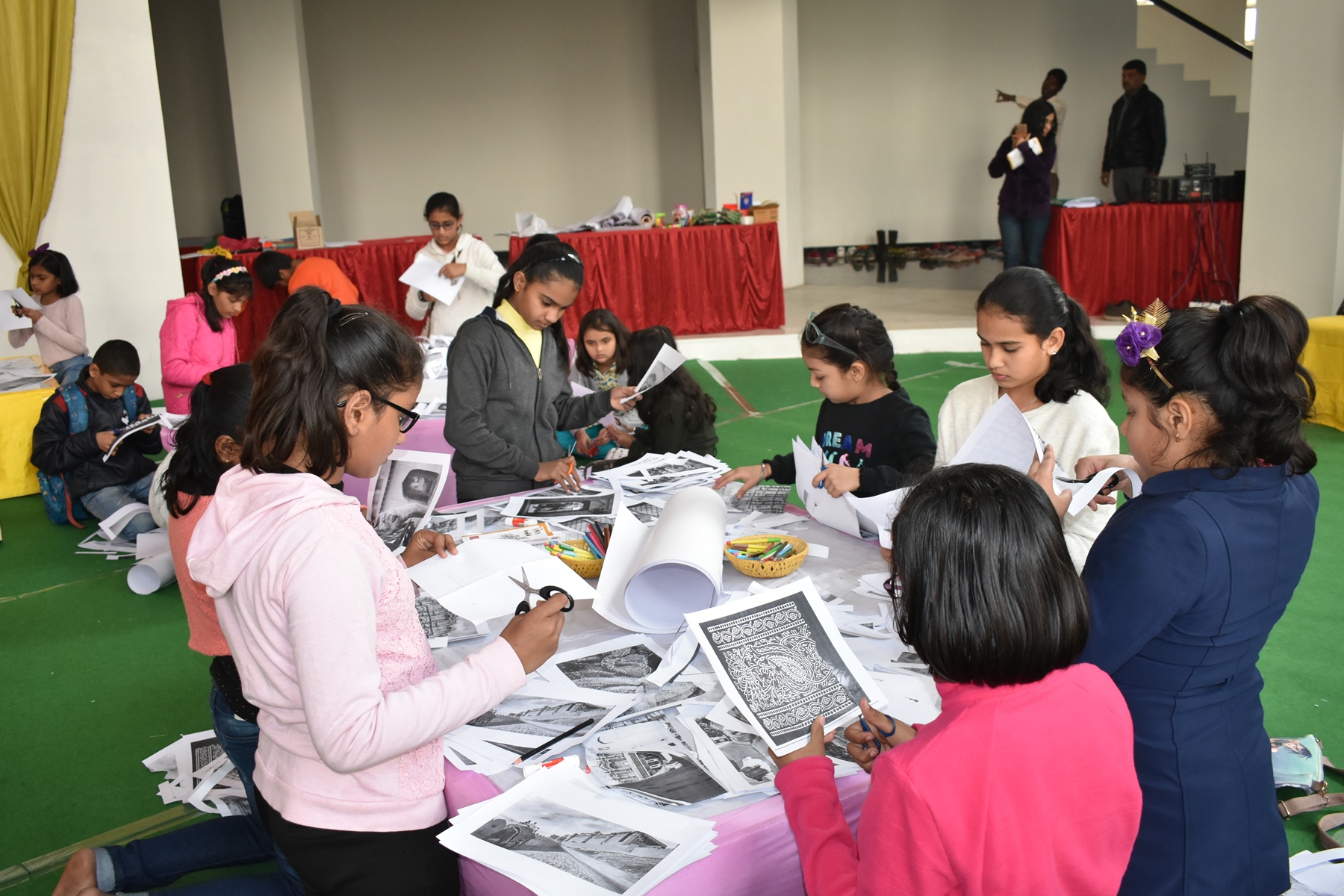 Press Release
The children were in for a treat this weekend as India's most travelled literature festival – Bookaroo – The Children's Literature Festival, witnessed its second and concluding day at Jawahar Kala Kendra (JKK).  A large number of children had the opportunity to meet their favourite authors, storytellers, illustrators and performers at the festival. Parents and children had great conversations over books, stories, arts and crafts at the variegated sessions of Bookaroo.
STORYTELLING AT KAHANI TREE AND AMPHITHEATRE
Children learned the art of storytelling through creative sessions like 'Tales to Take Home', 'Around the World on a Story Carpet', 'Shehzadi Madhumati Bol Uthi', among others at Kahani Tree.  They were also introduced to different methods of storytelling at the Amphitheatre like a story song, painting a story on a carpet. Similarly, the children also tested their star sign IQ with a horoscope session.
ARTS AND CRAFTS AT CRAFTY CORNER AND STUDIO
A number of interesting art and craft activities were lined up for the children at the Crafty Corner. Here, the children indulged in recreating a city through collages, made pop-up birthday cards and crafty animals.
Letting their creative side show in writing, children also enjoyed a session where they learned tips on poetry writing.  A session – 'Wayout Adventures' was an added attraction where the children brought out their imagination by creating wacky tricks and stunts.
PAINTING AT THE DOODLE WALL AND DOME
Doodling at the Doodle Wall turned out to be an interesting activity at Bookaroo on both the days. On day 2, the children drew their idea of spending a day on the beach, superheroes and their stories using different colourful material. In the 'Battle of Brushes', a showdown between two illustrators raised a roar of cheer from the audience, as the illustrators drew and painted, giving structure to a story being read out to them.
AUDITORIUM
A blend of unique activities like the no-rules game, virtual trip into history, bringing puppets to life turned out to be interesting and dynamic sessions where the children participated enthusiastically.
It is to be recalled that the over the 2 days, around 51 sessions were held where as many as 27 authors, illustrators, storytellers and performers from 12 cities came together to give children a weekend full of fun and frolic.