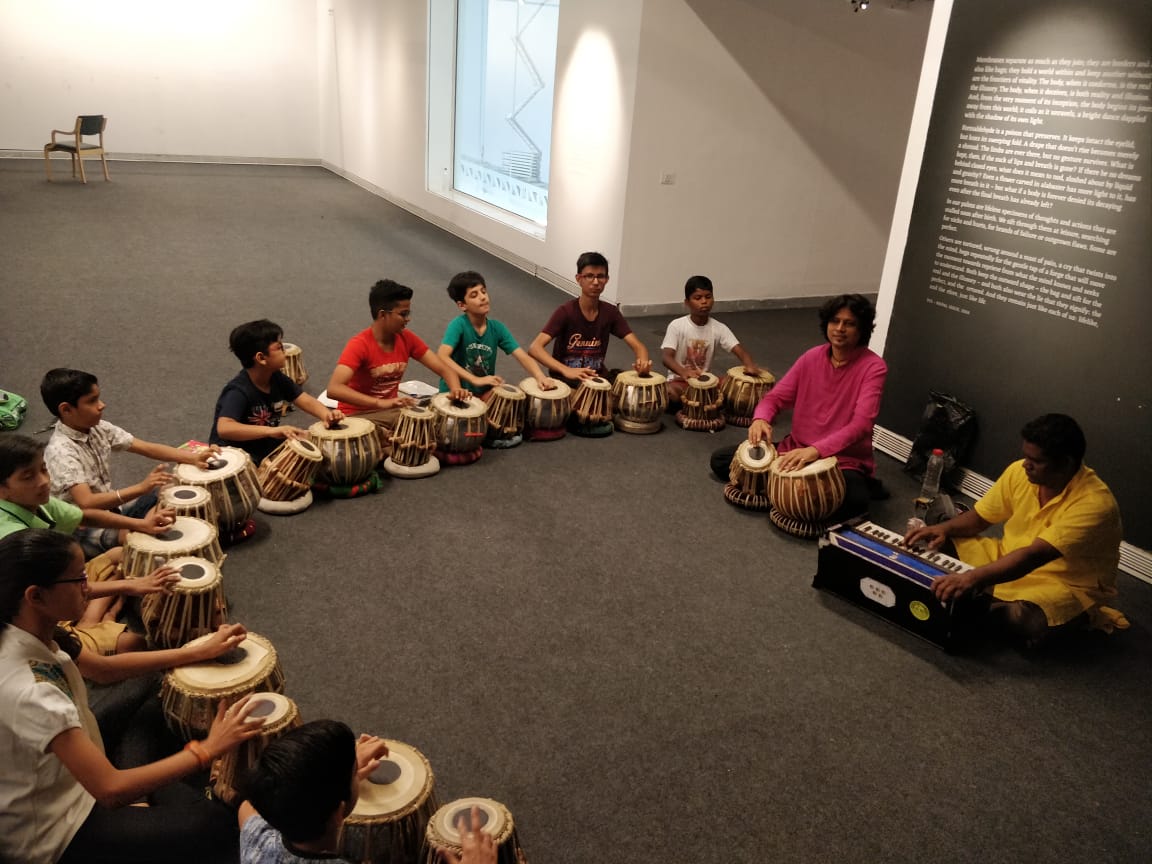 Press Release 
Children are being given foundational knowledge of Rhythm, Beat and Composition at the Music and Dance Workshops of the Junior Summer Programme at Jawahar Kala Kendra. The children are taking keen interest in learning Rajasthani Folk Music Instrument Khartaal, Rajasthani Folk Dance, Classical Dance Kathak. Not only are they learning the nuances of Tabla but are also practicing it daily.
In the Folk Dance Workshop, the Dance Guru, Shri Rajendra Rao is teaching the children folk dances of Rajasthan, Haryana and Gujarat. Mr. Rao said that apart from the Rajasthani Folk Dance 'Terah Taali', Haryanvi Folk Dance on 'O Mhari Channan Pacheli' and Gujarati Dandiya on 'O Natwar Nanu Re' are also being taught. He stressed on the importance of expressions in this dance form.
The correct way of holding Khartaal and the techniques of generating rhythmic sounds from it is being taught by Shri Kutle Khan Manganiyar and Bharat Sharma. Similarly, in the Tabla workshop Dr. Ankit Pareek is teaching the students 'Thah', 'Dugun', 'Chogun' in 'Teen Taal'.
Smt. Taruna Jangid Pareek is teaching the Indian Classical Dance Kathak to students. She shared her knowledge with the students about the foundational compositions of the Jaipur Gharana of Kathak.  The Rangmanch Pranam, Amad and Tode are the key lessons that are being taught to the students.
It is to be noted that as a part of the Junior Summer Programme that commenced on 15 May at JKK, children are participating in various workshops of Music and Dance. Some of these workshops include Vocal  Recital by Pandit Chandra Prakash Tanwar, Piano by Shri Pradeep Chaturvedi, Drums by Shri Puru Sharma and Contemporary Dance by Sushri Kamakashi Saxena.