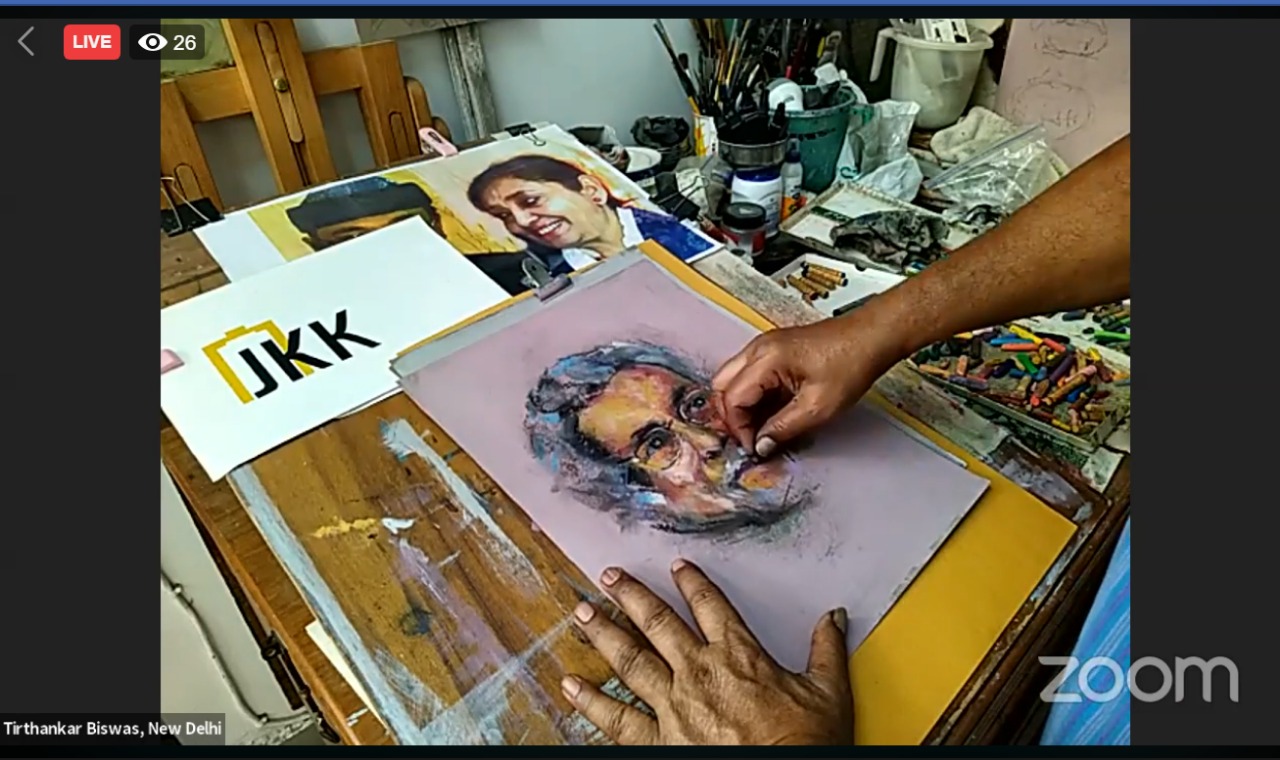 Press Release
As a part of Jawahar Kala Kendra's (JKK) ongoing 'Online Learning – Children's Summer Festival, art lovers witnessed a visual arts session on 'Oil Pastel Work on Paper' by artist, Tirthankar Biswas from Delhi. The session taught step-by-step techniques to create illustrations using oil pastels. Following this, a visual arts online learning session on 'Mandana' was conducted by artist, Vidhya Devi Soni from Bhilwara. It focused on drawing designs, materials used to create the art form and much more.
'Oil Pastel Work on Paper' by Tirthankar Biswas

The day began with a visual arts session on 'Oil Pastel Work on Paper' workshop by artist, Tirthankar Biswas. Viewers learned about the different types of pastels, application techniques, tone, colour, drawing and much more during the session. The artist began by sketching the figure character using the darkest shade of pastel (black) on pastel paper. He explained that pastel paper holds oil pastel shades better than other paper. Pastels can be found both in hard and soft form. Hard pastels are also known as chalk and require a fixative afterwards to complete the artwork. This tends to diminish the reflective colours used. Therefore, most artists today prefer to use oil pastels which have wax in them and can be easily layered and blended to create the perfect shades.
He went on to explain that a portrait has many colours like the hair has black, blue as well as white, eyebrows can use a touch of green to look more realistic and skin will always have a touch of red due to blood. These shades are blended well together using a cloth or one's fingers to make the painting look smooth. Accessories like glasses, jewellery or muffler can be added once the main features of the character are complete. Beginner artists should start sketching their family members to practise, the artist advised.
'Mandana' by Vidhya Devi Soni
The second session of the day was a visual arts session on 'Mandana' by artist, Vidhya Devi Soni. The artist began with explaining the traditional process of 'Mandana'. She said that walls or surfaces are plastered with clay which is a mixture of cow dung and water. Then the surface is left for some time to dry. Then a mixture of Khadiya (chalk) and water is made from which the designs are drawn. 'Mandana' can be made on walls, doors, pooja places, among others. They are also made during special festivals like Gangaur, Diwali, Holi, Durga Ashtami, among others. Different regions of Rajasthan make varying designs of 'Mandana'. Any auspicious occasion like and Pooja, birth or marriage function 'Mandana' is made.
The artist demonstrated a 'Mewar Mandana' which is commonly made in a Pooja place. She began by sketching the outline using a marker and outlined the design with a thin brush and Khadiya (chalk) mixture. After this, she filled in the 'Mandana' with various designs like checks, lines, 6-petalled flower, connected flowers and much more. 'Mandana' is usually large but can have smaller designs on the side like flowers, stars as well as symbols to make the it more attractive.