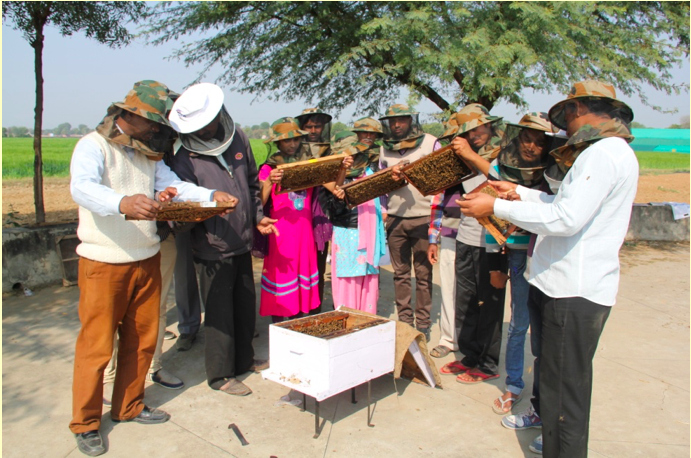 Press Release 
Honey Processing Plant at Agriculture University in Kota
Jaipur, 16 May: The Kota division is slowly emerging as a strong player in the field of Apiculture. Although beekeeping in Kota is currently at a nascent stage, the district is producing honey to the tune of Rs. 3 to Rs. 3.5 crores annually. With the conducive climate, Kota division produces around 375 MT of honey annually this was informed by Principal Secretary of Agriculture, Government of Rajasthan, Ms. Neelkamal Darbari.
She further added the practice of Apiculture began in the Kota district in 2003-2004. Currently, there are 14,000 bee colonies/ boxes in the region, each producing 25-30 Kgs of honey with 400-450 farmers involved in the process. The Division has been continuously expanding the practice by adding 1,500-2,000 boxes each year over the last decade.
In order to support the farmers, the Government is also providing a subsidy of 40% on the cost of box and bees (Cost of one box or bee colony is Rs. 1,600) up to a maximum of 50 boxes. Additionally, the Government has undertaken efforts to promote apiculture in the region, by imparting training and education to the farmers.
Another benefit of Apiculture is the practice of bee pollination which aids mustard and coriander farming and improves the quality of the produce from these cash crops. In mustard, a yield increase of over 15% has been observed due to the effect of bee-pollination and given the vast production of the crop in the division. Honey cultivated from these specific flowers vary in flavor from each other and that of the others in terms of taste and viscosity.
Expert views on beekeeping and its practices will be shared with farmers from in and around Kota at the upcoming Global Rajasthan Agritech Meet (GRAM) Kota which will be held at RAC Grounds Shivpura, Kota from 24 to 26 May.
For diversification in the agricultural sector, Agriculture university, Kota undertook a bee-keeping project 3 months ago. The project aims to motivate other districts in the Division to invest in the bee-keeping industry.
The University has installed a honey processing plant purchased from Punjab. At present, the plant processes 200 kgs of raw honey per day and facilitates around 40 beekeepers from the State to make use of this service at a nominal cost of Rs. 3 per kg. The project is also involved in the artificial reproduction of Queen Bees. The project has enabled 12-16 Queen bees to be produced per colony as compared to the traditional practice of 1 Queen Bee per colony. Currently, the University houses 145 bee colonies for research purposes and commercial beekeeping. Each colony is producing 20-30 kgs of honey per box per year.