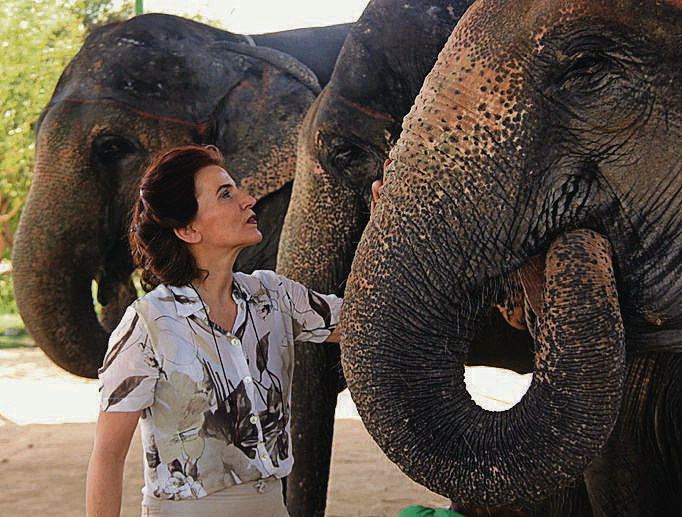 Press Release
A film 'Where The Elephant Sleeps' screened At JKK in collaboration with Help in Suffering
Directed by German director, Brigitte Uttar Kornetzky
Jaipur, 15 December: A film 'Where the Elephant Sleeps' by German director, Brigitte Uttar Kornetzky was screened today at Jawahar Kala Kendra (JKK) in collaboration with Help in Suffering. The first public screening of the film gave an insight into the plight of the captive elephants used for tourism at Amber Fort in Jaipur.
The story revolves around how captive elephants develop remarkable connections with humans, reaching out to those they sense have compassion towards them. They toil day after day with their mahouts to bring in the tourist dollar for the elephant owners. The harsh conditions in which they live cause various types of physical and mental harm, life-threatening infections, depression and stereotypic rocking. An intriguing conflict emerges wherein despite the cost, the elephant owners find it financially beneficial to replace sick elephants than to treat them with appropriate medication.
Along with fascinating local characters, the film director finds herself thrown into her own film when an elephant named Sita succumbs to infected wounds. With a telephone in one hand and a camera in the other, Brigitte finds a doctor once banned by the elephant owners to treat the ailing Sita.
Says the Director, Ms. Brigitte Uttar Kornetzky: "While shooting I became more aware of the helpless situation of the elephants. An elephant is a highly sensitive animal that we have ripped out from its natural habitat and kept in captivity. I feel that we need to take full responsibility to take care of them. They should be treated with love and respect, not beaten to eat or work. I have made this film to educate the people about sensitive matters related to the living conditions of the elephants in Jaipur."