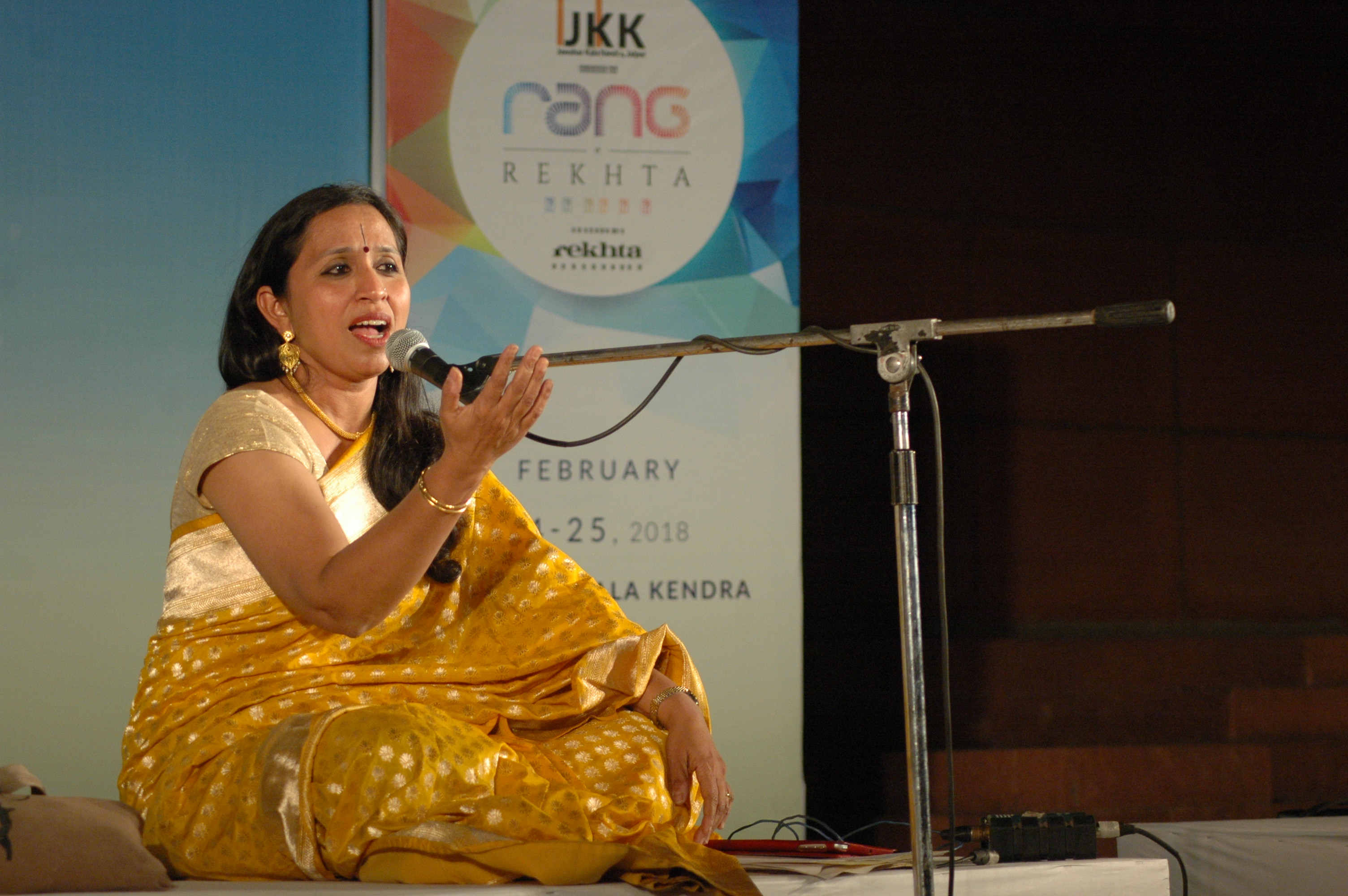 Press Release
The unique Urdu festival, 'Rang-e-Rekhta' concluded with great fanfare at Jawahar Kala Kendra (JKK) on Sunday. The event that charmed Urdu language lovers was presented by JKK and curated by Rekhta Foundation.
The programme began with 'Akhtari' in which renowned singer Vidya Shah revived the memories of  Begum Akhtar, famously known as Malika-e-Ghazal. She recited some of her popular ghazals. Apart from this, she also sang ghazal by some well known shayars including Behzad Lakhnavi's 'deewana banana hai toh deewana bana de'. Other songs rendered were 'Sun Ri Koyal Bawari', 'Ulajh Gaye Nainwa' and 'Patli Kamar Lambe Baal', among others.
This was followed by dastaangoi, in which the actor and shayar, Danish Hussain presented life stories of Begum Akhtar in a special way.
On the occasion, accompanying them were Badlu Khan on Harmonium, Ustad Ghulam Ali on Sarangi and Prakash Thakur on Tabla.
The evening concluded with a Mushaira performance given by 10 popular poets and shayars. Performers included of Wasim Barelvi, Sheen Kaaf Nizam, Shakeel Jamali, Madan Mohan Danish, Shakeel Azmi, Muzaffar Abdali, Shareek Kaifi, Bakul Dev, Abhishek Shukla and Malka Nasim who read their self composed shers. The audience at JKK welcomed all the shayars with warm applause.
It is to be recalled the event has been curated by Rekhta Foundation. The foundation is a non-profit organization for promotion of Urdu language, literature and culture and runs the world's largest website for Urdu poetry rekhta.org. The word 'Rekhta' means Urdu, a language that has born and evolved in the Indian sub-continent, and Rang-e-Rekhta translates as 'diverse colours of Urdu'. The festival marked Urdu's extraordinary outreach since the language finds its resonance across the length and breadth of the country. It is worth noting that the first practitioner Of rekhta is Amir Khusrau who wrote in the 13th century. During the period of its growth over 5 centuries it came to be known as Deccani, Hindavi, Hindi, Gujri. It acquired th status of Urdu as a language in the course of time and came to be known as Urdu only in the 18th century.