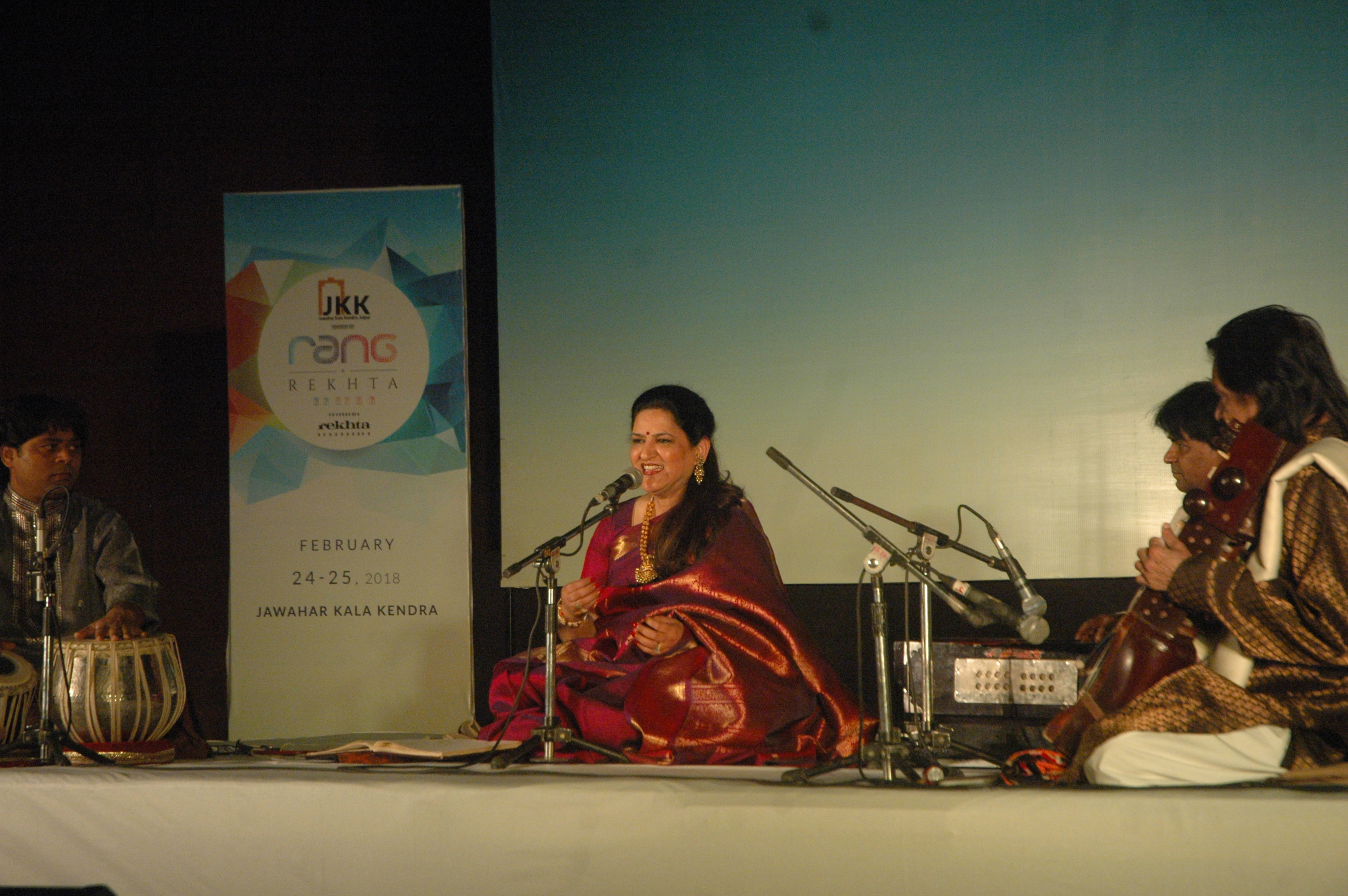 Press Release

A 2-day festival to celebrate the Urdu language — 'Rang-e-Rekhta' began at Jawahar Kala Kendra (JKK) on Saturday. The event was presented by JKK and was curated by Rekhta Foundation. During the performance, 
Urdu lover were seen enjoying to their fullest.
The day 1 of the event witnessed performances by renowned artistes like Radhika Chopra, who dedicated the programme 'Ghazal Shayari' to the famous Shayar Faiz Ahmad Faiz by rendering his famous 

nazms 

and 

ghazals

. This performance was directed by Danish Iqbal. Apart from this, the singer gathered the applause of the audience by performing ghazals such as, 'aapki yaad aati rahi raat bhar, chandni dil dukhati rahi raat bhar', '

dono jahan teri mohabat mein har ke, wo jaa raha hai koi shab-e-gham guzaar ke

', 'mujh se pehli si mohabat mere mehbuub na maang', among others. 
This was followed by Dastaangoi in which Danish Iqbal told stories related to the life of Faiz Sahib. Accompanying the duo were Ustad Ghulam Sabir Khan on Sarangi, Nafis Ahmed on Harmonium and Amjad Khan on Tabla.
The evening concluded with a mesmerizing Qawwali performance by the noted Sabri Brothers – Ustad Saeed Sabri, Ustad Fareed Sabri, Ustad Amin Sabri and others. 
The group rendered sufi songs like tu der-o-haram, damadum mast kalander, chaap tilak, phir hume yaad aane lage hai,among others.
It is to be recalled the event has been curated by Rekhta Foundation. The foundation is a non-profit organization for promotion of Urdu language, literature and culture and runs the world's largest website for Urdu poetry rekhta.org. The word 'Rekhta' means Urdu, a language that has born and evolved in the Indian sub-continent, and Rang-e-Rekhta translates as 'diverse colours of Urdu'. The festival marked Urdu's extraordinary outreach since the language finds its resonance across the length and breadth of the country. It is worth noting that the first practitioner Of rekhta is Amir Khusrau who wrote in the 13th century. During the period of its growth over 5 centuries it came to be known as Deccani, Hindavi, Hindi, Gujri. It acquired th status of Urdu as a language in the course of time and came to be known as Urdu only in the 18th century.