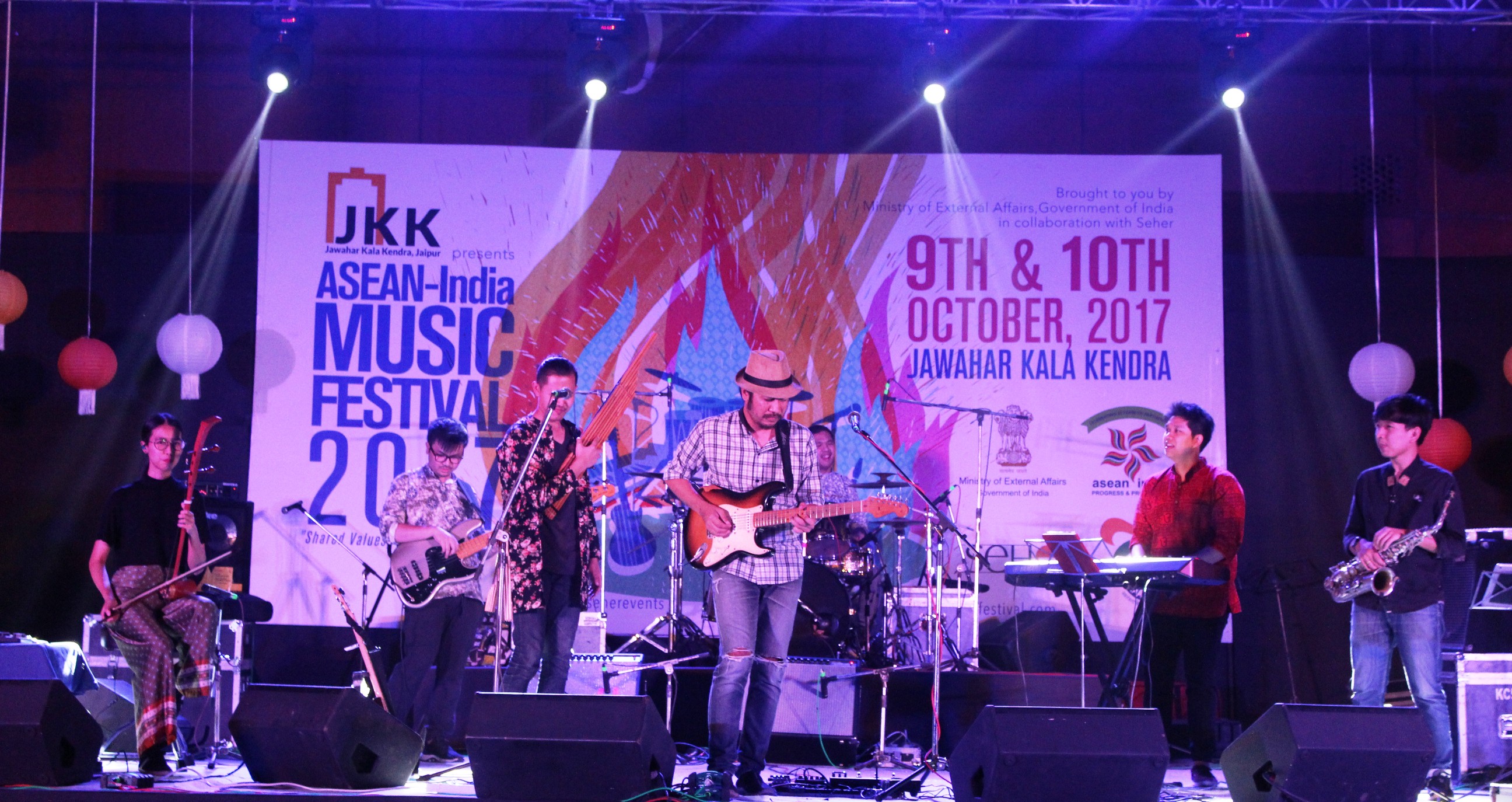 Press Release
The second day of the 5 day 'The Music Stage' witnessed a mélange of contemporary and folk music at Jawahar Kala Kendra (JKK) today. There were performances by Asia 7 from Thailand, The Ransom Collective from Philippines and Advaita from India.  
Asia 7 presented a combination of Thai, Folk and Jazz music. They used unique instruments like Saw Duang (Thai Fiddle) and Phin (Thai Lute) in their performance, apart from guitar, saxophone, keyboard, bass and drums. Their band members included Amornphat Sermsap (Vocals), Tontrakul Kaewyang (Phin), Narisara Sakpunjachat on Saw Duang, among others. They sang songs like Sang Sao, Khak Chern Jao, Magic Beam,  Kwan Jao Aey, among others.
The Filipino band 'The Ransom Collective' rendered unique percussive patterns, acoustic guitar driven leads and full vocal swells. Their distinctive performance had the crowd grooving to their tunes. Among their band were Kian Ransom (vocals, guitar), Redd Claudio (drums), Jermaine Choa Peck (percussions, vocals), Leah Halili (bass, vocals), Lily Gonzales (keyboards, vocals) and Muriel Gonzales (violin, vocals). They presented numbers like Traces, Fools, Images, Fun, among others.
The evening concluded with the enchanting performance of Advaita from India. The way they interweaved the intricacy and spirituality of Indian classical music with the energy and youthfulness of rock, pop and electronics captivated the audience. They rendered tracks like Rasiya, Ghir Ghir, Mofunk, Mandirva, Gates of Dawn, Miliha, Dhoom ketu, among others.
The programme was a part of the ASEAN India Music Festival and held in collaboration with Ministry of External Affairs, Government of India and Seher. Today, as a part of Jodhpur RIFF's collaboration with JKK, Rocky Dawuni from the USA will be performing at 7 pm. The entry to the event is through tickets which can be obtained from JKK's office.