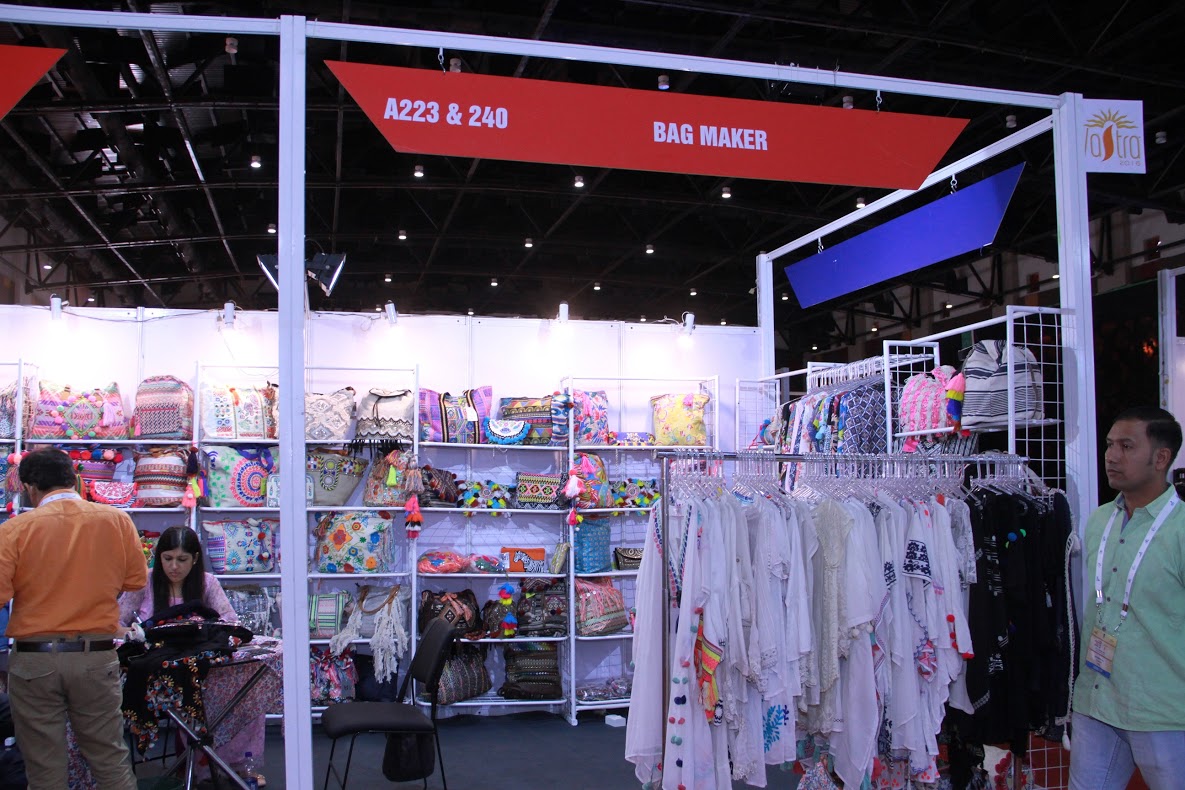 Press Release
B2C activities on 23 October
Home décor, garments, accessories on sale for general public on the last day
Jaipur, 21 October: The concluding day (23 October, Sunday) of the ongoing International Textile and Apparel Fair – Vastra – has been especially designed for B2C activities. A bonanza of home décor products, garments, accessories, among others will be available for the general public on this day. The fair will be open for the general public from 10 am to 8 pm on 23 October.
The event is jointly organized by the Rajasthan State Industrial Development and Investment Corporation Ltd. (RIICO) and Federation of Indian Chambers of Commerce and Industry (FICCI).
B2C component with B2B has been introduced to provide the trade a platform where one can interact with foreign buyers, Indian buying houses/agents, bulk and institutional buyers as well as the end users. This format would be highly beneficial to new entrepreneurs, who are in the process of creating space for themselves in the trade.
An exclusive Rajasthan Pavilion showcasing the vibrant arts and crafts of the state will be one of the major attractions on this day for the general public. Some of the items available here include Jaipuri lac bangles, Doll Hangings, Kota Doria sarees anddupattas, Bagru handblock print material, Sanganeri hand block print, Gotta Pati and zardosi material, Ajrak prints and Kantha work fabric, among others.
Another interesting stall is the one put up by International Institute of Fashion Design (INIFD) wherein products made by the students of the institute will be available for sale on Sunday. Decorative chandeliers made using tea cups, innovatively designed canvas shoes, accessories such as necklaces, watches, earrings and handbags, pillow covers as well as garments for kids and women are the major highlights of the stall.
One of the stalls will also be selling products made out of paper yarn. Hand made paper and newspaper is transformed into paper yarn out of which products like handbags, room dividers, lamps, diaries, wall hangings, photo frames, file folders, laptop bags, among others will be available for sale. These products are hand made by Rajasthani weavers, bag makers and house wives who believe in fostering and keeping the age old traditions alive. The objective of choosing such material is to eradicate post consumer waste.
Scarves, stoles, sarees, jackets and shirts made out of the traditional handicrafts of Odisha such as Ikat, Tassar and Bomkai are also on offer at the mega textile fair.
Box Item
International buyers from 22 countries evince interest in Vastra 2016
As many as 70 foreign buyers from 22 countries are participating in this global event. 179 exhibitors across the entire textile value addition chain – from spinning to fashion, be it products or machinery & technology, from various parts of the country participating in the event. Similarly, 117 representatives from 92 Indian buying houses companies /agents are participating in the event.
A regular participant of Vastra, Priyanka Nigam from a leading fashion designing institute said that it is only the second day of the fair and we have been receiving requests from Australia, USA and Dubai. "Ladies garments, home furnishing and décor products are a huge hit amongst the international buyers", said Nigam.
Calvin Murray of New York based CLM Enterprise Ltd attending Vastra for the second time said, "I first visited Vastra in 2013 and connected with two exporters. My first visit here made me realize that it is very important to connect with manufacturers instead of traders. Vastra is a huge platform for both the exporters and buyers to interact, market and sell their products." He further said that his firms has been importing rugs, table mats and few other home décor items from Indian markets. "I like the dedication of Jaipur export houses, they are here to do real business and believe in quick dealings," he said.
Another buyer from Australia said that she is a regular visitor at Vastra and she keeps coming to Jaipur for purchasing traditional Bagru and Saganeri textiles.