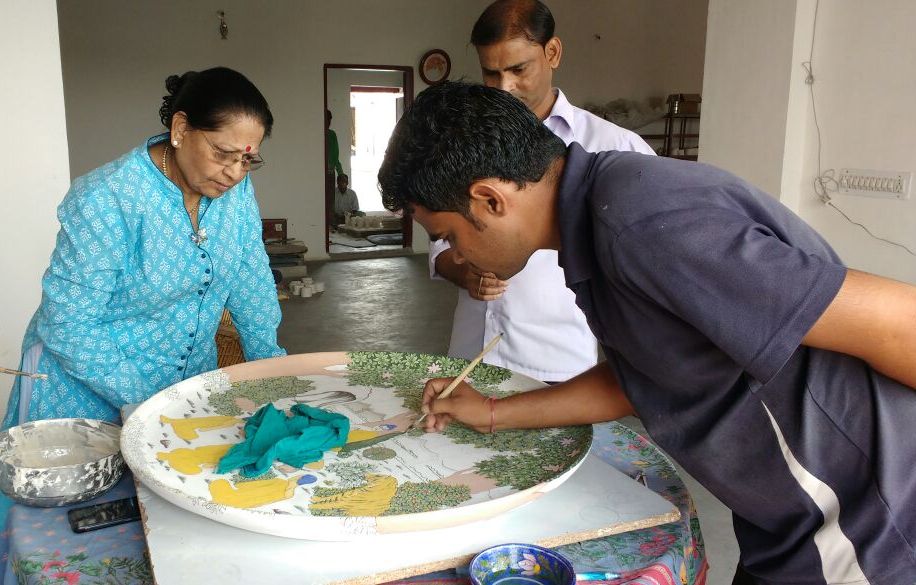 Press Release
The renowned custodian of the Jaipur Blue Pottery and proprietor of Neerja International Inc, Leela Bordia has made it to the Limca Book of Records for the biggest Jaipur blue pottery plate. She involved as many as 15 craftsmen to make a Jaipur Blue Pottery plate that measures a whopping 30 inches in diameter. The plate weighs 12 kg and was laboriously made in 50 days. It is inspired by Buddha and depicts the aura that meditation creates when nature comes in unison to celebrate.
Talking about the inspiration behind making such a huge plate, Leela Bordia says: "On my travels abroad, I saw beautifully designed big sized plates. Such humungous plates were not being made in blue pottery in India then. The biggest plate in blue pottery at that time measured around 12 to 15 inches. Looking at those plates I thought if they can make such huge plates, even we can and this instilled in me a new vigour and zeal."
Along with fifteen craftsmen, who were masters in their own skill set like moulding, colouring, glazing etc., the process of experimentation began. It took two years of tireless hard work and perseverance to craft the first and one of its kind, immaculately designed 30 inch Blue Pottery plate. The plate is an epitome of the intricate, laborious and elegant craft that Jaipur Blue Pottery is.