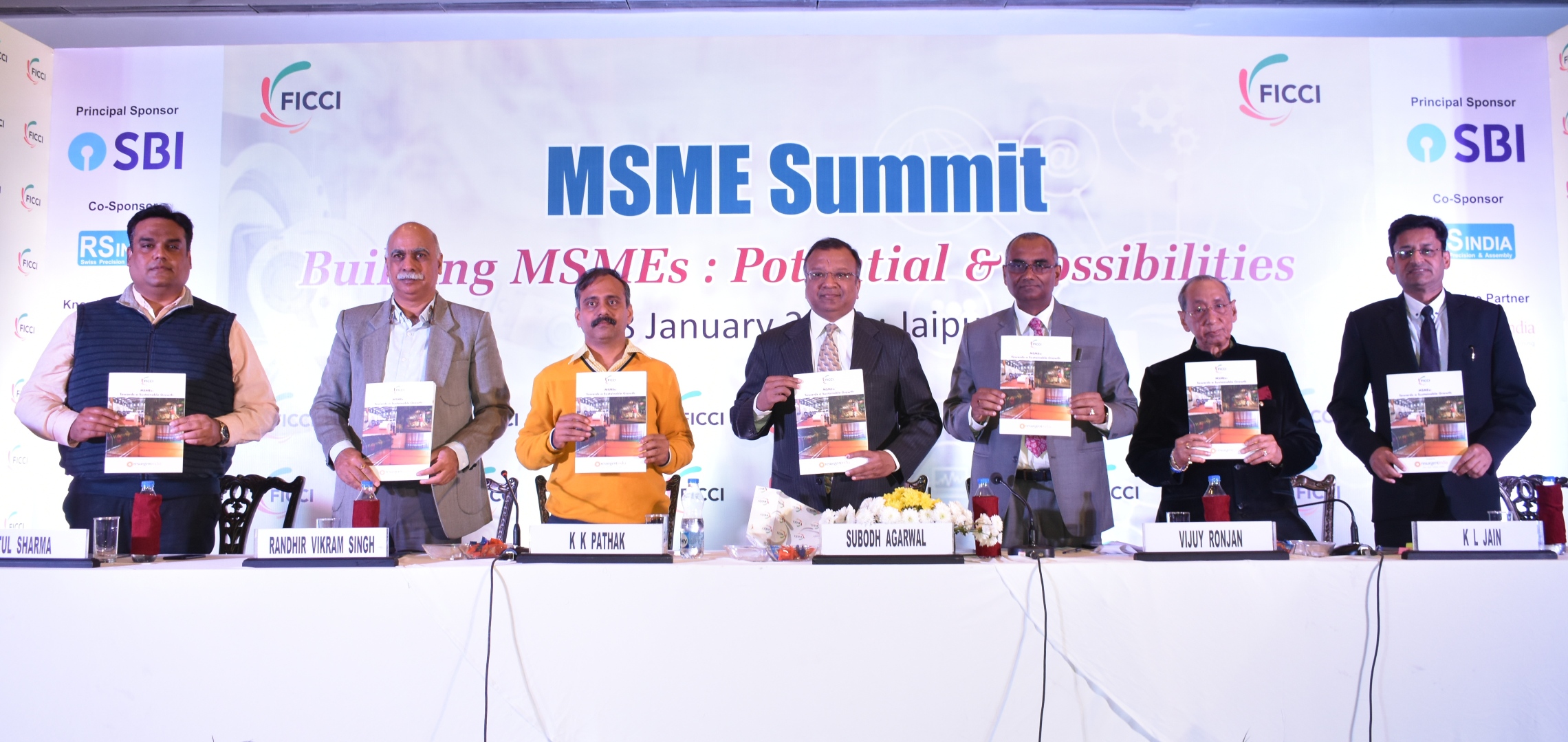 Press Release 
"WITH DYNAMIC CHANGE IN TECHNOLOGY MSMEs NEED TO EXPERIENCE EXPONENTIAL GROWTH AND PROMOTE PRIVATE INVESTMENTS"
–Dr. Subodh Agarwal
Additional Chief Secretary – Industries
Government of Rajasthan
 With the changing environment, the need to adapt with newer technology has become significant in the Micro, Small & Medium Enterprises (MSME) sector. New age and progressive thinkers need to be encouraged to step into the field and promote exponential growth and innovation in the industry. This was informed by Additional Chief Secretary – Industries, Government of Rajasthan, Dr. Subodh Agarwal. He was speaking at the MSME Summit – 'Building MSMEs: Potential & Possibilities' held at Hotel ITC Rajputana .
Mr. Agarwal further said robust positive and vibrant interaction via a 'Dispute Resolution Committee' needs to become a regular feature in order to bridge the gap between the industry leaders and stakeholders. Similarly, the Government is also working on strengthening the Single Window System to facilitate and simplify trade in Rajasthan.
Commissioner – Industries, Government of Rajasthan, Dr. K.K. Pathak said that the need of the hour is to promote responsible growth. By using technology to achieve sustainable development, the MSME sector can experience balanced development.
Member, FICCI Rajasthan State Council & Secretary General, RCCI, Dr. K.L. Jain said that the MSME sector generates employment for approximately 15 – 20 crores people in the country. This sector contributes to India's GDP by 8% and has generated employment opportunities for 15 lakhs people in Rajasthan. Highlighting the need for change in the sector, he further said that agro-processing, as well as component-based growth, needs to be promoted. Large industries should work in tandem with the smaller business units and help combat financial constraints and excessive competition in the market.
Highlighting the significance of MSMEs, Chief General Manager, State Bank of India, Mr. Vijuy Ronjan, said that MSMEs are the engine of growth which helps in creating large scale employment and provide economic stability in terms of growth and leverage exports. Similarly, it also encourages inclusive growth and requires relatively cheap labour and minimum overhead.
During the welcome address, Co-Chairman, FICCI Rajasthan Council & Joint Managing Director, Mandawa Hotels, Mr. Randhir Vikram Singh said that MSME has helped industrial growth for rural and backward areas by creating employment opportunities across the country.
The vote of thanks was delivered by Chairman- MSME Sub-Committee, FICCI Rajasthan State Council & Director, SME Consulting Pvt. Ltd., Mr. Rajneesh Singhvi. The session was moderated by Head, FICCI Rajasthan State Council, Mr. Atul Sharma.
Also, on the occasion an Analysis by Resurgent India – 'MSMEs: Towards a Sustainable Growth' was launched by the dignitaries.
Later, two plenary sessions on 'Enhancing the Competitiveness of MSMEs' and 'Access to Affordable Credit & Risk Management' were also held.