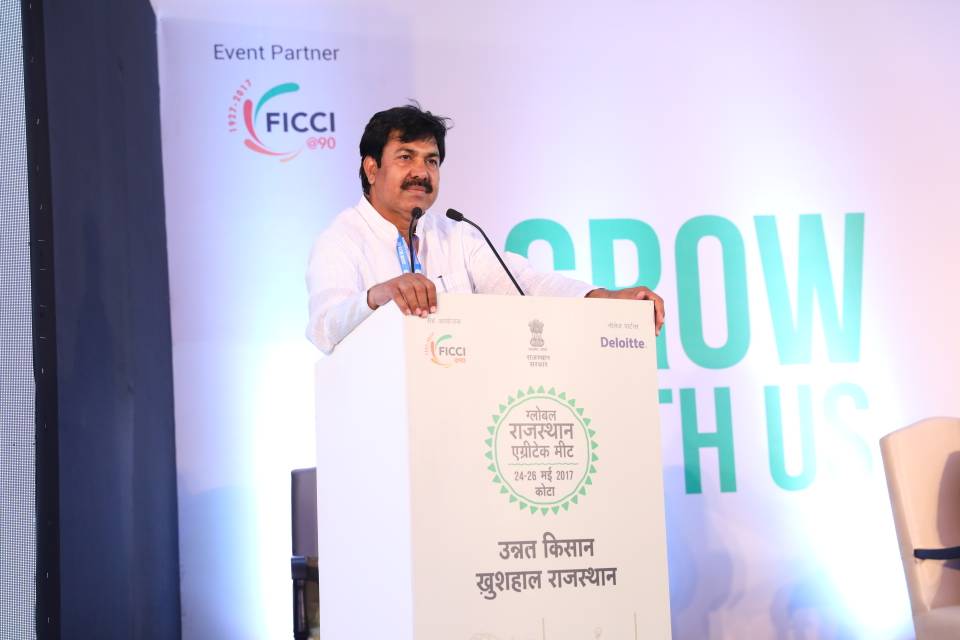 Press Release
Global Rajasthan Agritech Meet
Kota, 26 May: The final day of the 3-day Global Rajasthan Agritech Meet (GRAM) in Kota witnessed a session on 'Promoting Agri Tourism in Kota Region'. Agri tourism can be done with the most basic elements prevalent in a farmer's daily life. This was informed by Minister for Public Works Department, Transport, Government of Rajasthan, Mr. Yunus Khan. He further added that a harmonious blend of traditional food, comfortable accommodation, entertaining farm activities as well as marketing through the right channels can open up ample avenues for Agri Tourism in the Division.
The session highlighted the need to view agricultural activities from a tourism aspect. The seminar was chaired by Special Secretary to the Government, Tourism Department, Government of Rajasthan, Mr. Pradeep Kumar Borad. Mr. Borad said that agri tourism is a sustainable multifaceted growth engine which provides economic, social and environment returns.
Managing Director, Agri Tourism Development Company Pvt. Ltd (ATDC), Mr. Pandurang Taware said that agri tourism is not just for the benefit of the farmers but also essential for the sustainability of the entire village. Highlighting various sources of income in agri tourism he said that farm tours, farm stays, serving traditional food, involving tourists in farm activities can be facilitated for the visitors. He further added that on site sale of fresh farm produce and processed farm products as well as revenue generation through sale of crafts and souvenirs can also benefit the farmers.
Director, Sahaj Agrofarm India, Mr. Vigyan Gadodia explained that agri tourism is a set of programmes and activities which allow the host farmers to offer leisure, learning, entertainment and spiritual services to tourists in an economically profitable manner.  He emphasized that because Kota region is a water rich vegetable growing belt it is most attractive to this form of tourism. Furthermore, the Delhi Mumbai Industrial Corridor Project (DMIC) presents a great marketing opportunity for the farmers to attract more tourists to their farms.
Associate Professor and Research Awardee, School of Heritage Tourism and Muselogy, University of Kota, Dr. Anukrati Sharma said that agri tourism can act as a lifesaver in the Kota region where many students are plagued by extreme pressure to perform well academically. She further added that this form of tourism can help create positive, memorable experiences for students by offering emotional rewards. The students will also be able to enhance their agricultural knowledge and improve the farm's ambience.
Dr. Sharma also offered suggestions like renting bicycles, offering virtual tours of farms, setting up yoga and meditation centers, aromatherapy spas, temples and Ayurvedic centers to enhance the tourism experience of the visitors.
About 'Global Rajasthan Agritech Meet 2017, Kota' (GRAM)
GRAM Kota will be held from 24 to 26 May 2017 at RAC Parade Ground, Shivpura, Kota in Rajasthan. The event is being jointly organised by the Government of Rajasthan and Federation of Indian Chambers of Commerce & Industry (FICCI).
Government of Rajasthan looks forward to replicate GRAM 2016's accomplishment at Kota in Rajasthan. One of the core objectives of GRAM Kota would be to expose the farmers of the Kota Division to best agriculture practices and define the next qualitative leap in Kota's agriculture growth story.
The event will bring all stakeholders – farmers from in and around Kota, academicians, technologists, agribusiness companies and policy makers.