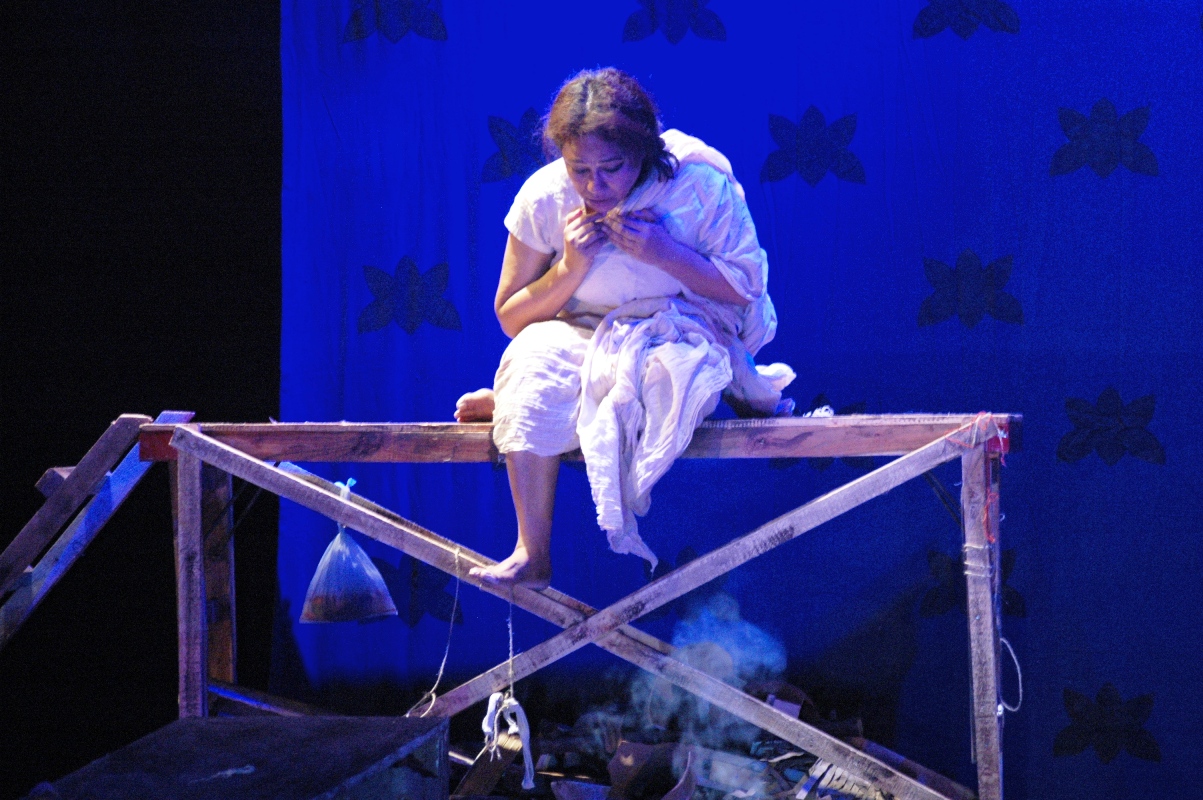 Press Release
A retrospective exhibition of Ebrahim Alkazi's theatre work – Curated by Amal Allana and designed by Nissar Allana
As a part of the Rajasthan Divas Celebrations and World Theatre Day

Jaipur, 27 March: On the occasion of the World Theatre Day and as a part of the Rajasthan Festival, an exhibition focused on the work of eminent theater exponent of India- Mr. Ebrahim Alkazi began today at Jawahar Kala Kendra and will be on till 6 May. Entitled, 'The Theater of E. Alkazi', the exhibition is a retrospective of Ebrahim Alkazi's theatre work, which spans a period of 50 years. The exhibition was inaugurated today by Indian theatre actor and playwright, Mr. Mohan Maharishi. Curated by Amal Allana and designed by Nissar Allana, the exhibition has been organised in association with Department of Tourism, Government of Rajasthan.
The exhibition features multiple rooms of rare photographs, objects, archival documents, models of stage sets, using a multi media approach to exposing Alkazi's vision and ideas. The exhibition shows, for the first time, Alkazi's work from the 1940s and 1950s — work that has rarely been seen anywhere in India, and brings a vast treasure of archival material into the public domain.
Earlier, a talk was held with Amal Allana and Mohan Maharishi. On the occasion, Maharishi said that he had been associated with Alkazi since 1962. His first meeting with him was in a classroom. Maharishi went on to describe Alkazi not only as a great actor but a teacher par excellence. He said that Alkazi worked five times harder than his students and treated theatre not merely as a form of entertainment but as way of life. He also spoke about the different ways in which Alkazi administered numerous staff under him. Alkazi not only taught him about theatre but also taught him about life. Alkazi brought life into mundane and ordinary work and had the power to change lives.
Allana gave an overview of Alkazi's life and career. She discussed his early life as a strict disciplinarian teacher of dramatics as the Director of National School of Drama, staging of over 50 plays throughout his life, retiring at 52 years of age and opening the Art Heritage Gallery in Delhi with his wife, Roshan Alkazi. His early years of training at Royal Academy of Dramatic Art (RADA) and his vision to change plays to have Indian viewpoints and be more relatable towards his audience were also highlighted.
A short documentary film with glimpses of Alkazi's life was also shown on the occasion.
'JEEVIT YA MRIT'
Later, a play 'Jeevit ya Mrit' directed by Anuradha Kapur was also held. Enacted by Seema Biswas, the monologue was an adaptation of Tagore's revered short story Jeevit ya Mrit was. In the play Kadambini (Seema Biswas) talks to herself about what she sees around her – the landscape, the monsoon, the shamshan, and what she remembers – her life as a widow in her husband's brothers house, her little nephew. She is perplexed by the circumstances that suspend her between life and death and by the pulls, hallucinations, and desires that haunt her.
In the performance everyday objects, especially the detritus that death leaves behind at the burning ghat, were usedSeema Biswas performs the solo act seeking to articulate the circumscribed worlds of widows who navigate different kinds of death all through their lives. A small square marked by miniature lights was used to show the area in which this divested life is lived.
As a part of the exhibition, a seminar will be organized on 28 March. The seminar participants include eminent theatre personalities Amal Allana and Hema Singh. Theatre professionals Ashok Banthia and Vishal Vijay will also participate.
The exhibition will be on display at the refurbished Museum Galleries of Jawahar Kala Kendra till 6 May (Closed on Mondays and Public Holidays).
Additional Matter For Padding
Alkazi is a legendary figure of Indian theatre whose remarkable achievements have earned him the Padma Vibhushan, among a vast number of Lifetime Achievement Awards.
Alkazi's story runs parallel to the Independence Movement and the birth of Indian modernism in the theatre. He introduced revolutionary idea in theatre as early as the 1950s in  scenic design, lighting, modern ideas of acting drawing from international traditions and linking these ideas to the performing folk traditions of India. He evolved new training methodologies for student actors, directors and stage designers and spoke about new ethics and philosophy in theatre.