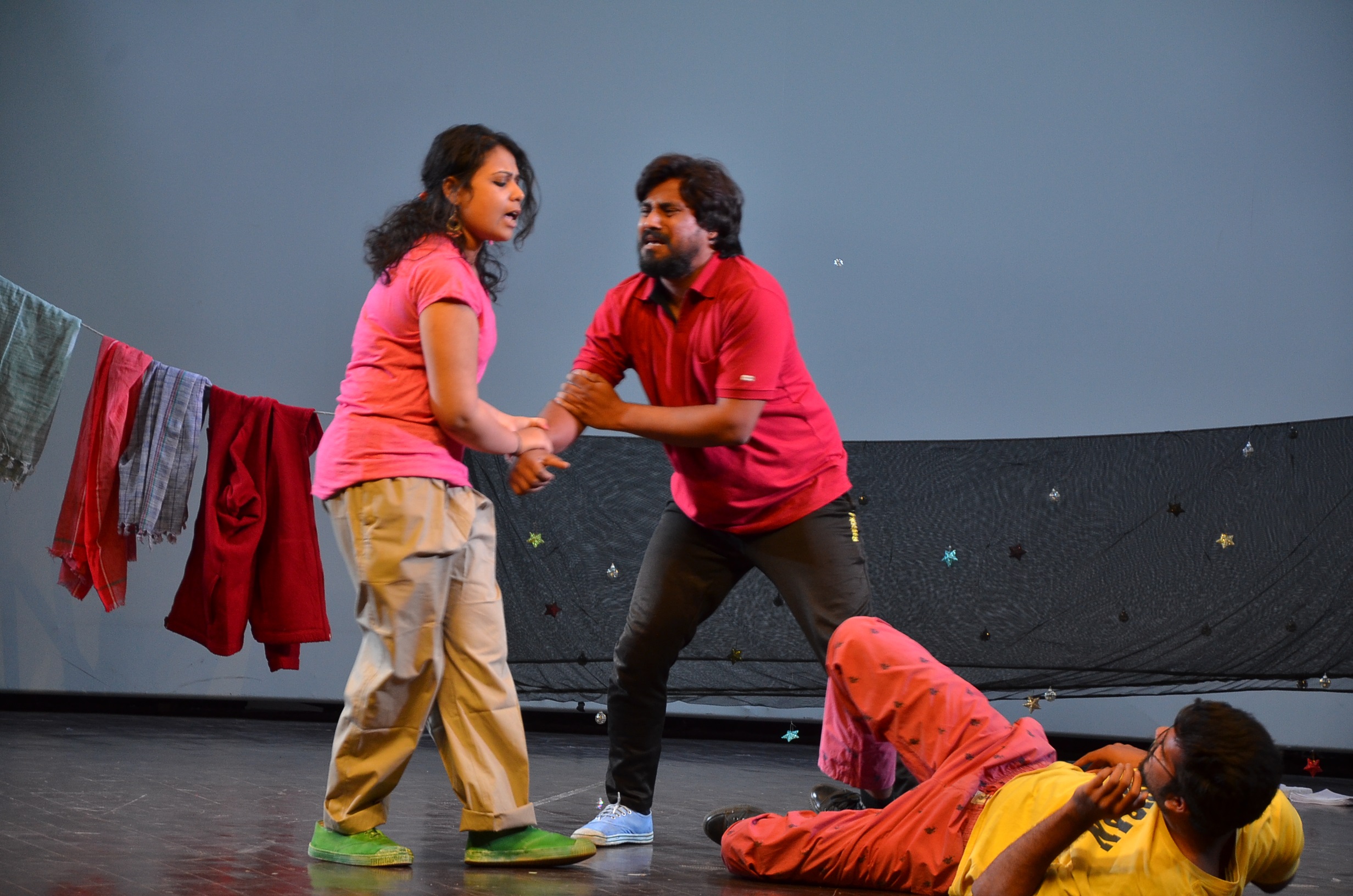 Press Release
JKK's in-house theatre in education – Tilchattey ki Diary
Meet the Artistes of White Rabbit Red Rabbit
Jaipur, 24 March: As a part of the ongoing Performing Art Festival 'Navras' JKK's unique in-house theatre in education – Tilchattey ki Diary was performed today. Revolving around the theme of climate change, the objective of the play was to stimulate the audience to think proactively and come up with workable solutions to real-world problems.
The play has grown out of a unique and intense process of collaboration. It was a story without a hero or heroine or a villain. It had two cockroaches, one chicken, a farmer, a young girl and two boys who are both subjects and objects – they act and are acted upon. None of them comes out a winner but all of them are losers to some degree. This unique theatre-in-education performance narrated the tale of people and other beings whose lives are affected in one way or another.
MEET THE ARTIST
Earlier in the day 'Meet the Artist' of White Rabbit Red Rabbit with Kumud Mishra and Sheeba Chadha was also held. Speaking on the unknowingness of the text and how it affected their performance, theatre actor Kumud Mishra, who performed the play in Hindi said "The script was such that the artist and the audience were experiencing it together." He immensely enjoyed the anxiety, nervousness and danger that came with not knowing the script.  Theatre actress, Sheeba Chadha, who performed the play in English felt that after reading a few lines of the script, it would allow her flexibility as an actor. She felt that the director, Nassim Soleimanpour knew exactly the situation he would be placing the actors in. He knows that in the beginning of the play the actors would be nervous and anxious about what would be in the script. For Chadha, the most difficult task during the play was to keep her mind blank, the nothingness in the mind of the actor is what would be the true performance. Had she tried to analyze the play she would have no time to perform it.
Both the actors felt that they weren't sure when the director was speaking and when the actor was. Mishra reflected that had they known before what the director's lines would be as an actor he would try to give him a character which would indirectly prejudice the play. While discussing the structure of the script and how it varied from other plays in which the actors have performed, he said that the script brought him down to earth and compelled him to unlearn years of training as a professional theatre artiste. Chadha felt that the script put her in a danger zone, something every artiste should experience once in their life. Traditional theatre tends to make an artiste lazy but White Rabbit Red Rabbit threw all her previously learned training out the window and made her really work hard to pull off the performance.