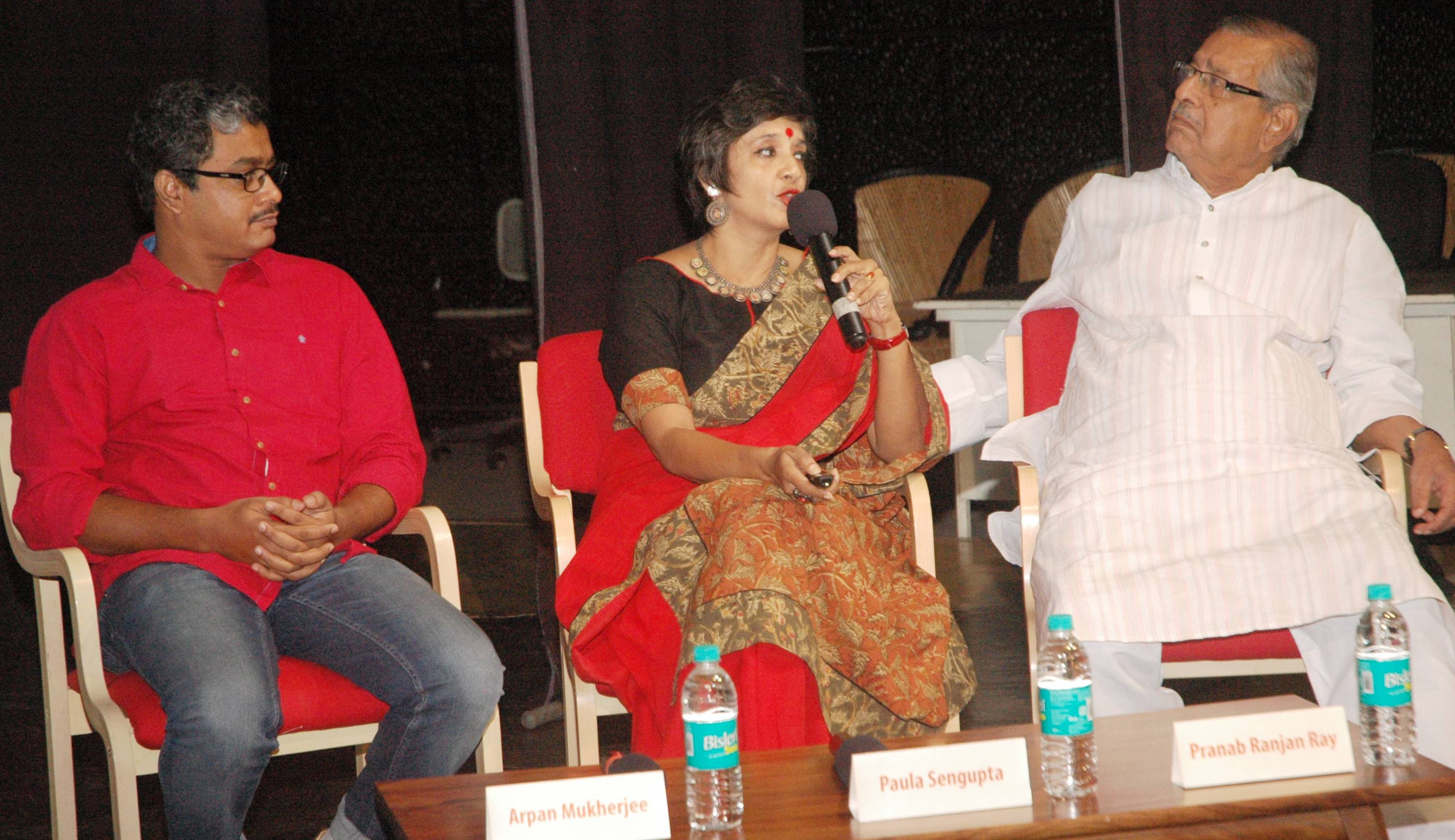 Press Release
As a part of the ongoing 'Printed Picture' exhibition
As a part of the print art exhibitions at the museum galleries of Jawahar Kala Kendra (JKK), a seminar on printmaking was organized on 23 September.  The seminar aimed at discussing the history of printmaking, challenges faced by printmakers and collection of prints. Director General, JKK, Ms. Pooja Sood said that we have always had a well-equipped print studio which has been recently refurbished under the guidance of Ms. Kavita Shah of Chaap Foundation. She further added that, we hope this seminar will help garner further activity for artists and people wanting to learn about the art.
In the first session 'The Curator's Voice', Curator of 'The Printed Picture' exhibition, Ms. Paula Sengupta, discussed the challenges she faced while curating the exhibition. Explaining her need to plan out such an exhibition she said that there is a lack of chronological catalouging of prints in India. She further added that, this exhibition is a progressive step towards comprehensive documentation of printed artwork in the country.
Art critic, Mr. Pranab Ranjan Roy discussed in detail the history of lithographic prints. He said that art of any form or style has always been created with the aim of reaching out many people as well as giving out information. He further added that with the passage of time this dissemination of information has been further refined by experimentation with technique. Associate Professor, Visva-Bharati University, Prof. Arpan Mukherjee said that artists throughout the world are using different methodologies to reproduce printed artwork. He further added that in order to reach the masses, art needs to take the form of print.
This discussion was followed by the second session of the day entitled 'From a Collector's Perspective'. Artist, Kishore Singh said that collecting is done for the sole purpose of initiating a process of documentation for the vast number of artwork at an artist's disposal. Art collector, Mr. Anil Relia discussed in detail the journey of his art collecting, which began with collecting labels of bundles by agents and traders. He also shared his experience of working with renowned artist, M.F. Husain in Ahmedabad. Art Collector, Mr. Waswo X Waswo also shared his vast collection of artwork with the audience. He also highlighted his parameters he used when selecting artwork to purchase. He also said that he began his artwork with the sole aim of created an educational resource.
The third session entitled 'The Collection Movement' saw participation by Artist, Ms. Shail Choyal, Ms. Kavita Shah and Artist, Ms. Kavita Nayar. Mr. Choyal emphasized on the need to approach galleries to create more programmes focused on graphic artists which would help bring awareness of such unique styles of artwork among the masses.
It is to be recalled that 'The Printed Picture' exhibitions will be on until 8 October (except Mondays) from 11 am to 7 pm at the Museum Galleries of Jawahar Kala Kendra.