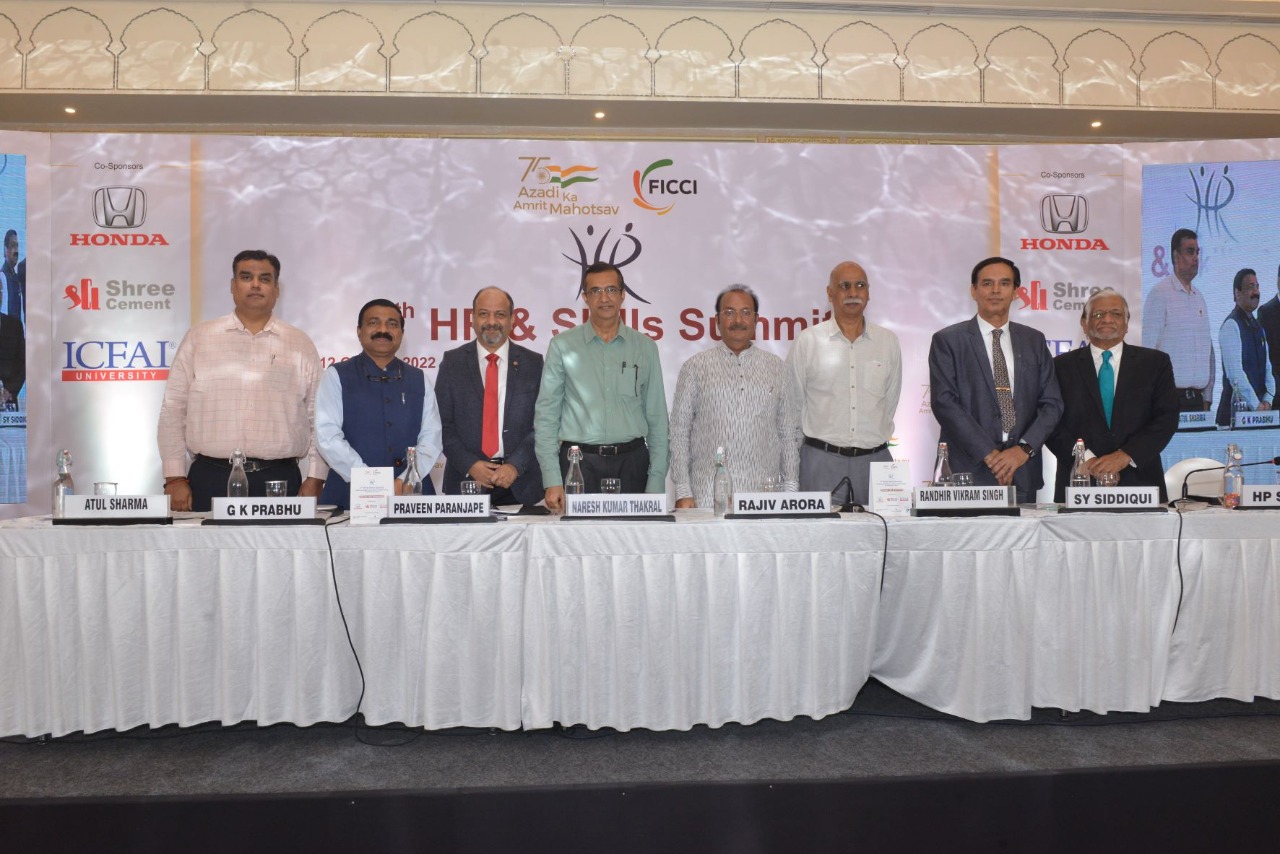 Press Release
The response to the recent 'Invest Rajasthan' held on 7 & 8 October has amply proved that Rajasthan is indeed a land of opportunities. The investors who participated in the mega-investment event organised by the Government of Rajasthan, have categorically stated that it is the go-to-State for their future investments. He also said that Covid management in Rajasthan was the best in the country with no migration having taken place from the State. Furthermore, the exports grew 37% in the year 2021-2022. This was because the factories and the industrial establishments, keeping the Covid guidelines in mind, continued to work even though the pandemic. This was stated by Chairman, Rajasthan Small Industries Corporation, Mr Rajiv Arora. He was speaking as the Guest of Honour at the 7th edition of the HR & Skills Summit organised by FICCI Rajasthan State Council today. The theme of the summit was 'Positioning Rajasthan as a Human Capital Factory.'
Mr Arora further said that the importance the State is giving to HR can be gauged by the fact that it is the only State which has 2 skill universities. He also informed that for 2020-2021, the capacity of 9 polytechnic colleges has been enhanced, and new upcoming branches like robotics cyber forensic information, artificial intelligence, data science, etc. have started in 30 engineering colleges.
Secretary, Skill, Employment & Entrepreneurship, Government of Rajasthan, Mr Naresh Kumar Thakral said in his special address that Rajasthan Skill & Livelihoods Development Corporation (RSLDC) is the nodal agency for State's skill development mission and has established a skill training mechanism by involving training partner agencies to execute the training programmes. He informed that till date more than 5.15 lakh youths have been trained in various sectors through empanelled training partners. RSLDC has more than 500 empanelled training partners who have joined Rajasthan from across the country and are imparting short-term training in various sectors. Mr Thakral also informed that RSLDC has initiated a Recruit-Train-Deploy (RTD) model to involve big and medium size industries in providing training as per their skillset demands in their available premises to unemployed and underemployed youth.
President, The ICFAI University, Jaipur, Dr H P Singh, VSM said that it is indeed a matter of pride that Rajasthan today has a maximum number of 85 universities with as many as 52 private universities. This showed that the State is earnest about providing training and education as well as skills to the youth. He said it is of utmost importance to provide appropriate skills because education alone cannot provide employment.
Executive Advisor, Maruti Suzuki India Ltd, Mr S Y Siddiqui said that post-Covid there is a huge change in the business and industry. Health and safety now is a high priority and instead of globalization the focus now is on reverse globalisation. Today, he said, the workforce and work nature is changing. The new normal means one will have to drop the old skills and learn new skills as well as learn to adjust, adopt and adapt.
President, Manipal University, Jaipur, Dr G K Prabhu said that the universities have a different challenge. Post-Covid they have learned that the curriculum has to change; it has to be competitive, relevant, flexible, and there should be fun in learning. He also said that research and innovation have become hugely important now.
CEO, Aquil Busrai Consulting & Former Executive Director – HR, IBM, Dr Aquil Busrai said that although hard work is important, now skills matter even more. Institutions and units need to customise training for their needs. He said the time has come for the units to plan their training programmes in advance. Today, talent is being more recognised and not tenure.
Chairman, FICCI Rajasthan Sub-Committee on HR & Skills and Director, Honda Cars India Ltd, Mr Praveen Paranjape said that it is important to skill and reskill these days. The development of education and skills is now of fundamental importance and one must have a strategy in place for it. 'Atmanirbhar Bharat' has proved that local means global for which appropriate skills are required.
Earlier, Co-Chairman, FICCI Rajasthan State Council & CMD, Mandawa Hotels, Mr Randhir Vikram Singh said that organisational competitiveness has become immensely important for which a special skillset is required. As many as 5 million people will be getting employment in the next decade for which appropriate training and technical skills will be required.
The vote of thanks was delivered by Mr Praveen Paranjape. The programme was moderated by Head, FICCI Rajasthan State Council, Mr Atul Sharma.
The inaugural session was followed by three plenary sessions on the topics — Reimaging the Role of HR in Contemporary World; Reinventing Talent Strategies for Future Workforce, and Skilling as Driver for Self-Reliant India.