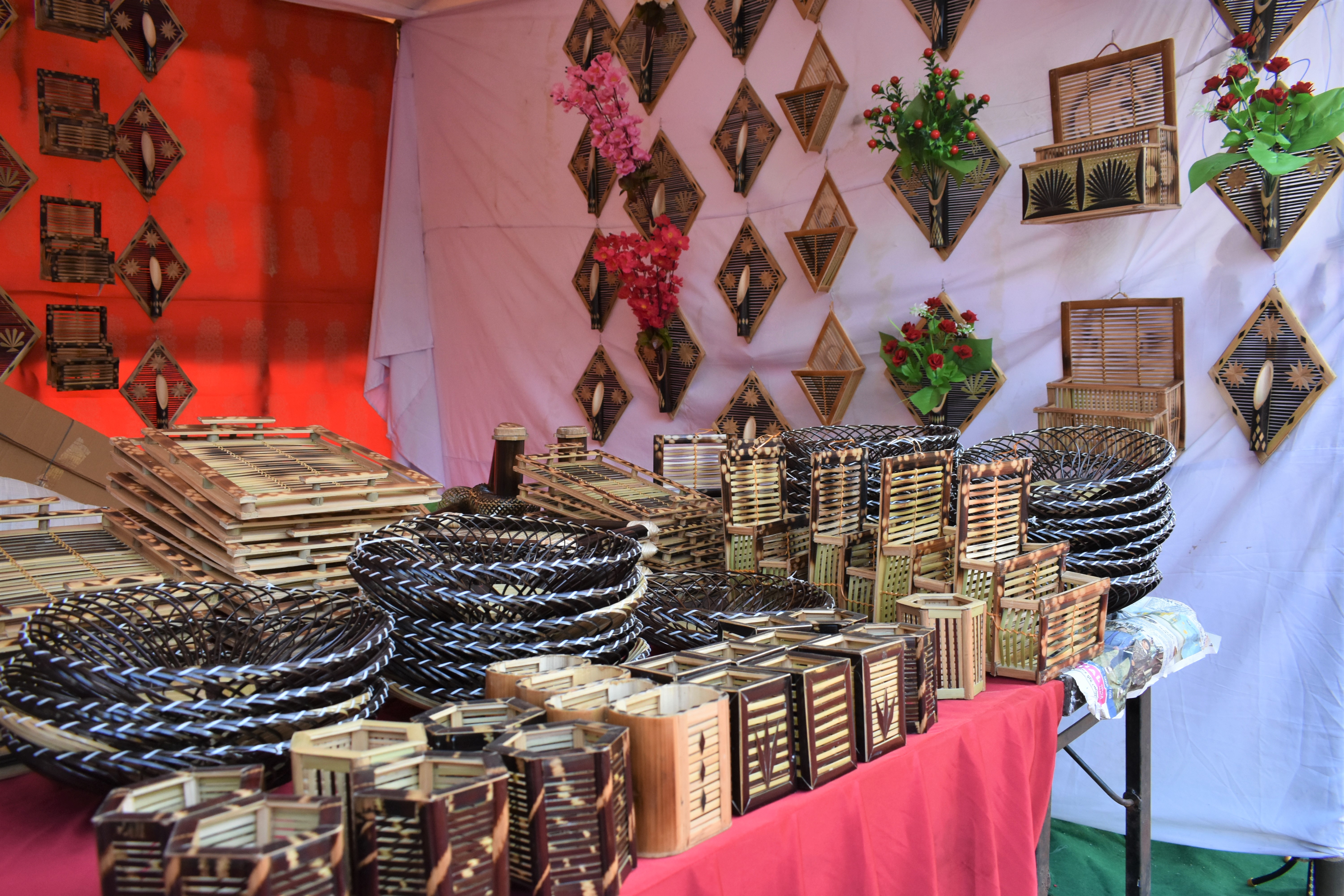 Press Release
While the Pink City is well known for its culturally rich markets laden with artifacts, textiles and lots more; a one its kind North Eastern market at Jawahar Kala Kendra (JKK) is offering Jaipurites and tourists an unusual cultural experience. The exhibition cum sale market part of the ongoing 5-day event 'Octave 2019' is a gateway into the vibrant and welcoming lifestyle of North East India and offers not only tangible products but ounces of warmth from the North East.
The exhibition vends a diverse range of attractive handicrafts that can be used as well for utility as for decor. Home décor products from Sikkim, Assam and Meghalaya made of jute, cane and bamboo like baskets, wind chimes, stationery accessories, furniture sets (that come with outdoor umbrella) etc. along with dry and handmade flowers, have people thronging in to ensure that they leave nothing out to get the best for their homes.
A special attraction, the Black Pottery from Manipur is another article catching unshared limelight in the exhibition. Made of Serpentine – natural stone and ceramic found near Burma and Manipur, it is turning out be the first pick for art and ceramic collectors. Moreover, in ceramics, decor items like dolls, fridge magnets and many interesting toys are something parents and children, alike are being seen to lighten up their pockets for.
A craft person hailing from Manipur shared that she has been taking these decorative items and toys to exhibitions all over the country and the liking people take for them inspire them, even more, to be connected to their traditional arts.
Along with the decorative crafts, the Octave exhibition offers a lot more, there's something for everyone. Even the women folk are shopping their heart out on a wide range of accessories like attractive flower hairbands, handbags, woolen stoles and ponchos, embroidered and crocheted clothing pieces and other decorative textiles. These looms and textiles from Nagaland, Assam and Meghalaya with their fine quality are available at fairly budgeted prices. All the handicrafts and looms at the exhibition range from prices as low as INR 100 to INR 1000 and more.
It is a paradise for shopping lovers, art collectors as well as explorers since it's not every day that you find two cultures in one place.   A visit to the Octave, more than a shopping spree, is a glimpse into the vibrant world of North East. From the moment you enter the market area through the North East architecture inspired arches, you'll feel you have reached the other side of the country. And while you're there, a little conversation with the enthusiastic craft persons will fill you with the warmth that the rich diversity of this country resonates.