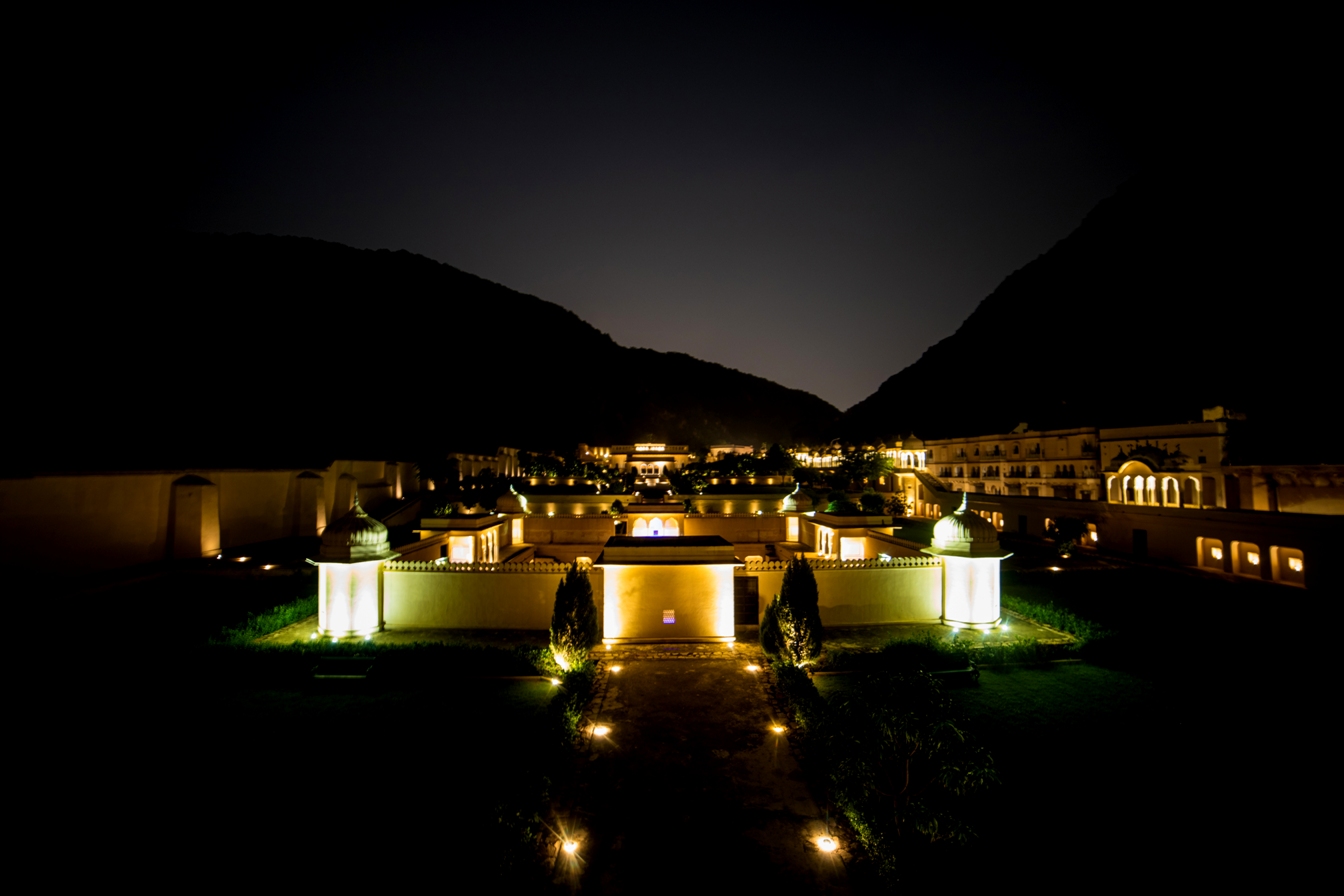 Press Release
Rajasthan, known for the historical monuments and rich folk culture now has its distinctive identity for its 'Night Tourism'. The State Government is working towards promoting night tourism in a big way, starting with its state capital, Jaipur. Night tourism has started at several tourist places including Amber Palace, Albert Hall, Hawa Mahal and more recently Vidyadhar Ka Bagh. This was informed by the Director of Archaeology and Museums, Government of Rajasthan, Mr. Hridesh Sharma.
Mr Sharma further added that since the monuments started operating for night viewing, the segment has attracted footfalls of 12.2 lakh and revenues of Rs 12.2 crore, as against the total capital expenditure of Rs. 4.27 crores made on the installation of lighting fixtures.  It is also important to note that Amer and Albert Hall was opened for night viewing in the year 2015, whereas Vidhyadhar Garden was open for night viewing recently in 2017, he added.
The Director further informed that in its endeavour to boost night tourism in the city the Department has revamped the Vidyadhar Park of the city with the facilities and attractions suitable for night tourism. . The 350-year-old Vidyadhar Ka Bagh with its lush green garden, plantation near walls and beautiful fountains, sparkles with yellow and blue lights. It is to be recalled that the Vidyadhar garden is one of Jaipur's best-preserved gardens located in the heart of Jaipur. It was built in the memory of Jaipur's chief Architect, Vidyadhar Bhattacharya. Nestled in the lap of a valley, the garden offers a panoramic view of the city and is the pride of Jaipur's rich heritage and culture, said Mr. Sharma.
Similar preparations are also being made at the other places in the vicinity including the famed Ghat ki Guni tunnel and Sisodiya Garden which will be illuminated during the night.
Further elaborating, the Director outlined that the magnificent 16th century Amber Palace turns even more enchanting with night tourism. 'Amber by Night,' initiated by the Department, presents a spectacular and mesmerising view. Different hues of coloured light lend a new perspective to the fort's ambience and elegance. Open from 7 pm till 10 pm, 'Amber by Night' offers a vibrant tour of Jaleb Chowk, Diwan-e-Aam, Mansingh Mahal and Sheesh Mahal to the visitors. The facility is enhanced with lights, fixtures, additional security and a café to provide a fulfilling experience to the visitors. Theme lighting with a combination of LED & non-LED light fittings has been used to create moods, based on different festivals. Besides upgradation of basic facilities, major additions are CCTV cameras, electric vehicles and Segway at the Palace.
Furthermore, Department of Archaeology and Museum has started holding cultural programmes at Amber fort, Albert Hall.  Famous and renowned artistes of Rajasthan and other states take part in cultural performances like kathak and other folk dances at these locations.  In the full moon night (Poornima) Kathak is being performed at Jaleb Chowk in Amber Palace and Albert Hall.
The night tourism project also includes illumination of the walled city in Jaipur. The project involves the façade lighting of three main Bazars of city like Chaura Rasta, Tripolia Bazar and Johri Bazar.
Besides, all the historical gates like Sanganeri Gate, New Gate, Ajmeri Gate, Tripolia Gate, Chandpole Gate and Hawa Mahal have also been taken up in the project where external theme based lighting will be done.