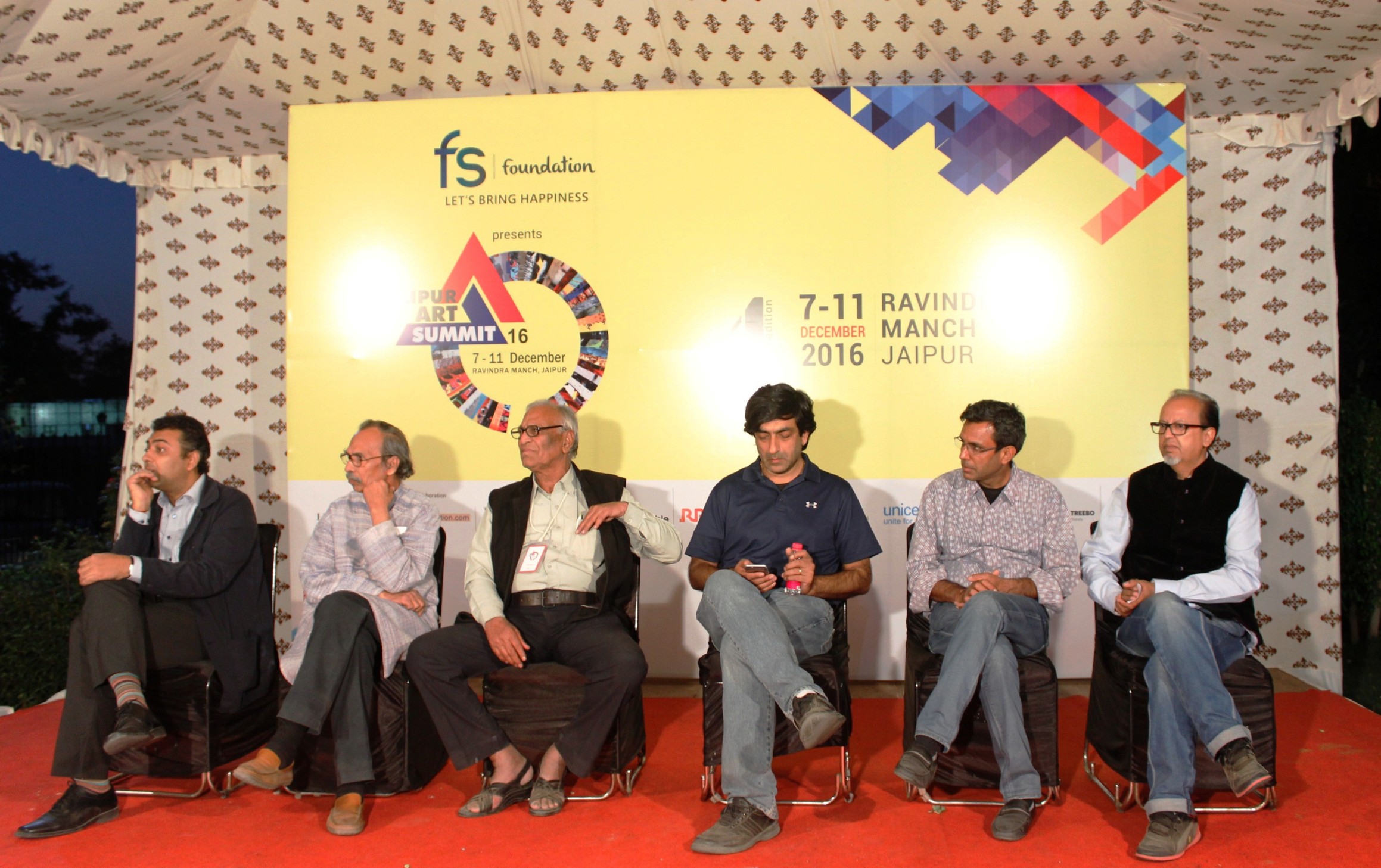 Press Release 
Over 60,000 people attended and participated in the 5 day Art Summit
Jaipur, 11 December: Jaipur Art Summit ended on a high note today at the Ravindra Manch giving a new definition and direction to diverse art works and artistes. The 5 day art summit, which was attended by over 60,000 people,  made commendable efforts to bring all streams of art – be it performing or visual or live art —  from all over the world under one roof.
The Art Talk entitled 'Art in Public Spaces, Influence & Challenges', by Mr. Swaroop Biswas and Mr M.K Bhatt today, stirred an interesting discussion on the understanding of Public Art and Private Art and how Private Art becomes Public. Mr Swaroop put forth his belief by explaining the Perceptual Psychology and Cognitive Bias to the audience.  He said that we cannot put art in the consumer society, as we cannot place religion in the consumer society, because art is a 360 degree religion. Mr M.K Bhatt said that the idea behind an art piece is to experience the joy of art.
The discussion was followed by a technical cum interactive Session entitled 'Drawing Sound – A Digital & Interactive Art Project' by Vishal Rawlley from Goa. Mr Rawlley briefed and showed some of his experimental project videos to the audience in which he draws with sound.
Today there was a special workshop for visually impaired children at the Summit. It was conducted by the Jaipur based artist, Ravi Michale. Around 8 children from the Jaipur based Drama group, Abhinav Natayakulam participated in the workshop. The kids drew with the help of the volunteers what they had experienced and felt at the Summit. Notably, the drawings made by children were inspired from nature. It was a wonderful and enlightening experience and would surely do more such workshops with them in future, said Mr Michale.
A Documentary Film entitled 'Taan Bekro – Music of the Sand' by Saumya Sharma was also screened at the summit. This was followed by  a Creative Workshop 'Cartooning & Caricaturing with Sushil Goswami.
A Musical Performance by Iranian Santoor Player, Mr Amir Joukar also grabbed the attention of the visitors today.
Closing Ceremony:
The JAS ended with the closing ceremony. Some artist and galleries gave away a painting to JAS as a token of appreciation. These were received by the Founder Director, Mr. Shailendra Bhatt. Certificates were also given to children for participating in the workshop. Mahavir Sharma gave an overview of the events that were held in the past 5 days. Soanali Misra purposed a vote of Thanks.