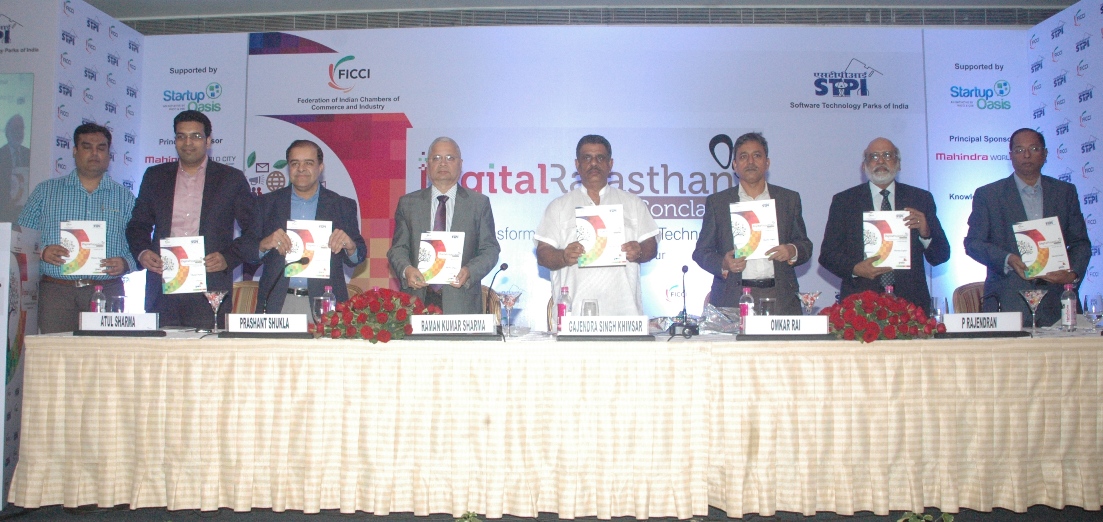 Press Release 
Digital Rajasthan Conclave
Jaipur, 5 October: IT and Digitization are the key to success in the increasingly competitive world, said the Rajasthan Industries Minister, Mr. Gajendra Singh Khimsar at the Digital Rajasthan Conclave held today in Jaipur. The event was jointly organized by Federation of Indian Chambers of Commerce and Industry (FICCI) and Software Technology Parks of India (STPI). He further said that with 70% of India's population being less than 35 years of age, the country has the advantage of a young workforce which is knowledgeable and talented as well.
Throwing light on the various schemes of the State Government such as e-mitra, Bhamashah, Single Window Clearance, Electronic Public Distribution System, MNREGA, among others, the Minister said that this has made the working of the government simple as well as transparent. It has not only positively impacted the economy but also the society. This has been possible owing to digitization, IT and ITeS.
He further said that in Rajasthan 30% of employment is in the IT Sector, Rs.1750 crores worth of annual exports are of IT products and the IT infrastructure in the state is worth Rs. 2000 crores. Jaipur also has a SEZ dedicated to IT – Mahindra World City spread over 480 acres.
On the occasion, a theme paper – 'Transforming Lives Through Technology', prepared by PricewaterhouseCoopers (PWC), was also released by the Industries Minister. (See box item given below)
Director General, STPI, Mr. Omkar Rai said that the objective of Digital Rajasthan conclave is to promote software export. In Rajasthan, the growth in the software industry is 15% which is more than the national growth (10% -12%) in the sector. The Government has also launched India BPO scheme which will help in creating employment in Tier 2 and Tier 3 cities in Rajasthan.
This software testing company stressed on the need to work towards digital literacy as well as differently abled friendly technology. They also said that there is a dire need to formulate a programme to deal with e-waste. It should not be seen as a challenge but a great opportunity for innovation.
National Technology Officer, Microsoft India, Mr. Prashant Shukla gave a presentation on 'Reimagining the Solutions with 'Cloud'. Giving an overview of the Digital scenario, he said that 30% of the world population is online. Highlighting the advantages of Cloud, he said that it is hyper scale, flexible as well as multi level secure.
He also informed about the Mobile Chat platform – 'Kaizala' which offers a clutter free core chat experience, built in action cards within chat and is also apt for large scale group co-ordination.
In his welcome address, Co-Chairman, FICCI Rajasthan State Council, Mr. Raman Kumar Sharma said that Digital India is a flagship initiative of Prime Minister Modi. It is designed to greatly improve service efficacy as well as lead to inclusive growth.
Earlier in the plenary session on Digital Rajasthan chaired by Member, FICCI Rajasthan State Council & COO, Mahindra World City (Jaipur), Mr. Sanjay Srivastava, e-Governance, policy framework as well as private sector participation in making Digital Rajasthan a reality were discussed in length. The framework for enhancing delivery of services from the Government and increased engagement of citizens for various e-Government initiatives using Internet, Social Media as well as Mobile. COO & Co-founder, Girnar Soft, Mr. Anurag Jain; Director System Engineering & Head of Presales CISCO India, Mr. Rupinder Singh and Associate Director (Advisory), Pricewaterhouse Coopers, Mr. Ashwani Mahaldar also expressed their views in the session.
Later, during the day there were plenary sessions on Innovation and Emerging Trends as well as IT Start Ups. In the former, the speakers were Member, FICCI Rajasthan State Council, Mr, Rajesh Mundra; DC Head, Jaipur, Infosys, Mr. Somesh Gupta; Chief Growth Officer, Razorpay Software Pvt. Ltd., Mr. Siddharth Dhamija and Regional Manager, Infrastructure Infosys Ltd., Col. SM Bharadwaj. In the latter, the speakers were Chief Operating Officer, Start Up Oasis, Mr. Chintan Bakshi, Founder & CEO, Data Infosys Ltd., Dr. Ajay Data; Chief Executive Officer, Rajasthan Venture Capital Fund, Mr. Girish Gupta; Founder, CultureAlley.com, Mr. Nishant Patni and Co-founder Qriyo, Mr. Rishabh Jain.