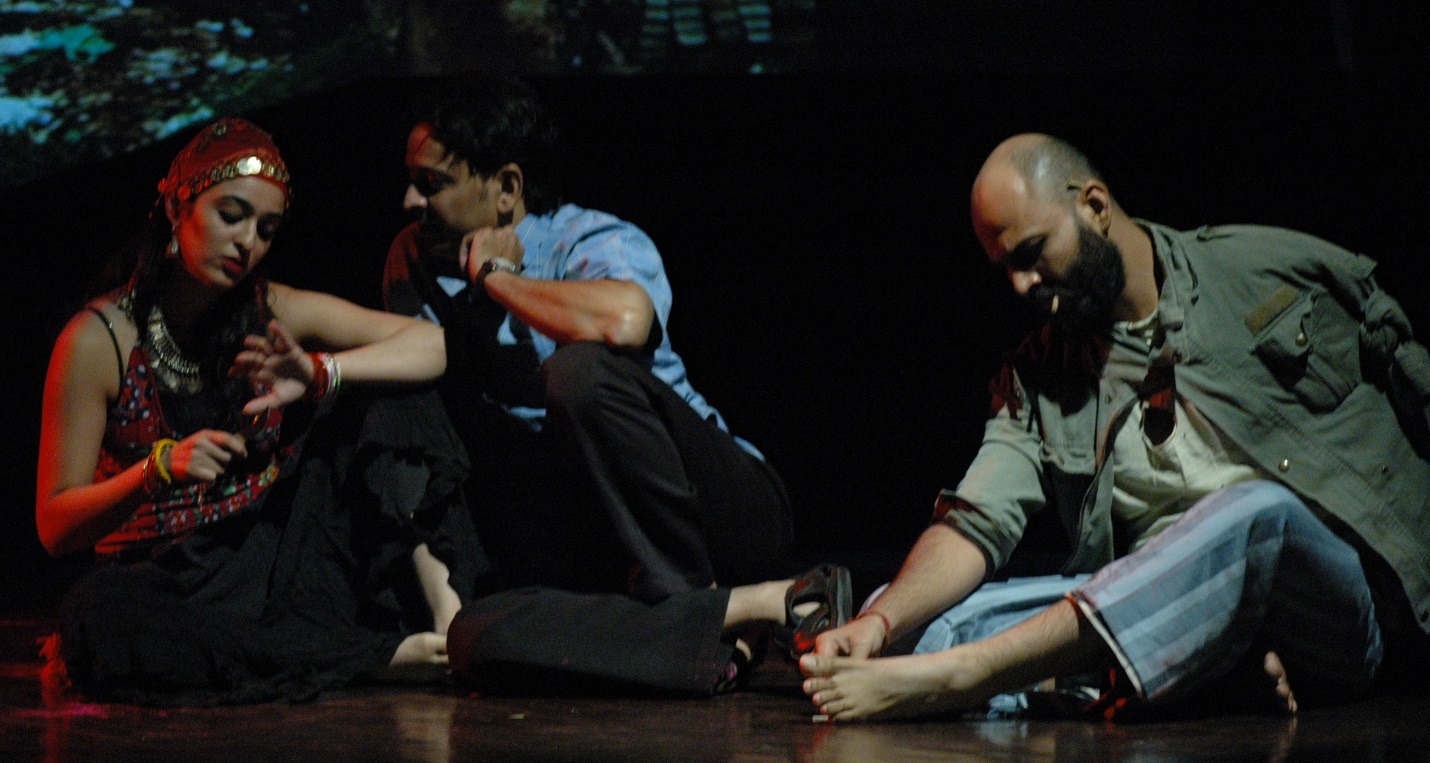 Press Release
Jaipur, 26 November: The sixth day of the annual theatre festival of Pink City, Au-Jairangam witnessed the staging of four different plays — 'A Soul Saga', 'Suraj ka Satva Ghoda', 'A Woman Alone' and 'Shatranj ke Mohre' today.
As a part of the Rang Samwad series of Au-Jairangam, a panel discussion on the topic 'Theatre Festivals make city vibrant' was held in which actor Makarand Deshpande, theatre artiste Sanjana Kapoor, Au- Jairangam's Prakash Sharma and news editor, Prerna Sahani expressed their views.
Sanjana Kapoor said that Jaipur is emerging as a 'destination hub'. People visit other cities to attend festivals but Jaipur attracts visitors even without any festival. In order to encourage theatre, she said that there is a need to develop smaller alternative spaces for theatre apart from places like Mumbai's Prithvi Theatre and Jaipur's Ravindra Manch and Jawahar Kala Kendra. She also stressed on the need for strategic management of theatre art, proper curation of festivals as well as the development of cultural centres under the ambit of urban planning mandate.
Actor Makarand Deshpande said that it is indeed commendable for a festival like Jairangam to attract a multitude of viewers in a short span of time.  He said it is important to have festivals like Jairangam and JLF to inculcate among the people habits like reading books and appreciating theatre. He emphasized on the need to interact and be one with the viewers. He also suggested that malls should have spaces for theatre.
Au-Jairangam's Mr. Prakash Sharma said that plays are a creative medium through which daily situations can be portrayed. He further said that necessary steps should be taken to ensure that plays reach the right audience.
Ms. Prerna Sahani said that art and culture is an integral part of the Pink City. Media is the platform through which the magic of plays can be transmitted to those who cannot witness them.
About the plays:
The play 'A Soul Saga' directed by Dr. Danish Iqbal narrates the story of  one who  are so busy in their lives and don't look backwards for what they have left unsaid or unheard. In the course of time and life people tend to do certain immoral things which leave a long lasting impact on the lives of loved ones. The story is all about those impure sins that we do and later regret and is more like confessions of our soul.  The dialogue between a man & his soul, narrates the story in funny ways, with wit, fun & irony.  It's hilarious portrayal of a character.
The play 'Suraj Ka Satva Ghoda' directed by Happy Ranajit, is related to the issue of middle class society. The play is based on Dharamvir Bharti's 'Suraj Ka Satva Ghoda' a short novel which is highly acclaimed in the Hindi literature circles. The play is a humorous journey, an amalgam of seven small stories of differentemotions and flavours. As the play grows the characters and situations of these stories intersect and overlap each other. The border of the different stories merges and finally brings a single story. All humour, funny incident and comedy of these stories becomes commentary on the moral aberrations and distortions in Indian middle class society. The play shows the reality of society where failure, hopelessness, corruption and darkness end with light and hope.
A 'Woman Alone' directed by Arvind Gaur (solo play) is about a housewife in an abusive relationship with her jealous husband who has locked her up in her own home. As a dutiful housewife she goes through the dull drudgery of daily chores. She is pregnant and looks after her perverted head to toe plastered brother in law, fights with the peeping Tom and deals with dirty phone calls. Her daily life is driving her to madness.
The play 'Shatranj Ke Mohre' directed by Rakesh Talwar is a social comedy play. It narrates the story of a household where two different ideologies clash but with a lot of laughter, thrown into a cauldron of humor the residue is nothing but comedy, laughter and wit.
There is a household in Indore where Kakaji lives with his nephew Shaam (Rakesh Bedi) and niece Usha along with a battery of servants who are more like family members than domestic helps. Kakaji's philosophy is take life as it comes. He and Shaam never follow any cult nor believe in any religious rituals. They discuss anything under the sun including Shaam's girlfriends. They also often have a game of chess where all the servants too intrude creating funny tiffs. Though the entire household is "Happy Go Lucky" but Usha follows a certain Acharya ji.
When Acharyaji lands up in this carefree household along with his "shishya" geeta, Shaam's philosophy goes for a toss as he falls head over heels for Geeta and also becomes a follower of Acharyaji. Kakaji is the most amused in this situation as Shaam who was once happy go lucky fellow is now hanging in the sphere of "to be or not to be". When these two different ideologies are thrown into the cauldron of clash, the residue is nothing but wit and humour.